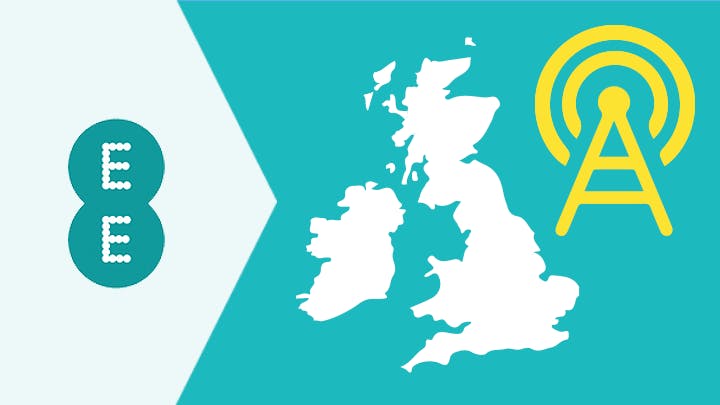 EE's all about 4G. When it comes to fast mobile internet, the network's among the very best in the UK. It's one of the most expansive too - not only does it offer a dizzying range of contract phones and SIM-only deals, it also has excellent extras like free BT Sport and Apple Music.
Read on, and we'll tell how to compare your EE options, and how to find the best price possible.
Top EE phone contracts this week
As you'd expect from one of the biggest mobile networks in the country, EE carries tons of handsets, from flashy fast flagships, to brilliant cheaper phones. And, of course, you can compare them all on Compare My Mobile.
EE carries a wide range of handsets. To start comparing deals, here's a few of our top picks:
EE pay monthly deals and contracts
If you don't want the commitment of a 12-24 month contract, you could pick a pay monthly phone plan instead. This lets you buy a phone outright (or use one you already have), and also purchase a SIM-only plan.
EE has loads of mobile phone plans to choose from, so head over to our comparison page to see your options:
EE SIM-only plans
When it comes to SIM-only plans, EE's one of the best in the biz. It attempts to be all things to all people - so to that end, it offers both 12-month contract and 30-day tariffs, with different bundles of texts, call time and data to suit different types of users.
When it comes to contract length, the 12-month plans will typically work out cheaper overall than the 30-day options, but you lose the flexibility to change tariffs or networks within your first year.
You should also consider data allowance - plans range from a relatively paltry 250MB a month (fine if all you want to do is check email but not much else), to a hefty 40GB (enough to watch multiple movies a month).
Read more about EE SIM-only deals here. Or, to start comparing SIM-only deals below:
EE coverage
EE is famous for its excellent coverage - it's widely regarded as the best in the UK. More than 99% of the population has access to voice and 3G services. Its 4G availability is also top-notch, and reaches 95% of the population.
Of course, population coverage isn't the same as geographical coverage. There are still some black spots where you can't get signal. That's why, before you buy, you should check EE's coverage checker - it's not a foolproof system, but it will give you an indication of whether or not you can get signal at home, work, or any other place you frequent.
EE mobile extras and perks
EE comes with quite a few extras, some of which are included free of charge, and others you can add-on if you want 'em.
Extras include:
Six months free Apple Music - Apple's Spotify-esque music streaming service is pretty good, and EE pay monthly and contract customers get free access for six months. Even better, any mobile data you use on the service won't be deducted from your allowance.
Free BT Sport - EE's owned by BT, which means customers get access to its big broadband daddy's exclusive sports service via the BT Sport App. You'll be able to watch Premier League, Champions League, Premiership Rugby and more for between three and 24 months depending on your plan.
Get 5GB extra data a month if you also have EE broadband - EE does home internet as well as mobile plans. Anyone who signs up to one of the company's broadband packages gets a hefty chunk of extra data as a result.
Free Wi-Fi on the London Underground - All EE customers can get free internet access London Underground platforms.
Is EE any good?
Want to find out if EE is any good? Check out our full review:
Other mobile networks
Find and compare SIM-only plans and contract deals from mobile networks in the UK.
Popular phones on EE right now
Frequently asked questions
How do I find the best EE offer?
Short answer: compare options on Compare My Mobile, and find a deal that you think is best.
Of course, to do that, you should define what you mean by 'best'. Consider everything you need from your plan. Some of the questions you should ask yourself include:
Do I want a new handset or SIM-only plan?
How much am I willing to pay upfront?
How much data do I need?
How long will I spend talking on the phone?
How long do I want my contract to last?
How much can I afford a month?
If you have an answer to some or all of those queries, it'll make it far easier to find your perfect plan. Simply go to our comparison page, and use the filters to build a table specific to you. It takes seconds, and it'll quickly become clear what the 'best' offer is.