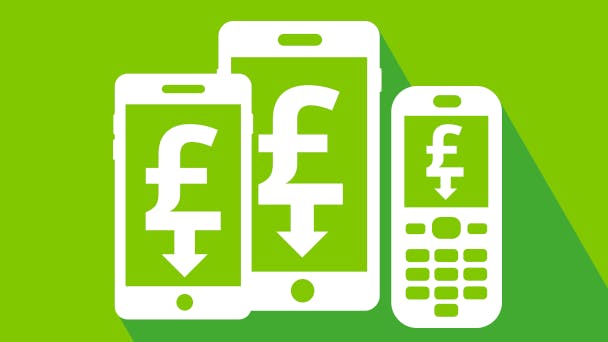 Flagship phones can cost a small fortune. But as the likes of Samsung's Galaxy A10 and Huawei's Y6s prove, you don't have to break the bank to get a really good smartphone. We've picked out the best phones for under £300 for our handy buyer's guide.
The latest Apple or Samsung flagship phones can cost upwards of £50 a month on a 24-month contract, which is a lot of money to pay, especially if you're not too bothered about owning the latest tech.
With that in mind, we thought it would be helpful to showcase some of the cheapest phone contracts on our site on some of our most impressive smartphones.
Let's dive in…
Samsung Galaxy A10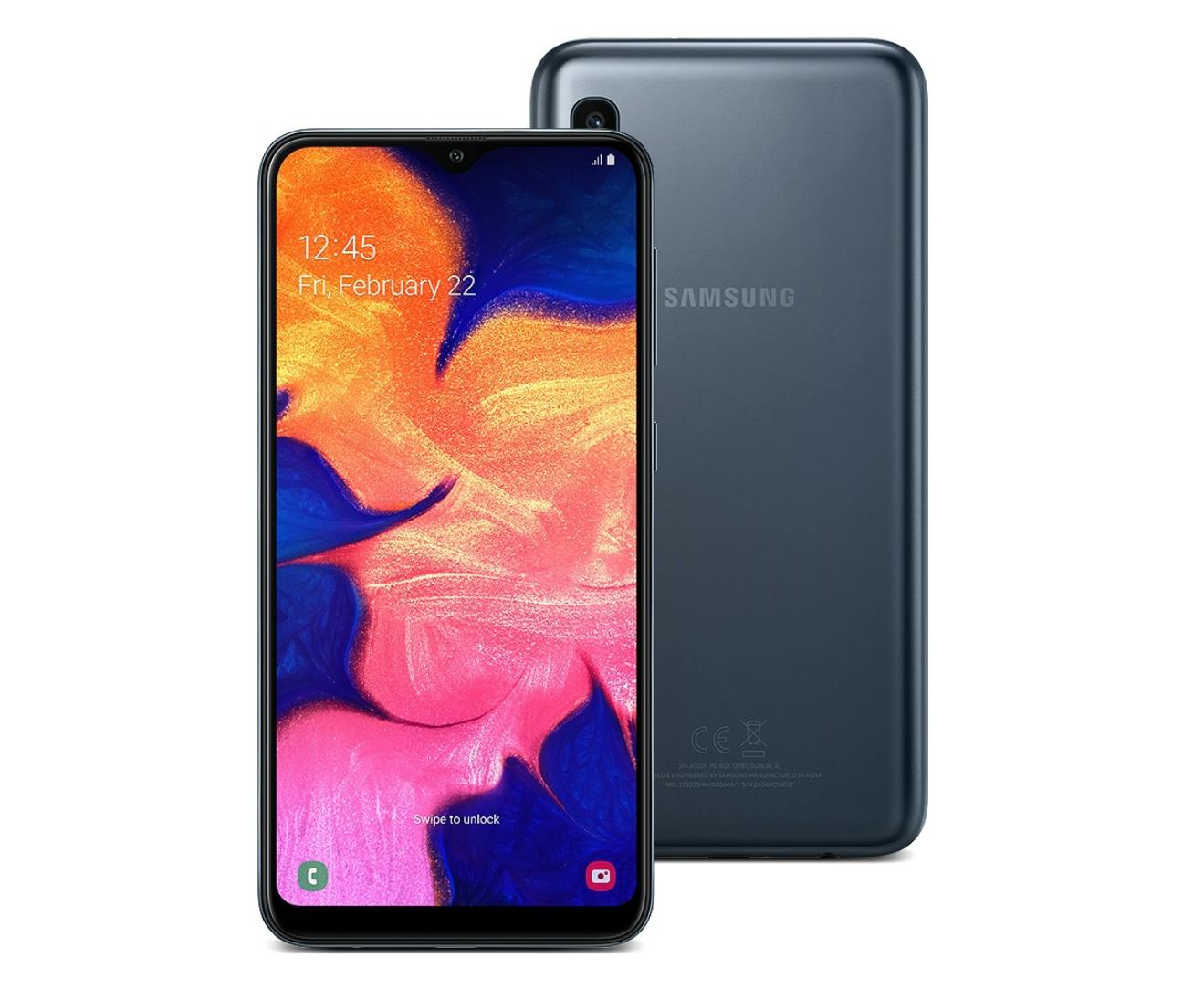 Image credit: Samsung
Last year's Galaxy A10 isn't exactly the most adventurous phone in the world but, for the price, it's a great little smartphone.
Indeed, despite the body being made almost entirely from polycarbonate plastic, it still feels pretty robust, and doesn't look half bad. You can get it in either dark blue or black colourways.
For a great viewing experience, the phone boasts 6.2-inch, 19:9 aspect ratio screen and the bezels are surprisingly thin for a budget handset.
It's got a 13-megapixel panoramic camera with HDR and a 5-megapixel camera for selfies. And the A10 sports a 3,400mAh battery along with a pretty decent 32GB of storage.
Huawei Y6s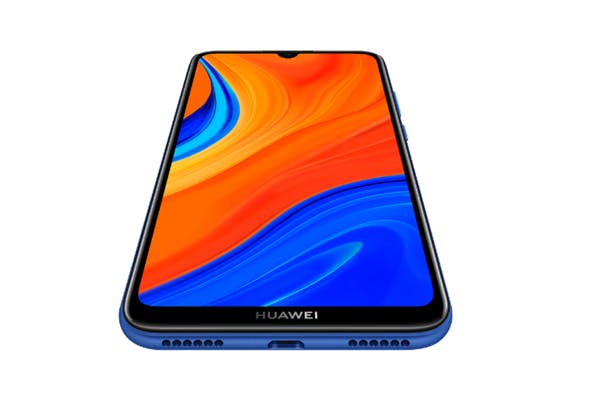 Image credit: Huawei
For the price, the Huawei Y6s is an excellent little smartphone. And the good news is that it's not affected by the ban on Google Mobile Services, either. So you'll still get to enjoy apps like YouTube, Google Maps and Play Store.
To look at, the Huawei Y6s could pass as a premium smartphone, and the matte finish on the bottom half of the phone's back makes it easy to hold too.
Moreover, the dew-drop notch and near bezel-less display will make watching your favorite shows on the phone's 6.09-inch screen a joy, especially in 720 by 1,560 pixel resolution.
And although the 3,020mAh battery is smaller than you'd find on today's flagship smartphones, it should be plenty big enough to last a day, no trouble.
Finally, the Huawei Y6s comes equipped with a 13-megapixel main camera and a 8-megapixel selfie camera.
You can also pick up the phone with 32GB and 64GB storage, plus 3GB of RAM. If you don't think that'll be enough, the Y6s supports a micro-SD slot for extra storage expansion.
Alcatel 1X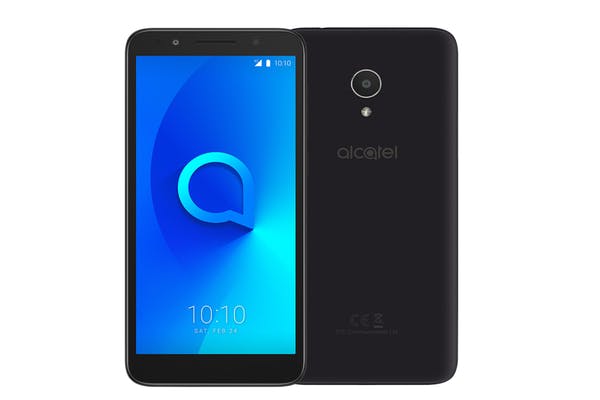 Image credit: Alcatel
Depending on your texts, minutes and data requirements, you can get the Alcatel 1X on contract for as little as £9.99 per month. And for that outlay, the phone has a surprising amount to offer.
For starters, the dual 8-megapixel and 13-megapixel cameras sport premium features like bokeh effects, which will let you blur the background on your pictures – lending them the kind of quality you'd expect to see from a much expensive device. And at 5.5-inches, the display manages to be just big enough to properly showcase the 720 x 1440 HD+ resolution.
Finally, the Alcatel 1X runs on OS Android 8.1 and provides 16GB of internal storage (though this can go up to 128GB with a micro SD card), 2GB of RAM and a 3,000mAh battery.
Huawei Y7 2019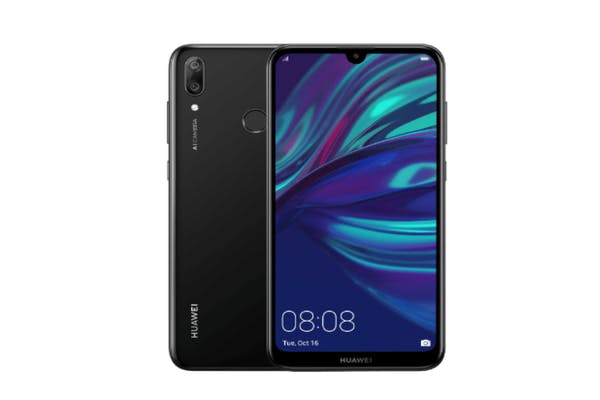 Image credit: Huawei
Last on our list is the Huawei Y7, which encapsulates everything the Chinese telecom giant does best.
For example, the 6.2-inch screen's HD+ display stands out even more thanks to the dew-drop and virtually bezel-less design. And, impressively, the Y7 relies on a Qualcomm Snapdragon 450 octa-core processor to power it, which provides a respectable 3GB of RAM.
For extra security, the device comes with Face Unlock 2.0, plus a rear fingerprint sensor to boot.
We're big fans of the design, too: with a curved glass design that feels excellent to hold as well as look at, plus some nice colourways like Aurora Blue, Midnight Black and Choral Blue to choose from, its surprising to think the Y7 costs as little as £17 a month on contract – depending, of course, on what kind of bundle you need.