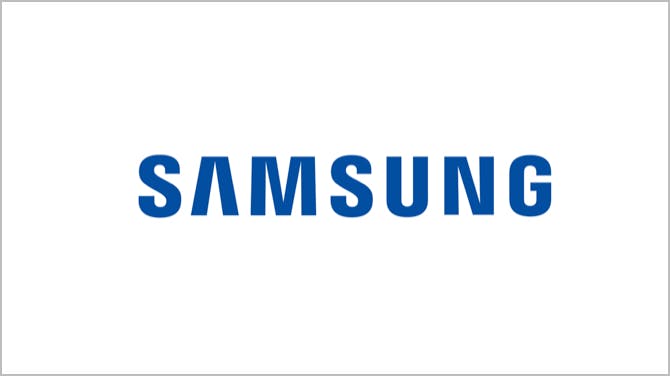 Find the best Samsung Galaxy S20 Ultra deals, compare Samsung Galaxy S10 Lite offers with no upfront cost and unlimited data - and find out how to get the cheapest price.
How much will the Galaxy S20 Ultra cost?
Here's how much each new S20 phone costs:
Samsung Galaxy S20 4G: £799.99
Samsung Galaxy S20 5G: £899.99
Samsung Galaxy S20 Plus 5G: £999.99
Samsung Galaxy S20 Ultra 5G: £1,199.99
Prefer to save some cash the S10 instead? Take a look at our pick of the best deals.
When did Galaxy S20 Ultra launch?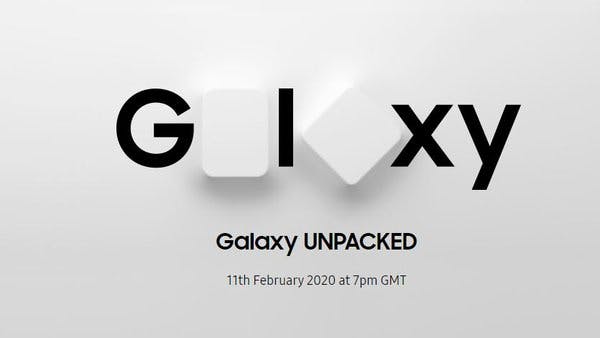 Samsung is set to showcased the S20 Ultra on 11th February at an Unpacked event.
Samsung Galaxy S20 Ultra camera
With a staggering array of high-grade lenses, the S20 Galaxy Ultra is shaping up to be one of the best cameraphones on the market.
Key specs for the main, rear camera are:
108-megapixel main wide camera
48-megapixel and 12-megapixel telephoto and time-of-flight cameras
10x optical zoom
Up to 100x digital zoom
Up to 8k video recording at 108Mbps
The front camera only has a single lens. But it'll comes in at a massive 40-megapixels and will be capable of recording in 8K.
Galaxy S20 Ultra design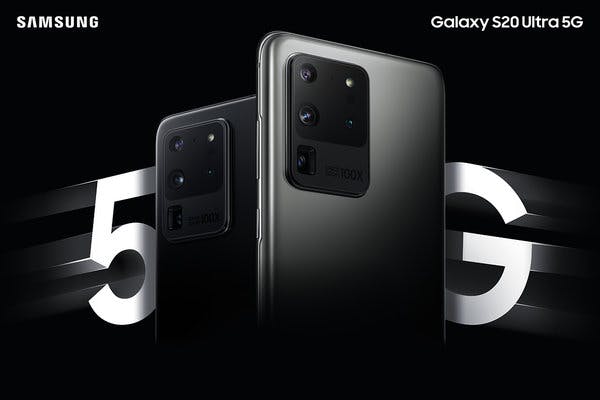 If you've been paying much attention, you'll have noticed that smartphone design hasn't altered too much in recent years.
And so it is with the Galaxy S20 Ultra, which sticks closely to the look and feel of the S10 and previous Galaxy devices.
This time around, though, the edges are slightly more rounded and the curve of the screen is less pronounced. But it's not completely a case of 'as you were'.
For one thing, Samsung has completely removed the headphone jack. So if you're in the market for an S20, you may need to budget for some wireless headphones too.
And for another, the module for the rear camera is now square and much larger than the S10. That's to be expected, given that it now houses five lenses.
Galaxy S20 Ultra colour options
Colour options for the S20 are set to take in basic black, white, and pink. But the standout is set to be the iridescent, Aura Glow colourway that reflects colours for a rainbow-style effect.
Battery, storage and processor
The S20 Ultra is home to Samsung's own, latest Exynos 990 processor and a vast 5,000mAh battery that's required to power the phone's huge display.
You can choose from 128GB, 256GB, 512Gb and 1TB.
Compare deals for a range of Galaxy phones
Frequently asked questions
Does the Galaxy S20 Ultra support 5G?
Yes, the Galaxy S20 Ultra is fully compatible with super fast 5G networks. So you'll be able to experience mobile internet speeds several times faster than 4G.
Is the Galaxy S20 Ultra waterproof?
A fully waterproof phone doesn't exist. But the S20 Ultra is IP68 rated, which means you can submerge it in up to 1.5 metres of water for half an hour and it'll come out as right as rain.
How many cameras does the Galaxy S20 Ultra 5G have?
With five cameras in total, the S20 Ultra has what may be the impressive array of lenses of any smartphone. At the rear, you'll find a 108-megapixel standard lens, a 48-megapixel telphoto lens, 12-megapixel ultra-wide lens and a 0.3-megapixel time-of-flight lens. The front camera is a comparatively stripped-down affair, with a single 40-megapixel lens.
What size is the Galaxy S20 Ultra?
The S20 Ultra houses a 6.9-inch screen in a handset with dimensions of 166.9 x 76 x 8.8 millimetres.
Does the Galaxy S20 Ultra have wireless charging?
Yes, the S20 Ultra has fast wireless charging. But you'll need a wireless charging mat (sold separately). It's also equipped with reverse wireless charging, so you can share battery power with other compatible phones.
Can I get a Galaxy S20 Ultra with bad credit?
It's often hard to be accepted for a phone contract if you've got an impaired credit rating. And because the S20 Ultra is one of the more expensive phones around, you've probably got less chance with than a cheaper handset.
If you encounter problems being accepted, you can either save up to buy the S20 Ultra SIM-free or set your sights on a less costly model.
Can I get the Samsung Galaxy S20 Ultra with no upfront cost?
Contracts for top-end smartphones like the S20 Ultra are more likely to require some payment up front than cheaper, less up-to-the-minute models. But you can definitely find them if you look around. Be mindful, though, that deals with no upfront charge generally feature highly monthly premiums.
Does the Samsung Galaxy S20 Ultra have a portrait mode?
Yes, the S20 Ultra has one of the best portrait modes around and allows you to take depth-of-field shots with the rear and front camera. The LiveFocus portrait feature also allows you to manually adjust the level of background blur to suit you.
Galaxy S20 Ultra 5G specs
General

| | |
| --- | --- |
| Manufacturer | Samsung |
| Operating System | Android |
| Sim Card Type | Nano |
Sensors

| | |
| --- | --- |
| Accelerometer | Yes |
| Proximity | Yes |
| Compass | Yes |
| Barometer | Yes |
| Gyroscope | Yes |
| GPS | No |
Size & Weight

| | |
| --- | --- |
| Form Factor | Candy Bar |
| Thickness | 8 mm |
| Size | 76mm x 8mm x 167mm |
| Weight | 221 g |
Battery

| | |
| --- | --- |
| Battery Type | Lithium Polymer |
| Capacity | 5000 mah |
| Standby | 312 hours |
| Talktime | 37 hours |
Display

| | |
| --- | --- |
| Display Size | 6.9 inches |
| Screen Type | AMOLED |
| Resolution | 1440 x 3200 inches |
| Pixels Per Inch | 511 ppi |
| Touch Screen Type | Capacitive |
Processing power

| | |
| --- | --- |
| CPU | 2840 mhz |
| Processor Cores | Octa Core Cores |
| Memory | 12000 MB |
Storage

| | |
| --- | --- |
| Internal Storage | 128, 512 |
| External Storage | Micro SDXC |
Camera & Video

| | |
| --- | --- |
| Primary Camera | 108 MP |
| Flash | Yes |
| LED Flash | |
| GEO Tagging | Yes |
| Auto Focus | Yes |
| Fixed Focus | Yes |
| Touch Focus | |
| Face Detection | Yes |
| Smile Detection | |
| Image Stabilisation | Yes |
| Video Quality | 1080 |
| 2nd Camera | 45 MP |
Data

| | |
| --- | --- |
| Generation | 5G |
| Frequency | Dual-band |
| NFC | No |
| Wi-Fi | No |
| Wi-Fi Hotspot | No |
| Wi-Fi Direct | No |
| Bluetooth | No |
| USB | No |