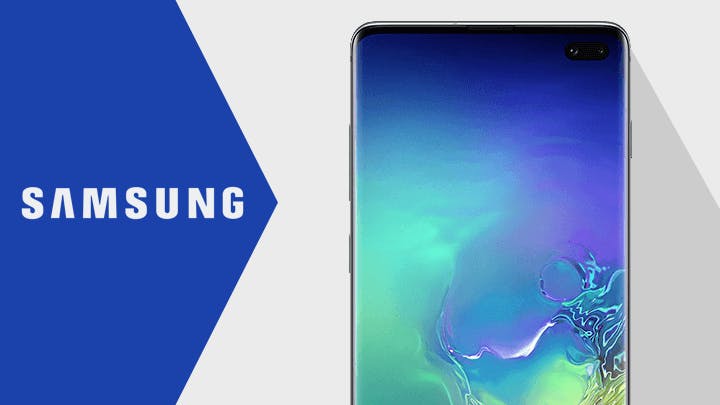 There's been plenty of excitement surrounding Samsung's new Galaxy S10 range over the last few weeks, especially the S10 Plus. But now that the plus-sized flagship has dropped, what new features does it offer? And how can you get one for the best possible price?
Samsung Galaxy S10 Plus at a glance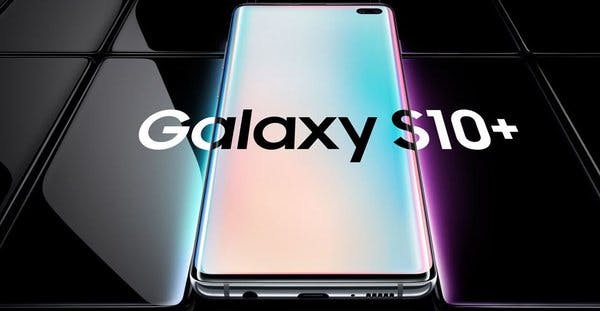 The S10 Plus is a slick, super-sized smartphone, with gorgeous aesthetics that conceal some cutting-edge specs and features, like an embedded fingerprint scanner in place of the home button.
All of its most cutting-edge specs and features are possible because of a Qualcomm 855 chipset - the Galaxy S10 Plus's new processor.
It's a seriously impressive bit of kit and, it could well be the most powerful new processor on the market.
Then there's the premium look; boasting a huge 6.4-inch, bezel-free display from edge-to-edge, as well as a punch-hole camera at the front, the S10 Plus ticks all the right boxes on the design front.
And the phone comes in four standard colours - Prism White, Prism Black and Prism Green.
Key specs and features
Here's a few more of the phone's specs and features:
Display - if you like a big screen, you'll be over the moon with the Samsung S10 Plus's 6.4-inch, end-to-end, dynamic AMOLED display.
Storage - the phone comes with as much as 12GB of RAM and up to 1TB of internal storage.
Battery - the S10 Plus boasts a massive 4,100mAh battery. To that end, if you constantly require a charger from your colleagues at work, this is the phone for you.
Embedded fingerprint scanner - slick looks and generous battery life aside, one of our favourite features is Samsung's in-display, ultrasonic fingerprint sensor.
Samsung Galaxy S10 Plus design and screen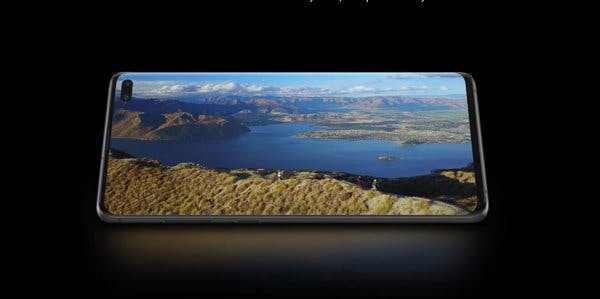 Coming in at 157.6 mm x 74.1 mm x 7.8 mm, the S10 Plus's dimensions are broadly in line with the S9 Plus. Which means it might be a little too big for small hands.
But that said, Samsung has done a great job of squeezing a vast 6.4-inch screen in a phone that'll easily fit in your jeans pockets. A feat principally achieved by shrinking the bezels (the edges around the side of the screen) so they're barely there, and secreting the fingerprint scanner within the screen.
Not all the physical buttons are gone, though. The phone's also home to side-mounted volume controls, as well as a dedicated button for activating Samsung's Bixby voice assistant.
And in a move to cheer anyone unconvinced by the quality of wireless headphones, the S10 Plus retains a 3.5mm headphone jack. So you can still use traditional wired headphones.
As you'd expect if you've owned a Samsung Galaxy S phone before, the S10 Plus's screen is bright and packed with colour. Games, apps, movies and photos all look fantastic.
Samsung Galaxy S10 Plus battery
At 4,100mAh, the S10 Plus is powered by one of the largest batteries of any Galaxy S phone. And, in fact, any phone full stop.
The result is that you can easily get through the whole working day and evening out on a single full charge.
And if you are running low, there's a neatly adjustable low power mode that lets you choose which power-hungry apps or services you want to switch off.
Like Huawei phones and newer iPhones, the S10 Plus also comes with a power-sharing feature that lets you charge your friends' and family members' phones.
To do so, just place the phone you want to charge on top of the S10 Plus and the power transfer starts instantly.
As you'd expect, the S10 Plus can be charged wirelessly and has a fast-charge mode too.
Samsung Galaxy S10 Plus camera specifications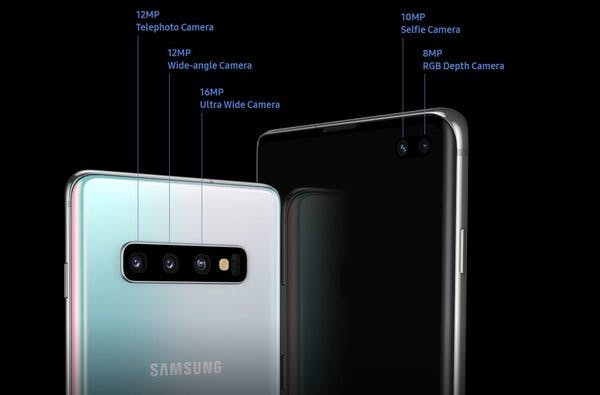 The S10 range marked ten years of Samsung Galaxy S smartphones. And Samsung pulled out all the stops to make the S10 Plus's camera a landmark in phone photography.
More intelligent than previous Galaxy S models, the camera helps you get better photos with AI suggestions for how to compose your photos while you're taking them.
Better still, it'll also automatically adjusting settings to complement the shooting conditions.
The powerful main camera also packs in three lenses, including a Telephoto Camera that's outstanding for close-ups, an Ultra Wide Camera for panoramic landscapes and a standard lens for day-to-day shooting.
Need to shoot in low light conditions? The S10 Plus is home to a dual aperture that adjusts and optimises light before you take a shot for better results.
And just as helpfully, it'll take multiple shots at night too and combine them for the best possible shot.
| | | |
| --- | --- | --- |
| Samsung Galaxy S10 Plus | Main camera | Front camera |
| Lens 1) | 12 MP, f/1.5-2.4, 26mm wide, 1/2.55", 1.4µm, Dual Pixel PDAF, OIS | 16 MP, f/2.2, 12mm ultrawide, 1/3.1", 1.0µm, Super Steady video |
| Lens 2) | 12 MP, f/2.4, 52mm telephoto, 1/3.6", 1.0µm, AF, OIS, 2x optical zoom | 8 MP, f/2.2, 22mm wide, 1/4", 1.12µm, depth sensor |
| Lens 3) | 16 MP, f/2.2, 12mm ultrawide, 1/3.1", 1.0µm, Super Steady video | N/A |
| Key features | Dual aperture, panoramic shots | 4K UHD video, Live Focus bokeh |
Samsung S10 Plus contract options
Need an Samsung S10 Plus deal with a lot of data? Got an idea of how much you'd like to pay upfront for an Samsung S10 Plus contract? Maybe you're in the market for some value-adding freebies? We've tracked down our best Samsung S10 Plus deals, whatever your criteria.
Cheap Samsung S10 Plus deals
Sort the Galaxy S10 Plus deals in our comparison table by cost to see the cheapest ones that fit what you're looking for.
Ranking by total cost will show you which deals offer the best value across the whole contract; or monthly cost shows you the ones with the lowest monthly bills.
Samsung Galaxy S10 Plus deals by network
Use CompareMyMobile's comparison tool to find the best Samsung Galaxy S10 Plus deal Plus deal. We pull in deals from a bunch of UK networks and resellers so you can sort through them and see which one is best for you.
The filters at the side of the page will help you narrow them down to ones that fit what you need.
Here are some of the major networks you can choose from:
Samsung Galaxy S10 Plus deals with Vodafone
Aside from its basic tariffs, Vodafone customers who like to travel will also get some great incentives along with big data plans and TV Entertainment passes.
Like the sound of Virgin Media? Find out what else it has to offer with our Vodafone review
Samsung Galaxy S10 Plus deals with Sky
Sky has an array of mobile phone deals, complete with a few extras for its TV customers. Even if you're a Sky newbie you get some noteworthy incentives, such as data rollover, early handset upgrades, and changeable plans with allowances you can switch whenever you want.
Take a closer look at what Sky has to offer with our Sky review
Samsung Galaxy S10 Plus deals with EE
If decent Wi-Fi coverage is particularly important to you, EE is well worth a look. Its coverage reaches most of the UK. To that end, it's ideal for anyone who relies on a sturdy Wi-Fi connection, particularly freelancers and those who work from home.
To find out more, read our EE network review
More phones like the Galaxy S10 Plus
Take a look at some other phones that are similar to the Galaxy S10 plus and compare all your options before you commit to a plan.
Frequently asked questions
Is the Galaxy S10 Plus a good buy in 2023?
There haven't been too many phones that have bettered the S10 Plus since it debuted in 2019.
And now that it's no longer the newest model and has become more affordable, you'd be even harder pressed to find anything that bests it at a comparable price.
Lots of storage, a superb screen and impressive battery life make the S10 Plus a phone that does the basics brilliantly.
But it's much more than that. Add power-sharing and a world-beating camera and you've got one of the best smartphones of recent years. Full stop.
Can I get a Samsung Galaxy S10 Plus deal with no upfront cost?
A Samsung Galaxy S10 Plus deal with no upfront cost may mean a more expensive bill each month, but these plans certainly are available - and from quite a few networks, too.
Select 'free' in the phone cost filter on the comparison grid to compare them. You can also sort the deals by upfront cost, which shows you the ones with free devices and cheap upfront costs first of all.
Can I get a Galaxy S10 Plus deal with bad credit?
The majority of mobile networks will carry out a credit check. Of course, if you have bad credit, this can be a problem. But it doesn't have to be - there are still plenty of deals you can sign up to.
Does the Galaxy S10 Plus support 5G?
The standard version of the Galaxy S10 is not compatible with 5G networks. But there is a 5G version of the phone, which comes in a bit more expensive but will allow you to experience the super fast mobile internet speeds that 5G offers.
Is the Galaxy S10 Plus waterproof?
With an IP68 rating, the Galaxy S10 Plus is water-resistant rather than waterproof. Tests show it can survive being submerged in up to 1.5 metres of water for up to half an hour.
How many cameras does the Galaxy S10 Plus have?
The S10 Plus makes room for five cameras in total, making it one of the most powerful cameraphones around.
The main, rear camera set-up is made up of three lenses: a 12-megapixel standard lens, a 12-megapixel telephoto lens and a 16-megapixel ultra-wide lens.
Around the front you'll find a dual-lens selfie camera that consists of a standard ten-megapixel lens and an eight-megapixel lens with depth-sensing technology.
What size is the Galaxy S10 Plus?
As the largest of the S10 family of the phones, the Galaxy S10 Plus's measures 157.6 x 74.1 x 7.8 millimetres and packs in a 6.4-inch display.
Does the Galaxy S10 Plus have wireless charging?
Yes, it does. But the Galaxy S10 Plus actually goes one better than that and has fast-wireless charging, which should get you a full charge in about an hour and a half. It's also equipped for reverse wireless charging. That means you can share power with other compatible devices simply by pressing them against the S10 Plus's glass back section.
Does the Galaxy S10 Plus have a portrait mode?
Yes, the Galaxy S10 Plus has a portrait mode on the front and rear cameras. So you'll be able to take depth-of-field shots with both.
Galaxy S10 Plus specs
General

| | |
| --- | --- |
| Manufacturer | Samsung |
| Operating System | Android |
| Sim Card Type | Nano |
Sensors

| | |
| --- | --- |
| Accelerometer | Yes |
| Proximity | Yes |
| Compass | Yes |
| Barometer | Yes |
| Gyroscope | Yes |
| GPS | Yes |
Size & Weight

| | |
| --- | --- |
| Form Factor | Candy Bar |
| Thickness | 7.8 mm |
| Size | 74.1mm x 7.8mm x 157.6mm |
| Weight | 175 g |
Battery

| | |
| --- | --- |
| Battery Type | Lithium Ion |
| Capacity | 4100 mah |
| Standby | hours |
| Talktime | hours |
Display

| | |
| --- | --- |
| Display Size | 6.4 inches |
| Screen Type | Super AMOLED |
| Resolution | 1440 x 3040 inches |
| Pixels Per Inch | 526 ppi |
| Touch Screen Type | Capacitive |
Processing power

| | |
| --- | --- |
| CPU | 2800 mhz |
| Processor Cores | Octa Core Cores |
| Memory | 8000 MB |
Storage

| | |
| --- | --- |
| Internal Storage | 128, 512, 1000 |
| External Storage | Micro SD |
Camera & Video

| | |
| --- | --- |
| Primary Camera | 12 MP |
| Flash | Yes |
| LED Flash | |
| GEO Tagging | Yes |
| Auto Focus | Yes |
| Fixed Focus | Yes |
| Touch Focus | |
| Face Detection | Yes |
| Smile Detection | |
| Image Stabilisation | Yes |
| Video Quality | 2160p |
| 2nd Camera | 10 MP |
Data

| | |
| --- | --- |
| Generation | 4G |
| Frequency | Dual-band |
| NFC | Yes |
| Wi-Fi | Yes |
| Wi-Fi Hotspot | Yes |
| Wi-Fi Direct | Yes |
| Bluetooth | Yes |
| USB | Yes |