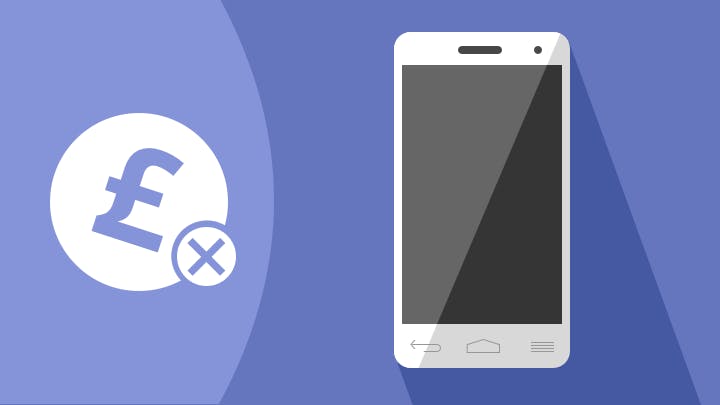 Contract deals with nothing to pay upfront have much to recommend them. Not least because they allow you to get a top smartphone for a far, far more affordable price by paying it off over two years.
Best no upfront cost phone deals this week
Need a bit more help choosing a deal? We've got you covered.
For the table above, our experts have handpicked the best phone deals with no upfront cost on offer this week. We've chosen to bring these deals to your attention because we think they represent great value.
That might be because they come with generous monthly allowances on a network that stands for its high quality coverage and fast speeds.
Or because the deals offer great freebies, such as a free voucher or a free subscription to a video streaming service.
Either way, you can rest assured you're getting a standout deal.
What does the term 'no upfront cost phone' mean?
What it means is that you sign up to a contract that has no charge today. The phone itself is given to you 'free' - that is, you get it without paying anything upfront right now.
Instead, the cost of the phone is spread out over the course of your contract. It's incorporated into your bill along with your monthly tariff on a SIM.
Sometimes, the bill is even split up in two, so you can see how much you've paid towards the handset and pay it off whenever you like. O2 Refresh, Sky Mobile Swap, and giffgaff contracts work a little like this.
Find out more with our one-stop guide.
Which manufacturers offer no upfront cost phones?
Mobile networks and retailers offer phones on no upfront cost deals from just about every manufacturer.
Whatever you need from your phone, there's a good chance you can find a plan with nothing to pay upfront from a range of manufacturers, including:
iPhone deals with no upfront cost
iPhones don't come cheap - this we know. But going for a slightly older iPhone model can often save you a lot of money.
And just as importantly, it's easier to find deals with no upfront cost.
Models that you're likely to be able to get with no upfront cost include:
Samsung deals with no upfront cost
Samsung's wide range of smartphones are built for all budgets, whether you want a basic device or one of the very best handsets around.
Going for an older model or one that doesn't come with the latest specs is more affordable.
But whatever you want, the following are all available with no upfront cost.
Which networks offer no upfront cost contracts?
If a network offers contracts on handsets, there's a very good chance they'll offer them with no upfront cost. But it depends what deals and phones they have available at the time.
The best option is to compare all your options using the tables above. You'll find deals from networks including:
EE no upfront cost contracts
EE has a great range of no upfront cost contracts offering the very best smartphones out there. Check out EE deals to see what you can get.
Currently, it has the Samsung Galaxy S21 5G and Apple iPhone 12 available without having to fork out a penny upfront.
EE is the UK's speediest network, with massive 5G coverage and excellent perks, including free Apple Music streaming and access to other paid for services included in its contracts.
However, it comes at a slight premium compared with its rival operators.
Vodafone no upfront cost contracts
Vodafone has a huge range of Samsung and Apple smartphones. Head to the Vodafone page, search for the device you want and toggle no upfront cost in the filter to see what you can get.
Vodafone has pedigree as the UK's oldest network, with great 4G and 5G coverage.
O2 no upfront cost contracts
Search for O2 no upfront cost contracts and you'll find great options on Samsung and Apple handsets.
O2 has much to recommend it, and not just because of its comprehensive coverage.
Its contracts are split so you can upgrade your device sooner using its Refresh tariffs, while its Priority service can score you tickets and freebies for gigs and other events.
Can I get a phone contract with no upfront cost and a bad credit history?
It's possible, but not always. All phone contracts require a credit check first, but some sellers are more lenient than others.
If you have a poor credit history, start by finding a contract with no upfront cost that you like the look of, and sign up. You might get lucky.
No dice? Try a smaller network or reseller, an older phone, a cheaper handset, or a second-hand or refurbished model. You're more likely to pass the check with these.
If you're rejected again, unfortunately your best bet may be to buy a cheap phone outright and get a rolling SIM-only deal to use with it.
Check out our guide to contract phones for bad credit to find out more.
Which network is the easiest to get a contract with?
Getting a contract phone with a bad credit history is tricky but not impossible.
Our full guide will help, but it's worth remembering that the cheaper the phone and the smaller the network, the better the chance you'll have of getting the device you want.
Before applying for contracts with a string of networks in the hope one will come back positive, remember doing so can affect your credit rating. Our advice is to try and improve your credit rating first.
Alternatively, check out Smarty and giffgaff. Neither require a credit check for a SIM only deal, meaning you can potentially get a new phone by paying for one outright and pairing it with a simple, affordable price plan.
What's good about no upfront cost phones?
You won't have to find a big lump sum that could be hundreds of pounds
You can spread the cost of the phone out across the contract, making it more manageable
It's a great way to get the latest phone without breaking the bank
What's bad about no upfront cost phones?
Paying nothing upfront means your monthly bills are a little higher
There's less choice over phones, contracts, and networks
You need to pass a credit check to get one
You may not be able to get the very latest phones with no upfront cost
Is it cheaper to get a phone contract with an upfront cost?
We've crunched the numbers and found that there's negligible savings to be made by paying up front. If you save anything at all.
Generally if you compare contracts with no upfront cost with those that demand some payment upfront and that have the same monthly allowances, you'll find that your total outlay is the same over the course of your contract term.
However, if you can afford to pay a bit upfront you'll have less to find each month. So if you're not great with money and you've got cash to hand, it could be smart to pay a lump sum to begin with for lower premiums.
How long are these contracts?
In general, no upfront cost contracts run for 24 months. However, there's an increasing move towards longer, 30 and 36 month deals.
These have the benefit of spreading the cost of an expensive device even further, lowering your monthly bills significantly.
However, such long deals mean you may be stuck with an ageing phone for longer than you want. Ideally, aim for a higher end phone on these contracts, as they will benefit from software updates over the long term.