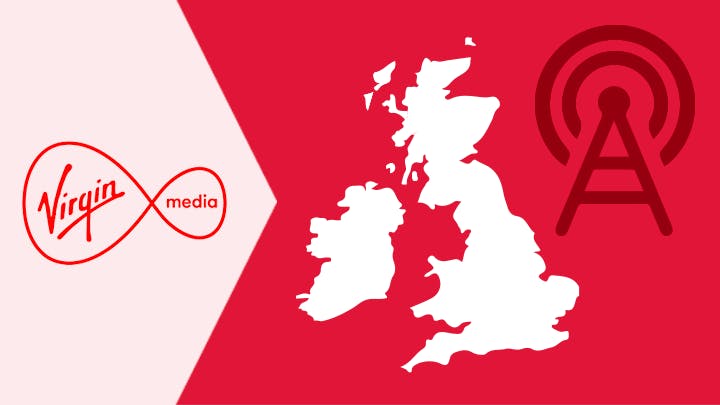 If you're looking for a SIM-only deal, Virgin Mobile is a great choice. By grabbing one of its SIM plans, you can keep your phone (or buy a snazzy new one outright), and still get all the benefits of a Virgin Mobile deal. Plus, you're able to change your plan more often, so you always have the best possible SIM.
Virgin Mobile has something for everyone, whatever kind of SIM-only deal you need. Compare its 4G and 5G plans right here with our mobile comparison tool - or keep reading to find out more about how to find the deal for you.
Best Virgin Mobile SIM-only deals this week
Is Virgin Mobile a good network?
For simple, wallet-friendly SIM-only deals, Virgin Mobile is a good bet.
Costs are nice and low; coverage is excellent; and you can expect a reliable service thanks to the Vodafone network that Virgin Mobile uses and that covers almost all of the country.
What's more, you have a lot of choice over plans and allowance, which all include 5G. You'll also get Data Rollover, to help you get even more value out of your plan.
On the downside, there aren't many extras… even if you're a Virgin Media broadband or TV customer too. Roaming outside of the EU isn't great either. And sadly, its customer service scored fairly low in Ofcom's reports compared against the rest of the mobile market.
What SIM-only deals can I get from Virgin Mobile?
There's a nice range of SIM deals available from Virgin Mobile, with options to suit all kinds of use. You'll find SIMs with small allowances for light users, all the way up to larger ones with lots of data, suitable for mobile fiends who use their phone a lot. Some plans come with a few other special benefits too - read more about those in our full guide to Virgin Mobile.
What benefits does Virgin Mobile offer?
Data Rollover, which lets you keep any unused data from your allowance each month and use it next month
5G included in all plans
'Roam like home' in 43 destinations
Can I use my Virgin Mobile SIM abroad?
Yes. In 43 places across Europe, you can use your normal data allowance as if you were at home, with no extra charges.
Outside of those European locations, however, all mobile use is pay-as-you-go, and it can get quite expensive. There aren't any options to add bolt-ons to bring those charges down, either. You can set a spending cap so you don't blow your savings on texts, but that's it.
Cheapest Virgin Mobile SIM-only deals this week
The cheapest SIM deals have lower allowances, are often on longer contract terms, and may be missing some of the features and extras of a more premium SIM plan. Existing customers can sometimes snag even better deals too.
To find the cheapest Virgin Mobile SIM option that suits you, just use our comparison table. Narrow the deals down with the filters, then use the 'sort by' toggle to order them by monthly cost. This will push the cheapest deals up to the top so you can see them first.
Can I get unlimited data with a Virgin Mobile SIM?
Yes you can. You can enjoy limitless mobile internet with its unlimited data SIMs - or save a few bob by going for the next best option, 200GB data per month.
Are Virgin Mobile SIM-only deals cheaper than contracts?
Yes, in most cases it's cheaper to go SIM-only than to take out a handset contract - partly because it means you won't be paying any interest or extra costs on the phone itself. Buying a phone outright and getting a SIM-only deal to put in it almost always works out cheaper in the long run.
As an extra price-saving bonus, SIM-only contracts usually last a much shorter length of time than ones with a phone… meaning you can switch to a new, even cheaper SIM as soon as you find one.
Other SIM-only networks
Frequently asked questions
Can I keep my mobile number if I switch to a Virgin Mobile SIM-only deal?
Yep, you can keep your phone number when you switch mobile networks, regardless of which network you're switching to or from. It's surprisingly hassle-free to sort out, too.
All you need to do is sign up to a new deal, then contact your current network and ask for a PAC - a porting authorisation code. Give it to Virgin Mobile once you have your SIM, and the number should port across within a matter of days.
Do I need an unlocked phone to use a Virgin Mobile SIM?
Yes, your phone needs to be unlocked - or locked to Virgin Mobile - in order to use a Virgin Mobile SIM card.
If you bought your phone outright from a retailer, it should already be unlocked and you have nothing to worry about.
However, if you're using an old phone that you got on a contract, it may be locked to your former network. In that case, you'll need to get it unlocked - but don't worry, as this is easy enough to do.
All you have to do is contact the network it's locked to, and they'll sort it out - sometimes free of charge. They may give you a code to enter, or might be able to it remotely. Your phone will be unlocked and ready for a new SIM in a few days' time.
How long do Virgin Mobile contracts last?
All Virgin Mobile's SIM-only deals last 30 days.
If you're happy, you can keep them rolling month-to-month. Or, you can switch out your allowance for a different one – there's a lot of choice, so you can cater your plan to what you need each month, if you want. Or, if you're tired and want to switch network, you can do that whenever you want to as well.