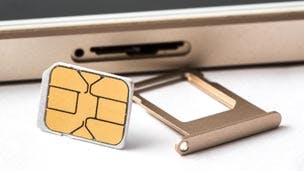 A friend recommended I get a SIM only deal, but I don't know how they differ from standard mobile contracts deals. What do they come with? Are they cheaper? And do I need to pass a credit check to get one?
William, Bristol
Good news, William: If you can't afford to fork out for a pay monthly phone deal, a SIM only contract is a great way to get the texts, call time and data you need and save money in the process.
Moreover, some network providers even offer SIM only deals on a rolling contract basis. Which means they are a lot more flexible than standard pay-monthly phone contracts too.
Here's everything you need to know about SIM contracts.
What are the pros and cons of SIM only contracts?
Just like any other phone contract, there are pros and cons to going SIM only.
So before you pick a deal, consider the following:
Pros
Cheaper. Because they don't come with a handset, SIM only deals are often cheaper than standard mobile contracts. You'll only need to pay for your minutes, texts and data.
More flexible. Unlike like most standard contracts, the majority of SIM deals are available on one-month contracts, as well as the standard 12-month and 24-month options.
Easier to pass credit check. As we say, because you won't get a new phone with a SIM contract, there's no credit check either. This means that if you have a bad credit score, you're still likely to be accepted for a deal.
Cons
Doesn't include a handset. You'll need to supply your own and, if the phone is over a year old, it might be out of warranty. For this reason, you might have to pay-out a hefty sum to insure your device.
Your phone might be locked. If this is the case, your network might be able to unlock the phone for you. Alternatively some high-street shops may be able to unlock the handset for you too – though they may change a small fee to do so.
How to find SIM only deals
As you can see, when it comes to SIM only contracts, there are loads of deals out there. Which means the best way to find the cheapest deal to suit you is to compare.
That's where we can help.
Here on Comparemymyobile, we list some of the best some only deals from the providers above. To start comparing, hit the button below.
Which networks offer SIM only contracts?
Most of the UK's major networks offer SIM only deals, including Tesco Mobile, Vodafone and BT.
Here's what each network has to offer:
O2. By joining O2, you'll get access to loads of 4G SIM deals, as well as special offers on popular high-street brands, plus priority gig tickets to boot.
BT. If you're a BT broadband customer and sign up for a BT Mobile who wants to sign up to on one of its SIM only deals, you'll also get a discount of £5 per month on your broadband. Moreover, sports fan will also get the BT Sport app for free.
EE. Not only is EE the fastest network provider in the UK, it boasts a plethora of cheap SIM only deals too to boot. EE customers also sign up for EE TV and fibre broadband deals.
Vodafone. As a Vodafone SIM only customer, you'll get unlimited data, as well as a generous selection of calls and texts. And with its VeryMe Rewards scheme, you'll also get special offers and coupons from time to time too.
Tesco Mobile. Tesco offers its SIM only mobile customers some enticing perks. For example, if you have two or more pay monthly contracts with Tesco Mobile, you'll get access to discounts on your bill, as well as 200 Tesco Clubcard points.
Three. Three offers unlimited internet data, brilliant call and text tariffs as well as free roaming abroad. to boot.
iD Mobile. Impressively, iD Mobile boats flexible 30-day rolling contracts, data rollover – meaning you can take over any unused data from one month to the next, plus the opportunity to cap your bill between £0 and £25.
Plusnet Mobile. Plusnet Mobile is known for its cheaply priced SIM only deals, as well as excellent network coverage to boot. In addition, broadband customers also get special mates rates on its mobile packages too.
giffgaff. Giffgaff offers flexible, short 30-day contracts, plus plenty of unlimited mobile plans to choose from.