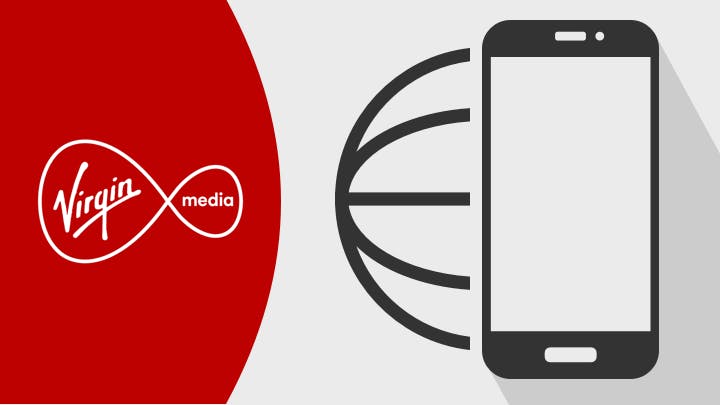 Virgin Mobile offers a wide range of tariffs, competitively priced mobile contracts and SIM-only plans, plus the option to rollover any unused data at the end of the month. On the face of it, then, it ticks all the right boxes. But is it really worth your money?
To find out, we put Virgin Mobile under the microscope and list its pros and cons, customer service, network coverage and pricing to help you decide whether the network is right for you.
What's good about Virgin Mobile?
Wide range of tariffs on all its plans
Excellent coverage
One-month data rollover available
Option to bundle TV with broadband
What's bad about Virgin Mobile?
Limited extras
Limited range of handsets compared to other networks
Unlimited plans only available to broadband customers
Virgin Mobile SIM-only deals
Virgin Mobile offer a fair number of SIM-only plans, starting from 4GB per month all the way to unlimited data. Best of all, these plans are pretty cheap when compared with other big networks.
All of Virgin Mobile's SIM-only plans operate on a 30-day rolling contract, so you're free to cancel or change your plan whenever you want.
Verdict:

Virgin Mobile offers plenty of variety at competitive prices, and 30-day rolling contracts for maximum flexibility. For those reasons, we're giving it a big thumbs up.
Virgin Mobile phone plans
Virgin Mobile's Freestyle contracts - as the name suggests - offer loads of flexibility and can last 24-months or 36-months, depending on your specific needs. With these contracts, you can upgrade your handset before the contract runs out, and your minutes, texts and data will be on a separate plan to your phone.
Every mobile contract and SIM-only tariff from Virgin Mobile comes with unlimited texts, but if you want unlimited calls, you will have to pay out more unless you're already an existing Virgin Media customer.
Verdict:

Offers a decent selection of SIM-only and contract plans for reasonable prices, with loads of flexibility. Downside is, contract-length is pretty long.
Virgin Mobile coverage
Because Virgin Mobile uses Vodafone's network, its coverage reaches 99% of people in the UK. In theory, then, you should be able to receive mobile internet no matter where you are in Britain.
However, as a rule of thumb, we recommend you check the coverage in your area with Virgin Mobile's coverage checker before you sign on any dotted lines.
Virgin Mobile coverage checker
Verdict:

As we say, because Virgin Mobile uses Vodafone's network, coverage is excellent.
Virgin Mobile pricing
Most, if not all, of Virgin Mobile's handset plans require an upfront payment on top a monthly fee - and this can be a significant sum for premium handsets, such as iPhones and Samsung Galaxy phones.
So while Virgin's monthly contract fees look quite reasonable, be prepared to pay an upfront cost on Virgin's long-terms plans.
If you're fine with paying an upfront cost, Virgin's monthly contract fees look quite reasonable compared to other mobile networks, and most plans include unlimited minutes and unlimited texts.
It also offers other perks and benefits that could save you even more money in the long run.
Verdict:

If you don't mind forking out a lump sum when you take out a contract, Virgin offers some reasonably-priced long-term contracts.
Virgin Mobile customer service
To be honest, Virgin Mobile's customer service doesn't exactly wow us.
Generally, it falls short of other big providers like BT and Tesco Mobile and while it offers value for money, if customer satisfaction is important to you, you might want to look at other networks.
That said, it is difficult to judge a mobile network solely on its customer service.
Verdict:

Virgin Mobile mostly does everything right. But no one likes mediocre customer service.
Virgin Mobile extras and benefits
One of the cool things about Virgin Mobile is, you can rollover any unused data at the end of each month. Plus, if you want to turn your smartphone into a mobile Wi-Fi hotspot when you're out and about, it allows unlimited tethering on all its plans.
Brilliantly, it will also throw in a decent gift with its handsets from time to time too depending, of course, on which one you go for. And don't forget; current Virgin Media TV, fibre and home phone customers will get unlimited texts, calls and data for as long as they are with the provider.
We're also big fans of its public Wi-Fi hotspots across the UK. To access them, simply download Virgin Mobile's Wi-Fi buddy app. And social media junkies can get free Facebook, WhatsApp and Twitter messaging.
Verdict:

Overall, Virgin Mobile offer up some very attractive extras and benefits.
Overall verdict
In short, we're impressed with Virgin Mobile. It offers a decent selection of tariff plans as well as data rollover and free messaging on Facebook, WhatsApp and Twitter.
Its Wi-Fi hotspots mean, in theory, you should be able to access the internet wherever you are, and because it uses the same infrastructure as Vodafone, it has great 4G coverage in the UK.
On the downside, its customer satisfaction scores could be a little higher - and most of its long-term mobile contracts require an upfront cost.