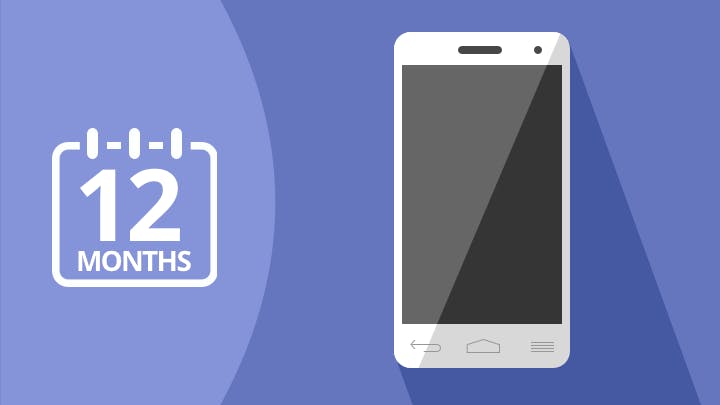 A mobile phone contract includes a phone and a SIM card - which contains a monthly allowance of calls, texts and data. 30-day and 24-month contracts are most common, but some networks also offer 12-month mobile contracts.
Best 12 month phone contracts this week
| Handset Name | Data Amount | Monthly Costs |
| --- | --- | --- |
| iPhone 12 (64GB Black) | 5GB data | £69.05 |
| iPhone 11 (64GB White) | 5GB data | £58.03 |
5GB of 5G data
Unlimited minutes
Unlimited texts
£20.00 device cost
download speed limit
Special offers with O2 Priority

12 month contract

From O2

5GB of 4G data
Unlimited minutes
Unlimited texts
£20.00 device cost
download speed limit
Special offers with O2 Priority

12 month contract

From O2
How to choose a mobile contract deal
Use our handy mobile contract comparison tool to compare your options when choosing a 12-month contract - you'll find a wealth of deals on a load of handsets across different mobile networks.
You can search by handset, by network and can also filter on things like: data, text and call allowances as well as upfront, monthly and total costs.
We'll then display the deals that fit your criteria. Once you find a deal right for you, we'll take you to the place to sign up.
What handset should I get?
Where to start? There are quite simply hundreds of mobile phones to choose from. Whether you want a premium Google Pixel 3, a mid-range OnePlus or have your eye on the latest iPhone, it's important to weigh up your options.
When you're choosing a new phone, consider the following:
Price - you'll pay more the for latest (and the more sophisticated) models, particularly flagship phones such as an iPhone and Samsung Galaxy.
Platform - iOS? Android? Windows?
Design - like lots of products, the look and size of handsets changes according to fashion, but you should still find one that suits you; whether it's a big screen, small body or just looks great.
Features - some smartphones have amazing cameras; some have secure fingerprint scanners; some have excellent speakers.
Storage - your files and apps (especially ones such as Spotify) can suck up a lot of space - make sure your new phone has enough storage.
What mobile allowance do I need?
Most handsets are available on contracts with a wide range of allowances, ranging from basic call and text packages, to big and unlimited data plans.
Choose an allowance that matches your phone use...
Light users - 1GB of data should do you - with a basic plan of minutes and texts.
Medium users - 2GB-5GB data is usually plenty for anyone who uses apps and social media on the go a lot
Heavy users - look for allowances of 10GB above - perfect if you like to stream iPlayer or listen to Spotify while out and about, or if you need to download lots of documents and files.
For more information on data use, see our guide: How much mobile data do I need?
What's the best mobile network?
Probably the most important factor in choosing a mobile network is the coverage it provides. Different networks offer differing coverage, so it's important you can get a decent signal from your chosen network before you sign up - EE, for example, offers the best coverage in the UK.
Price will obviously also play a big part in your decision making. It's certainly worth considering small networks such as giffgaff, though opting for a bigger network has its perks - Three has unlimited data deals on offer; O2 comes with perks like O2 Priority; while BT Mobile comes with big discounts for current BT broadband customers.
What's the cheapest 12-month mobile contract?
To find the cheapest 12-month contract deal, use our mobile contract comparison tool to enter your criteria. We'll sort the results by cost with the lowest-priced plans at the top.
Consider the following to help you grab a cheap mobile phone deal:
Older handsets - the iPhone 8 is cheaper than the latest Apple release.
Mid-range handsets - cheaper than the flagship models, if you don't mind forgoing a few features and high-end specs.
Budget networks - some networks' plans are cheaper; though their lower overheads might also mean fewer bonuses and benefits.
Lower allowances - A good rule of thumb is the lower the monthly allowance on a plan, the less it will cost.
Pick a refurbished handset - A refurbished or reconditioned phone may have had a previous owner, but has been given a refresh and a spring clean before getting passed on to you - at a nice discount.