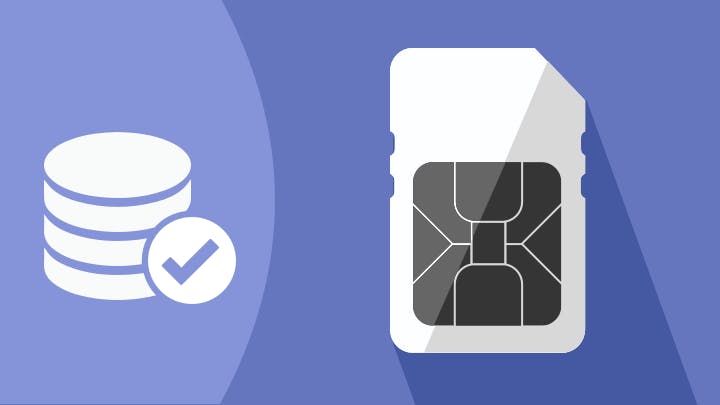 A data-only SIM will get you online when you're on the go. You can use them in devices that can connect to the internet but can't make calls - like tablets, dongles, and mobile Wi-Fi gadgets.
To find a data-only SIM deal that works for you, use our special SIM comparison table. You can get comparing right away - or read on to find out how to pick the best one for your device.
Best data-only SIM deals this week
| Provider | Data Amount | Contract Length | Monthly Costs |
| --- | --- | --- | --- |
| O2 sim only | 5GB data | 24 months | £11.00 |
5GB of 5G data
0 minutes
100 texts
download speed limit
EU roaming included

24 month contract

From O2
What is a data-only SIM?
As the name suggests, a data-only SIM gets you an allowance of mobile Wifi usage for a monthly charge but doesn't include calls or texts.
They're principally intended for tablets, laptops, dongles and MiFi units. To that end, with data-only deals, you don't pay for the phone – just the SIM card itself.
Which networks offer data-only SIMs?
A good variety of networks have deals on data-only SIMs - use our comparison tool to see which ones offer plans that fit what you're looking for.
Look out for networks with additional benefits that would suit you, too. Giffgaff is nice and cheap, for instance; EE has the UK's widest coverage; and O2 gives you free access to its Wi-Fi hotspots, a very useful extra for using your tablet out and about.
You can get data SIM deals from networks such as:
Can I use a data-only SIM card with my tablet or laptop?
Yes, you can use a data-only with your tablet or laptop. Simply insert the SIM into your device's SIM tray and you're good to go.
That said, for laptops and old models made before 2010 may not have a SIM slot. In which case, you'll require a dongle or MiFi unit to get online.
Can I use a data-only SIM in a smartphone?
If you stick a data-only SIM in a phone, it will work… but generally speaking: no. Data-only SIMs are designed for mobile broadband use, in gadgets like tablets and MiFi devices.
In fact, they usually have calling and texting completely disabled, so you can't use them for a lot of the functionality you'd need in your phone.
If you're in a pinch, you can access the internet by putting a data-only SIM in your phone. But it definitely isn't recommended in the long term.
A few mobile networks do offer mobile SIM plans that just happen to only include a data allowance, with calls and texts on a pay-as-you-go basis (as opposed to getting, say, 1000 texts per month). However, although they may come cheaper, they aren't much difference in price than a lot of SIM-only plans that have calls and texts included.
How do I find the best data-only SIM deal?
CompareMyMobile is here to help you find the best deal. Check out all the SIM deals we've got from a bunch of UK networks on our comparison tool right here:
Enter all the criteria for what you need from your SIM, and make sure '0 minutes' is selected in the allowance section of the sidebar. This'll show you all the deals with a data allowance but no call time. Then it's just a case of finding one you like, and clicking through to the provider to sign up.
What's the cheapest data-only SIMs?
In general data SIMs aren't as cheap as standard phone SIMS. After all, data is expensive.
However, you can do well if you're a light user, with the cheapest data only SIMs generally starting at £5 per month, which will get you a monthly allowance of about 2GB.
4G vs 5G data-only SIMs - which is better?
The majority of SIMs are now 5G-enabled by default, but a few are still 4G-only.
4G SIMs are a little cheaper, while 5G is much, much faster where it's available. And it really isn't that much more expensive – even budget mobile networks include it for all customers these days.
So although you do save money with a slower connection, it's very likely that you can find 5G plans for similar prices. It might not be worth purposefully seeking out a 4G-only plan.
And remember that to use 5G, the device you put the SIM in will also need to be 5G-ready.
Pros and cons of data-only SIMs
Pros
Lets you get online wherever you are
Flexible – you can pick a one-month SIM that you can change or cancel whenever you want
Lots of choice over network and allowance
Cons
Means additional costs per month, compared to using Wi-Fi
Requires tech with a SIM card slot
Not suitable for mobile phones
Other popular SIM only Plans
Frequently asked questions
How much data do I need?
The ideal monthly data allowance will all depend on how you use your device.
If you only plan on using mobile internet a little bit, or as a backup when you can't connect to Wi-Fi, a 1GB allowance should be more than enough.
Browsing the web, social media, email, and using most apps uses around 25MB data per hour. If you're doing this every single day, you'll likely need a good 5GB or so.
Streaming, meanwhile, is a huge data suck. Watching TV and films can eat up to 2GB per hour, depending on the quality of the video - so you'll need a bigger allowance if you plan on watching Netflix on your tablet.
Fortunately, you can get some nice high allowances on data-only SIMs. 50GB per month should be plenty for most of us, but you can go all the way up to unlimited data if you need it.
If you're really not sure how much data you need, grab a 30-day deal on an allowance that looks about right. That way, you can always change it up or down if it turns out to be too much or too little.
For a bit more info, see our full guide:
How much data does the average person use?
According to Ofcom's figures, the average mobile user in the UK uses 4-5GB of data per month.
That's for mobile users, however. There aren't currently any reliable stats for mobile broadband usage – which tends to use more data.
It's likely that you'll need more than that for a data-only SIM.
Can I get a data-only SIM for my phone?
You can, but there aren't many around. Mobile SIMs for phones that include just data, with pay-as-you-go calls and texts, aren't very common – but sometimes you'll find them around. Head over to our SIM-only deals page to find out.
Remember, you can't use the SIMs on this page for your smartphone, as they have calls and texts disabled.
Do data-only SIMs come with a number?
All SIMs have a number by default, even data-only ones. However, on data-only SIMs intended for mobile broadband, you can't really use that number. Calls and texts are completely disabled.
Is 100GB of data a month enough?
For most of us, yes, 100GB per month is plenty of data. It depends what you want to do with your connection, though.
If you just need to use your mobile broadband device on the go for doing work, accessing the web, and using basic apps, you're not likely to need anywhere close to 100GB. Look for lower allowances, perhaps 10GB per month.
If you do more data-hungry activities, however – like downloading big files, streaming TV and films, or making video calls and attending virtual meetings – 100GB or more is probably right for you.
If you're really unsure, the best thing to do is sign up to a 30-day deal and see how much data you use. Then you can upgrade it, downgrade it, or choose a different SIM on a different network entirely when the month is up.