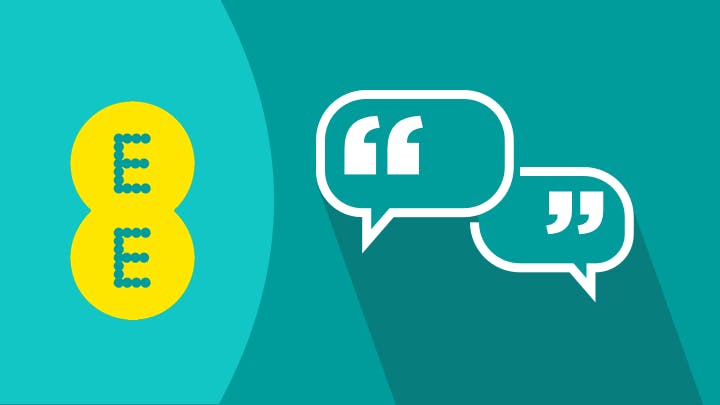 As one of the biggest networks in the UK, EE has it all: fast 4G, tons of phones and - we presume - an encyclopaedias-worth of blackmail material on Hollywood superstar Kevin Bacon. Well, there must be a reason he's willing to be in all those ads. But is the network any good?
Join us as we dive deep into the world of EE. We'll review everything from customer service and coverage, to handsets and extras.
What's good about EE
Excellent coverage
Fastest 4G in the UK
Wide selection of handsets
Plans range from 250MB to 60GB data
Family plans let you share data
Cool extras, including BT Sport and Apple Music
What's bad about EE
Quite expensive
Not the best customer service
No unlimited plans
30-day SIMs not available online
Those Kevin Bacon adverts
EE SIM-only plans
As you'd expect, EE is all over SIM-only plans. There's a good number available, starting at 250MB data (only really appropriate for light browsing and checking email) and going up to a substantial 40GB - well suited for anyone who wants to, say, watch Netflix on the daily commute. Plans come with unlimited calls and texts too - in short, they're pretty good.
EE's family plans are also great. They let you share your data allowance across multiple SIM cards, rather than pay for all that extra data. It's much more cost-effective. We approve.
While overall impressive, we are disappointed that EE doesn't sell 30-day SIM-only plans online. They're available from EE's high street stores, but it's hard see how they compare to the competition if you to go to a physical location to get them. That result is that EE's online-available SIM-only plans are about as flexible as an ironing board - it's 12 months or GTFO. To a shop.
Verdict:

We're happy with EE's SIM-only deals. We do wish that 30-day SIM plans were available online, but overall we think its plans are comprehensive enough to suit most people.
EE phone contract plans
If the choice of handsets on EE is broad, the variety of deals on offer would block out the sun - particularly if you include resellers.
Monthly data ranges from 500MB up to a hefty 60GB - though the big data's only available with some handsets sadly. Prices range from an affordable £15 a month to an wallet-wilting £88 a month, depending on the handset. That top figure's for the iPhone X by the way - yikes!
Verdict:

Contracts tend to be 24-months for the more popular phones. That's pretty standard across the big networks, but it's still quite a long time to be locked into a contract. If you're not sure you're ready for that level of commitment, you may be better off buying a cheap phone and SIM-only plan, or looking at another network.
EE coverage
EE has amazing coverage - most reports agree that it's the widest in the UK. Its 4G network now reaches 99% of the UK population, so there's a very good chance you'll be able to get a solid signal where you live and work.
In terms of geographical coverage, EE sits at around 85% of the UK. That compares favourably to its competition, but there are still parts of the country where you'll get no signal at all, so make sure you use EE's coverage checker to see if you can connect in areas you regularly visit.
EE coverage checker
Verdict:

This is an category in which EE truly shines. With 99% population coverage for 4G, EE isn't just among the best for availability - it is the best.
EE pricing
Let's not sugar-coat it - EE is one of the pricier networks in the UK. There are some affordable options, but those tend to be a little stingy with the data, and since EE's all about superfast 4G you'll want enough data to get the most out of it. That's when the costs start to add up.
A glance at our results grid reveals that some plans work out more expensive than the equivalent on rival networks like O2 or Three (though deals can change that), and especially mobile virtual network operators like giffgaff or Tesco Mobile.
Overall though, we do think EE justifies the cost of its plans. There are loads of phones and plans to choose from, the available extras are pretty good, and let us not forget that the network speed and 4G coverage are both best in class.
Bear in mind that we're talking generally here. Mobile deals change often, and networks and resellers regularly launch special offers. On occasion, EE may actually work out cheaper than its rivals, so make sure you compare plans get the best deal possible.
Verdict:

Ah, so that's what EE stands for: Eek, Expensive! That said, the speed, coverage and extras are all impressive enough to make EE just about worth it - at least for us. If you don't want to pay premium prices, you may be better served with another operator like iD Mobile or giffgaff.
EE customer service
Ofcom's most recent customer service report (2017) reveals that people are mostly satisfied with EE's customer service. Satisfaction in the reports sits at 85% - slightly lower than Three and O2, but higher than Vodafone.
Anecdotally, EE users at CompareMyMobile HQ have reported positive experiences with the online chat. It's UK-based, and every time someone's needed an answer they've been given the correct information. So a thumbs up from them.
Verdict:

EE's customer service doesn't really stand out, but nor is it significantly worse than its competitors. It's average in other words - if you need it, it'll probably get the job done.
EE extras and benefits
You'd hope a network that charges premium prices would throw in some decent perks, and EE certainly does. In fact, we think its extras - which include free subscriptions to pricy streaming services - are pretty good. Here are some of the network's best:
BT Sport - EE plans include up to 24 months' free use of BT Sport, to watch online and on a smartphone app. The channel shows Premier League matches, rugby and more.
Apple Music - Plans include six months' free Apple music subscription. A really nice touch is that any streaming won't be deducted from your allowance. Good show EE.
Broadband - If you get home broadband from EE, you get an extra 5GB data every month. (Incidentally, here's a shameless plug - have you checked out our sister site broadbandchoices?)
Wi-Fi calling - If you're on a Wi-Fi connection, EE will use it to improve the quality of calls.
Wi-Fi on the London Underground - EE customers can connect to Virgin Media Wi-Fi hotspots on the London Underground for free.
Verdict:

Okay, new theory - EE stands for Excellent Extras. BT Sport is a massive win for footie fans and six months' Apple Music is more than enough time to get through the full Taylor Swift back catalogue. Considering the premium price, it's nice that you're getting something worthwhile with your plan.
Overall verdict
EE gets the fundamentals right - it's a comprehensive network with the fastest 4G speeds, widest coverage and tons of choice for loads of different types of users. Honestly, that alone would be enough to recommend it.
The biggest downside from EE (outside of its colour scheme and Kevin Bacon ads) is the price. It's one of the pricier mobile networks out there, and those on a tight budget will likely be better served by a smaller operator. It's also not the best choice for super heavy users - big data plans are particularly costly, and you can't get unlimited data.
For most people though, the coverage and speed of the network, combined with some useful perks like data-sharing family plans, Apple Music, BT Sport and Wi-Fi access, will justify the expenditure.