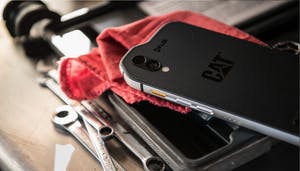 Looking for a tough phone? Here we list some of the best rugged phones around, fit for heavy-duty jobs and outdoor activities like extreme sports
If you enjoy outdoor sports, or have a job that means your phone could be exposed to a lot of wear and tear, you'll know about the importance of buying a handset that's tough.
With that in mind, here we list the UK's top rugged tough smartphones, as well as everything you need to know about buying them including how to tell if a phone is waterproof and which phones are best for builders.
Let's dive straight in…
What are rugged phone deals?
When we talk about rugged phones, we just mean phones that are sturdier than your average, flagship handsets from the likes of Apple and Samsung.
Brand like Caterpillar – primarily known for building equipment – produce some excellent rugged smartphones, as do Land Rover and others. To find the best one for you, though, you'll need to think about how likely your phone is to get damaged.
For example, if you work on a building or take part in sports like rock climbing - where you're phone is likely not to recover from a high drop - we recommend any of the phones listed below.
On the other hand, if you just want to a phone that's sturdy for when you're out and about, brands like Samsung and Apple offer handsets that are fir for purpose.
Where can I get tough phones?
You can get tough phones from a number of manufacturers, including Caterpillar, Land Rover and Blackview. Don't recognise these brand names? Not to worry, you'd be surprised at the tough phones on offer from flagship brands like Apple, too.
Take a look a below for more information.
Caterpillar S61
If you have deep pockets, the Caterpillar S61 is well worth a look. Weighing a hefty 259g, the phone itself is a little on the heavy side, but it's also super tough.
To look at, it's an impressive bit of kit – sporting a rubber back and imposing metal sides, it would not look out of place in Batman's utility belt. But then, it is a device built for resilience and not for the phoney allure of glossy aesthetics.
Notable features include a pre-installed air monitor app which, after the first 36 hours of turning on the phone, gives you air quality updates, in real time. This is especially useful to painters and decorators, as it searches for things like Organic Compounds – the harmful chemicals often found in paint.
Want to see more Cat phone deals? Hit the button below.
Blackview BV9500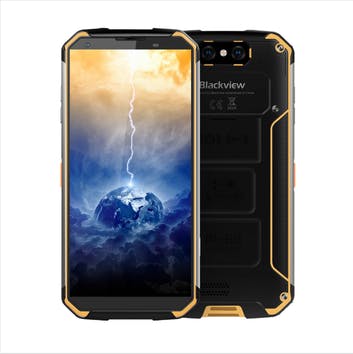 Image credit: Blackview
You might not heard of Blackview but, if you need a rugged smartphone, the BV9500 is one of its best.
With a 5.7inch screen at 2160 x 1080 resolution, images should look crisp and clear. Impressively, the phone sports three cameras – a front 13.0 megapixel camera, and two 16.0 megapixel snappers at the back.
The most impressive feature, though, is the phone's power - this is where the device really stands out. Indeed, under the rough exterior lies a super-powerful, custom-crafted 10000mAh battery. This means that, if you go on a long trip and need to rely on plenty of power, this is probably the phone for you.
Land Rover Explorer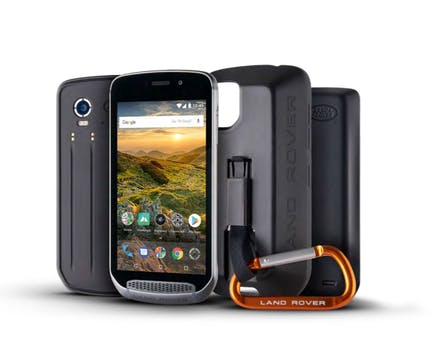 Image credit: Land Rover
When Land Rover isn't building marketing-leading 4x4s, turns out, it's a dab-hand at creating tough mobile phones.
Indeed, its Land Rover Explorer is one of the best rugged smartphones on the market. For starters, it's perfect for outdoor use – able to withstand drops from great heights and survive being submerged in salt water.
And with Corning Gorilla glass at the front, it's got a tough screen, too.
Doogee S40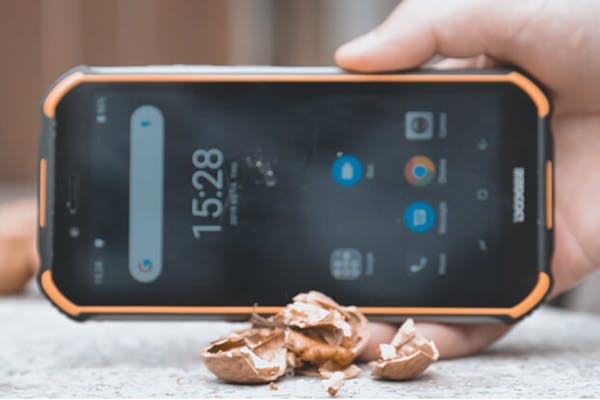 Image credit: Doogee
If the above phones are too expensive for you, then Chinese manufacturer Doogee makes rugged smartphones at competitive prices. And you won't find much better than its S40 handset.
Sure, the S40 doesn't offer the same flashy features as the handsets above, but it is reliable. And is the perfect option if you enjoy outdoor sports like mountain climbing and kayaking.
Waterproof phones
Need a waterproof handset? Good news is, there's plenty available.
If you want to purchase a waterproof phone, you'll need to look at the IP rating. IP stands for International Protection Rating. Put simply, the higher the IP rating, the more protection the phone has against water and dust.
For example, if you see a phone with an IP rating of IP57, and one IP68, the IP68 version will be more waterproof.
What's the strongest phone?
For our money, Caterpillar has some of the strongest and sturdiest smartphones available.