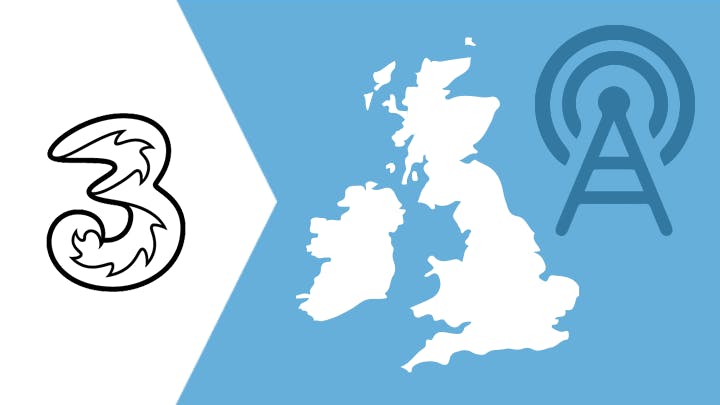 Its name may be Three, but this network stands out for one reason above all else: lots and lots of data. It's the only major network that sells true unlimited data plans, along with an incredibly broad range of other big data tariffs.
But even if you don't really care about getting masses of megabytes, there's loads of reasons to with Three, including regular freebies and discounts with its app. Read on, and we'll take you through everything Three has to offer.
Top Three phone contracts this week
Three's one of the biggest networks in the UK, and as such it has one of the broadest range of phone plans and services.
Available as pay monthly phone deals, and as SIM-only deals, Three's plans fall into two categories: Essential Plans and Advanced Plans.
Essential Plans are the company's lowest cost option. They all include Three's Feel at Home, which lets you use your phone without roaming charges in 48 European countries, and let you set spending caps.
Advanced Plans are more expensive than Essential ones, but include some extra perks on top of what you get with those plans. For example, they include an expanded Feel At Home that ups the number of included countries to 60. You can also 'go binge' with unlimited data for selected streaming video services like Netflix and Apple Music, and more, and they let you use your phone as a Wi-Fi hotspot.
We give a more detailed rundown of Three's perks and features later on this page. If you can't wait and want to see the deals, click here to go there right now:
Three mobile contracts and pay monthly deals
Three carries mobile phones to suit pretty much any budget. If you want a super-swish flagship like a iPhone or Samsung Galaxy, they're available on a range of different pay monthly and pay as you go plans, while those who want to spend the least possible will find a good number of cheap handsets available.
Some of the most popular smartphones available from Three include:
There are loads of other devices available - the best way to see the full complement is to use a comparison service:
Three SIM-only plans
If you already have a phone you like, or just want to buy one outright, a Three SIM-only plan will let you get on the network at an affordable price. Three has loads of SIM-only plans, with a particularly broad choice of allowances. These range from 500MB all the way up to 100GB or even unlimited data.
When choosing your SIM-only deal, you get a choice between a 12-month plan and a one-month contract that rolls every 30 days. If you're willing to make the commitment, the 12-month contract will work out cheaper over the full year, but you'll lose the flexibility to chop and change your plan or network that comes with one-month tariffs. Or take a look at our best SIM-only deals.
| Provider | Data Amount | Contract Length | Monthly Costs |
| --- | --- | --- | --- |
| Three sim only | 25GB data | 24 months | £8.00 |
| Three sim only | 120GB data | 24 months | £12.00 |
| Three sim only | 120GB data | 24 months | £12.00 |
25GB of 5G data
Unlimited minutes
Unlimited texts
download speed limit

24 month contract

From Three Mobile

120GB of 5G data
Unlimited minutes
Unlimited texts
download speed limit

24 month contract

From Three Mobile

120GB of 5G data
Unlimited minutes
Unlimited texts
download speed limit

24 month contract

From Three Mobile
Three coverage
Three doesn't have the widest coverage in the UK, but it's definitely up there. Around 97% of the population can connect to voice and 3G services. 4G coverage is also decent at approximately 91% of the population.
Bear in mind that population coverage isn't the same thing as geographical coverage. As with all networks, parts of the UK remain blackspots with no 4G or, in some cases, no mobile signal at all. Because of this, you should use a coverage checker to see what kind of signal you can expect in the areas you frequent.
Three mobile extras and perks
As befits one of the UK's biggest networks, Three has its fair share of perks. Here's some of the best stuff you can get:
Feel at Home - All Three plans include Feel At Home, which lets you call, text and go online abroad, using your standard allowance. Essential plans cover Europe 48 countries in Europe while Advanced plans include inclusive roaming in 60 countries around the world, including the USA, Australia, New Zealand, Brazil and more. See a full list here.
Go Binge - Advanced plan users can stream video from Netflix, TVPlayer, and Lifetime without it being deducted from their data allowance. Music services Deezer and Apple Music are also included. Long journeys and commutes will suddenly seem considerably more enjoyable.
Want to find out more? See our full review on Three here.
Other mobile networks
Find and compare SIM-only plans and contract deals from mobile networks in the UK.
O2 - Customers get exclusive offers and vouchers for high street stores, restaurants and events through O2 Priority.
Vodafone - Enjoy entertainment subscriptions to Spotify, Prime Video and Sky Sports through Vodafone's Red Entertainment packages.
Giffgaff - Great value-for-money 30-day rolling SIM deals,
iD Mobile - Affordable and simple plans with data rollover on the Three network.
EE - Six months of Apple Music for free and the best UK network coverage,
Frequently asked questions
How do I find the best Three offer?
You can compare both phone contracts and SIM-only deals on CompareMyMobile.com.
When looking at deals, it's important to consider what exactly you want from your plan. Some of the things you should ask yourself include:
Should I go contract or SIM-only? - This basically comes down to whether or not you want a new phone. If you do, there are plenty on contract with Three. On the other hand, if you're happy with the handset you have, or you can afford a new phone outright, SIM-only works out much cheaper.
How much data do I need? - If you plan to use your mobile connection to watch films, stream music or download apps, make sure you have enough data to accommodate those extremely data-hungry tasks. If you're an extremely heavy user, Three does do unlimited data mobile plans, but bear in mind that they can be fairly pricey.
How much do I have to spend upfront? - Some handsets - typically the more expensive or desirable ones - will require you to pay some cash upfront. The more you pay initially, the less you'll likely pay each month. You can use the filters on our comparison tool to choose a maximum upfront cost, and filter out those that are too expensive to pay for all at once.
What's my budget? - Once you know exactly what you need from your Three phone plan, use our comparison tools to find the best deal that meets your criteria. You'll be able to use the filters to set a maximum budget, so you can limit your search to the deals that you can afford.