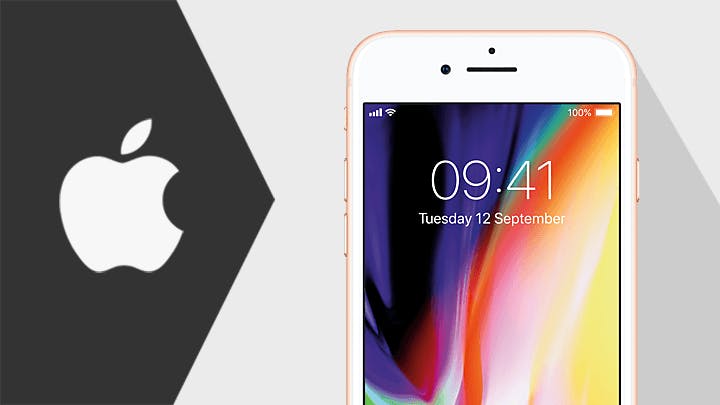 The iPhone 8 launched in 2017 alongside two other iPhones: the X and the 8 Plus models. But it was the iPhone 8 that kept the classic look and feel of Apple's phones before it - only this time around, its specs had been given a nice bump.
iPhone 8 at a glance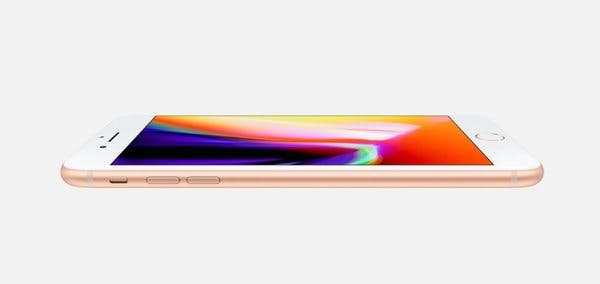 The iPhone 8 features that iconic iPhone design that we've seen since the iPhone 6 - though this iteration has a shiny glass back. Not only does it look cool, it means you can charge the phone wirelessly with a charging pad too. (Android phones which come with wireless charging include Samsung Galaxy S8 and S9.)
On the front, you get a 4.7-inch True Tone display, which has a wide colour gamut and looks incredibly clear in all lighting thanks to Apple's clever screen tech.
You'll also get an excellent 12MP camera with optical image stabilisation that can even shoot 4K-resolution video - and a 7MP selfie cam on the front.
Sadly, there's no headphone jack on this generation of iPhone, though you do get Lightning-connected EarPods in the box as well as a Lightning-to-3.5mm adaptor cable.
Is the iPhone 8 still a good buy in 2023?
Released in 2017, there's a lot to recommend the iPhone 8 a few years down the line. Now very affordably priced, it's got wireless charging, a really pleasing glass construction and a single-lens camera that's really good for day-to-day shooting.
The large bezels around the screen means the iPhone 8 doesn't look as striking as all-screen iPhones, such as the iPhone X and iPhone 11 range. But if that doesn't bother you, this is a great phone for the money.
iPhone 8 contract options
Need an iPhone 8 deal with a lot of data? Got an idea of how much you'd like to pay upfront for an iPhone 8 contract? Maybe you're in the market for some value-adding freebies? We've tracked down our best iPhone 8 deals, whatever your criteria.
Cheap iPhone 8 deals
There are plenty of great value iPhone 8 deals out there, but make sure you find one that still gives you everything you need from your plan - such as a high enough data allowance, or a network you like.
You can do this with our comparison tool. Be sure to sort by cost to see which ones offer what you want at the cheapest price, or filter by cost to see just the deals in your budget.
There are a few other cost-cutting measures you can try:
Pick a lower storage size - the 64GB model is significantly cheaper than the 256GB one, as long as 64GB is enough space for you
Choose a smaller, cheaper network
Buy through one of the resellers we list, such as Mobiles.co.uk
Get a refurbished phone
Look for existing customer deals from your current mobile network, broadband provider, or TV service - like BT Mobile or Sky Mobile
iPhone 8 deals with no upfront cost
There are loads of pricing setups available for iPhone contracts, and iPhone 8 deals with no upfront cost are almost certainly available.
To find them, choose 'free' under the device cost setting at the side of the comparison grid. You can also sort the deals by upfront cost using the menu at the top of the page, which will show you deals with nothing or very little to pay upfront first.
Best iPhone 8 deals by network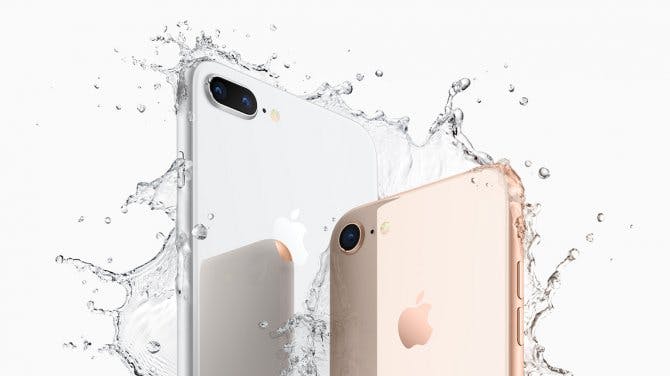 The iPhone 8's a great smartphone and bears up well in comparison with a lot of newer, more expensive phones. But if you're in the market for one, you still want to get the most for your money.
To help you do just that, here's a breakdown of what some of the major networks offer when you buy an iPhone 8 on a monthly contract.
iPhone 8 deals on O2
O2 iPhone 8 contracts offer freebies and money-promos with the O2 Rewards incentive scheme, as well as inclusive roaming in O2's Europe Zone.
O2 picked up the award for Best Network Performance at the Mobile News Awards 2019, so you'll get good coverage and speeds too.
Keen to know more? Read our O2 network review.
iPhone 8 deals on EE
EE is frequently named the UK's fastest network. Its plans include Swappable Benefits, which let you add a different add-on each month, such as a subscription to the BT Sport App or a Video Data Pass that means you won't use any data when you're streaming video.
Sign up for an EE iPhone 8 deal and you'll get inclusive roaming in 48 European locations. And if you add EE home broadband to your bundle, you'll get a free data boost of 20GB per month.
Take a closer look at what's on offer with our EE network review.
iPhone 8 deals on Vodafone
Pair the iPhone 8 with a Vodafone Red Entertainment contract and you can choose from a 24-month subscription to Amazon Prime Video, Sky Sports Mobile TV or Spotify Premium to enjoy on your phone or tablet. Alternatively, there's the option of a Now TV Entertainment Pass.
So what else has Vodafone got to offer? Read our Vodafone network review.
iPhone 8 deals on Three
Three iPhone 8 deals include use of its Go Roam Around the World roaming scheme, which covers 71 locations around the world.
Customers on select contracts also benefit from the Go Binge scheme, which offers zero-data streaming on Netflix, Apple Music and more.
Like the sound of Three? See what else it's got to offer with our Three network review
More phones like the iPhone 8
If you like the look of the iPhone 8, you may also be interested in some similar iPhones as well. Compare all your options:
And take a look at some Android handsets with similar specs, which may even tempt the biggest of Apple fans:
Frequently asked questions
Can I get an iPhone 8 contract with bad credit?
Before they let you sign up for a plan, most mobile networks will carry out a credit check. Of course, if you have bad credit, this can be a problem. But it doesn't have to be - there are still plenty of deals you can sign up to.
Does the iPhone 8 support AirPods?
Yes, devices running iOS 10 or earlier - which includes the iPhone 8 - support AirPods
Does iPhone 8 have portrait mode?
Unfortunately, not - portrait mode is only available on Plus model iPhones such as the 7 Plus, iPhone 8 Plus and iPhone X, the iPhone XS and XS Max.
What colours does the iPhone 8 come in?
The iPhone 8 is available in Space Grey, silver, gold and a limited-edition Product Red.To find out more about the iPhone 8
Does the iPhone 8 have Face ID?
Although the iPhone 8 does not support Face ID, it does have Touch ID, which works just the same as Face ID, though, as the name suggests, you'll need to use your fingers instead.
Does the iPhone 8 support 5G?
Nope, the iPhone 8 does not support 5G. This is because the phone was released before the 5G roll-out.
Is the iPhone 8 waterproof?
Like the iPhone 7 range and its larger cousin the iPhone 8 Plus, the iPhone 7 comes with an I67 rating. This means it can survive being submerged in up to 1 metre of water for half an hour. It's also easily able to withstand the odd splash or spill.
How many cameras does iPhone 8 have?
The iPhone 8 features a single-lens, 12-megapixel main camera with optical image stabilisation and a seven-megapixel front camera for selfies.
What size is the iPhone 8?
The iPhone 8 features a 4.7-inch screen in a device that comes in at 5.45 x 2.65 x 0.29 inches. That equates to a screen-to-body ratio of around 65%.
Does iPhone 8 have wireless charging?
Because it has a glass back, the iPhone 8 can be charged wirelessly on Qi wireless charging pads (sold separately) or in free-to-use pads in cafes, cars, hotels and airports.
Does the iPhone 8 have a portrait mode?
No, the iPhone 8 does not have a portrait mode. However, for not much more outlay you can pick up the iPhone 8 Plus, which is equipped with a dual lens camera that will allow you to take depth-of-field shots. The same goes for any other newer, higher-end iPhone.
iPhone 8 specs
General

| | |
| --- | --- |
| Manufacturer | Apple |
| Operating System | iOS |
| Sim Card Type | Nano |
Sensors

| | |
| --- | --- |
| Accelerometer | Yes |
| Proximity | Yes |
| Compass | Yes |
| Barometer | Yes |
| Gyroscope | Yes |
| GPS | Yes |
Size & Weight

| | |
| --- | --- |
| Form Factor | Candy Bar |
| Thickness | 7.3 mm |
| Size | 67.3mm x 7.3mm x 138.4mm |
| Weight | 148 g |
Battery

| | |
| --- | --- |
| Battery Type | Lithium Ion |
| Capacity | 1821 mah |
| Standby | hours |
| Talktime | 14 hours |
Display

| | |
| --- | --- |
| Display Size | 4.7 inches |
| Screen Type | IPS LCD |
| Resolution | 750 x 1334 inches |
| Pixels Per Inch | 326 ppi |
| Touch Screen Type | Capacitive |
Processing power

| | |
| --- | --- |
| CPU | 2100 mhz |
| Processor Cores | 6 Cores Cores |
| Memory | 3000 MB |
Storage

| | |
| --- | --- |
| Internal Storage | 64, 128, 256 |
| External Storage | No |
Camera & Video

| | |
| --- | --- |
| Primary Camera | 12 MP |
| Flash | Yes |
| LED Flash | |
| GEO Tagging | Yes |
| Auto Focus | Yes |
| Fixed Focus | Yes |
| Touch Focus | |
| Face Detection | Yes |
| Smile Detection | |
| Image Stabilisation | Yes |
| Video Quality | 4K |
| 2nd Camera | 7 MP |
Data

| | |
| --- | --- |
| Generation | 4G |
| Frequency | Dual-band |
| NFC | Yes |
| Wi-Fi | Yes |
| Wi-Fi Hotspot | Yes |
| Wi-Fi Direct | No |
| Bluetooth | Yes |
| USB | No |