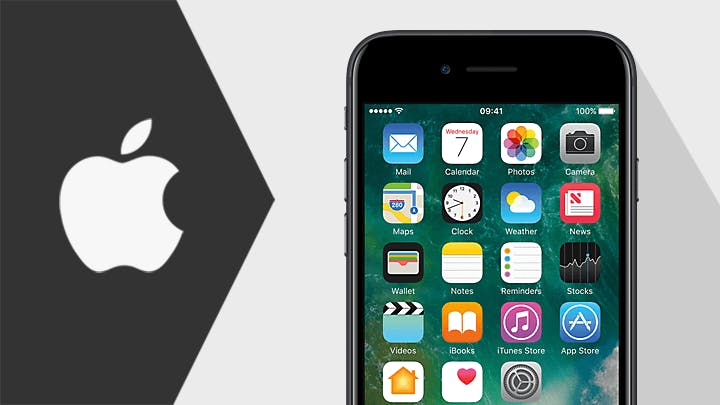 There's a lot to like about the iPhone 7 Plus. We take a look at some of its key features and pick out some really good deals.
The iPhone 7 Plus at a glance
It's a 'phablet'-sized iPhone, with a nice big 5.5-inch screen - at a higher resolution than the standard iPhone 7, no less. With a display that size, this is quite the hefty handset.
Not only is it larger than its sibling phone, the iPhone 7 Plus also takes better photos. On the back you'll find two 12MP lenses, one of them wide-angle and the other telephoto, capable of 2x optical zoom. Inside, the phone runs on a quad-core Apple A10 chip with 3GB of RAM, so performance is speedy and smooth.
It's water-resistant too, but that means Apple have removed the headphone jack. Instead, it ships with an adapter so you can plug your headphones into the lightning port.
Overall, it's a great choice for anyone who wants a decent iPhone with a little more to offer than the iPhone 7, but isn't a fan of the prices attached to later models.
iPhone 7 Plus design and screen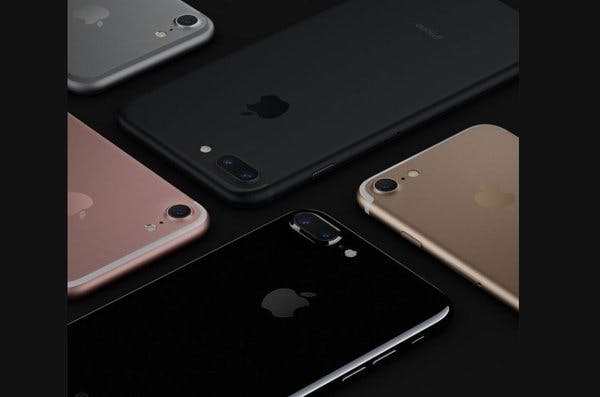 As you'd expect with a name like Plus, the iPhone's screen is pretty large. In fact, at 5.5 inches, the phone sits somewhere between a phone and a tablet.
Moreover, the screen itself sports full HD resolution and wide colour gamut, which means images look will crisp and clear.
iPhone 7 Plus battery
The iPhone 7 Plus's battery will provide enough power to keep the phone alive for around twelve hours, depending on how you use your phone.
Plus, the phone also boasts wireless charging capabilities, too.
iPhone 7 Plus camera specifications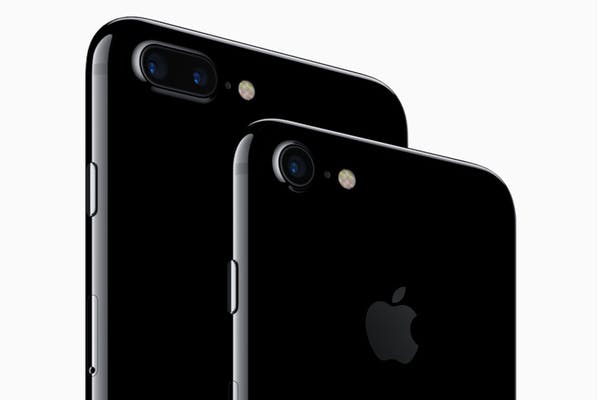 Impressively, the iPhone 7 Plus's camera still holds up.
Indeed, it boats not one but two 12MP lenses. And one of the lenses is wide-angle, complete with autofocus and 2x optical zoom – perfect for capturing objects that are far away.
In short, if you picture quality and cameras are important to you, but you don't want to spend over the odds on the latest handset, the iPhone 7 Plus might just be for you.
Is the iPhone 7 Plus a good buy in 2023?
To some, the iPhone 7 Plus's bezels and physical home button might look a bit dated in 2020. But don't let this put you off it – the phone still has a lot to offer.
For example, though the 5.5inch screen might be small compared to today's phablets, it's plenty big enough to watch movies and TV shows when you're out and about.
Moreover, despite not having the latest tech, both the rear camera at 12MP and the front facing selfie camera at 7MP are still excellent choices, and we're especially impressed with the phone's dual lenses.
Plus, its large battery and IP67 dust rating means the phone is practical, too.
iPhone 7 Plus contract options
Need an iPhone 7 Plus deal with a lot of data? Got an idea of how much you'd like to pay upfront for an iPhone 7 Plus contract? Maybe you're in the market for some value-adding freebies? We've tracked down our best iPhone 7 Plus deals, whatever your criteria.
Cheap iPhone 7 Plus deals
No one wants to pay out the nose for their mobile plan - but luckily we have some cheap iPhone 7 Plus deals.
Look for deals that match what you want using the steps above, then sort them all by cost using the toggle at the top. Sorting by 'total cost' will rank deals based on the total amount you'll pay over the course of your contract - or you can sort them by monthly and upfront costs.
To get the cheapest deal possible, there are a few things you can try:
Choose smaller network or MVNO, which have lower overheads and cost you less too. You get fewer extras and bonuses, but that's not a problem if you just want good service with a low price.
Pick lower storage option - though make sure you still have enough space, as there's no SD card slot on the iPhone 7 Plus.
Purchase through a reseller, such as Carphone Warehouse or E2Save.
Look out for existing customer deals from your current mobile network or even broadband provider. Networks like O2, BT Mobile, and Plusnet Mobile like to reward loyal customers with exclusive deals.
Get a refurbished phone, which isn't brand new but comes with a lower price.
iPhone 7 Plus contract with no upfront cost
You'll find mobile deals to suit any budget, and that includes iPhone 7 Plus deals with no upfront cost. They mean less to pay today, with the cost spread out over the rest of your contract instead. They're available on a range of networks on lots of choice of monthly allowance too.
To see what you can get, compare iPhone 7 Plus deals and select 'free' under the phone cost filter.
Top iPhone 7 Plus deals by network
You'll find the best iPhone 7 Plus deal for you by using CompareMyMobile's handy tool. Select what you want from a deal using the filters on the side, and we'll show you all the deals currently available on this supersized handset. You can compare everything on a single place and find the deal that fits you best.
iPhone 7 Plus deals with EE
EE offers excellent Wi-Fi coverage that reaches most of the UK. To that end, it's ideal for anyone who works from home and travels around the UK for work.
Want to know more? Check out our EE network review
iPhone 7 Plus deals with O2
O2 offer some brilliant perks like free gig tickets on its O2 priority plan. Moreover, it also boasts 1,000's of Wi-Fi spots across the UK, including in restaurants, cafes and retail shops.
Want to know more? Check out our O2 network review
iPhone 7 Plus deals with Vodafone
Aside from its basic tariffs, Vodafone customers who like to travel will also get some great incentives to join the network, including big data plans and TV Entertainment passes.
Like the sound of Virgin Media? Find out what else it has to offer with our Vodafone review
More phones like the iPhone 7 Plus
If you like the look of the iPhone 7 Plus, some similar iPhones may interest you too:
Frequently asked questions
Can I get a iPhone 7 Plus contract with bad credit?
The majority of mobile networks will carry out a credit check.
Of course, if you have bad credit, this can be a problem. But it doesn't have to be - there are still plenty of deals you can sign up to.
Does the iPhone 7 Plus support 5G?
The iPhone 7 Plus is not compatible with 5G, so you won't get the super-fast speeds that some newer, rival phones offer. However, it does support 4G and 3G, both of which are much more widely available.
Is the iPhone 7 Plus waterproof?
The iPhone 7 Plus comes with an IP67 rating. That means it can be submerged in up to one metre of water for up to half an hour and come out working fine. It'll also easily withstand the odd spill and exposure to rainwater.
How many cameras does the iPhone 7 Plus have?
The iPhone 7 Plus has two rear cameras, comprising a 12-megapixel standard lens and a secondary 12-megapixel telephoto lens with optical zoom. Around the front, there's a seven-megapixel camera with face detection for selfies. Which makes three cameras in total.
What size is the iPhone 7 Plus?
The iPhone 7 Plus houses a 5.5-inch screen, within a handset that measures 6.23 x 3.07 x 0.29 inches. That equates to a screen-to-body ratio of nearly 68%.
Does iPhone 7 Plus have wireless charging?
The iPhone 7 Plus does not offer wireless charging out of the box. You can buy an adaptor, which will enable you to use wireless charging pads. But it might be just as cost-effective to pay out a bit more for the iPhone 8, iPhone 8 Plus or iPhone SE 2020, all of which support wireless charging without the need for an adaptor.
Does the iPhone 7 Plus have a portrait mode?
The iPhone 7 Plus's dual rear cameras allow you to take 'bokeh' portrait shots, which applies an arty background blur to your photos. Thus bringing your subject into much sharper focus.
iPhone 7 Plus specs
General

| | |
| --- | --- |
| Manufacturer | Apple |
| Operating System | iOS |
| Sim Card Type | Nano |
Sensors

| | |
| --- | --- |
| Accelerometer | Yes |
| Proximity | Yes |
| Compass | Yes |
| Barometer | Yes |
| Gyroscope | Yes |
| GPS | Yes |
Size & Weight

| | |
| --- | --- |
| Form Factor | Candy Bar |
| Thickness | 7.3 mm |
| Size | 158.2mm x 7.3mm x 77.9mm |
| Weight | 188 g |
Battery

| | |
| --- | --- |
| Battery Type | Lithium Ion |
| Capacity | 2900 mah |
| Standby | 384 hours |
| Talktime | 14 hours |
Display

| | |
| --- | --- |
| Display Size | 5.5 inches |
| Screen Type | IPS LCD |
| Resolution | 1080 x 1920 inches |
| Pixels Per Inch | 401 ppi |
| Touch Screen Type | Capacitive |
Processing power

| | |
| --- | --- |
| CPU | 2340 mhz |
| Processor Cores | Quad Core Cores |
| Memory | 2 MB |
Storage

| | |
| --- | --- |
| Internal Storage | 32, 128, 256 |
| External Storage | No |
Camera & Video

| | |
| --- | --- |
| Primary Camera | 12 MP |
| Flash | Yes |
| LED Flash | |
| GEO Tagging | Yes |
| Auto Focus | Yes |
| Fixed Focus | Yes |
| Touch Focus | |
| Face Detection | Yes |
| Smile Detection | |
| Image Stabilisation | Yes |
| Video Quality | 4K |
| 2nd Camera | 7 MP |
Data

| | |
| --- | --- |
| Generation | 4G |
| Frequency | Dual-band |
| NFC | Yes |
| Wi-Fi | Yes |
| Wi-Fi Hotspot | Yes |
| Wi-Fi Direct | Yes |
| Bluetooth | Yes |
| USB | Yes |