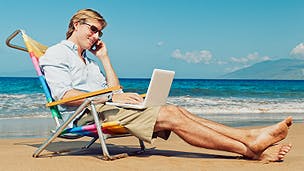 I'm going on holiday next month, and want to be sure I can use my unlimited data abroad? And if so, how much will it cost?
Kevin, Ipswich
Thanks for your question, Kev…
Planning a holiday can be hectic enough, even without any extra worry about incurring extra charges when you use the internet on your phone overseas.
Good news is, you absolutely can use your unlimited data plan abroad. But unlike in the UK where unlimited data plans allow you to use as much data as you like (within reason), there may be much tighter restrictions on how much data you're permitted to use when you're overseas. This depends on your network's policy.
Here's everything you need to know, including which networks will and won't restrict your roaming data use, as well as the best plans for unlimited data and how much you can expect to pay.
What is unlimited data?
As its name suggests, an unlimited data plans lets you use as much as you want without incurring charges. But as we'll see while you're overseas, 'unlimited' doesn't necessarily really mean unlimited.
If you want peace of mind while you're travelling, opting for unlimited data is a good idea. Especially if you're an avid gamer, or you plan to watch a lot of TV shows and movies on your phone while you're travelling.
Alternatively, if your network of choice doesn't offer any unlimited data plans, you'll probably find that it offers a generous data allowance, albeit one that's not totally unlimited.
For using data abroad, most networks have deals and bolt-ons that make it easy to get what you need.
Which phone networks offer unlimited data plans abroad?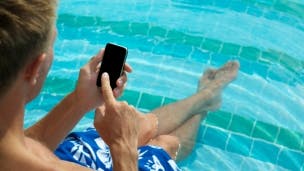 You'll find unlimited data plans from a number of networks, including: Vodafone, Three, EE, iD Mobile, Virgin Mobile, VOXI, Smarty, iD Mobile and giffgaff.
Each network has a different approach to offering data when you go on holiday. Some will offer bolt-ons and deals, while others will let you use your current package.
To that end, it pays to check with your network provider to see what bolt-ons and deals are available. Here's what the big four networks – Three, O2, Vodafone and EE – have to offer:
Three

You can only use unlimited data abroad with Three if you're in one of it's Go Roam destinations and you have Go Roam as part of your plan. However, if you have one of Three's unlimited data plans, you can use up to 12GB per month in one of its Go Roam Around the World destinations, and 20GB per month in one of its Go Roam in Europe destinations.
If you're planning a short stay in the EU, a Euro internet pass costs just £5 per day. It's only available to pay monthly customers, and lets you use as much data as you like.
O2

To use unlimited data abroad with O2, you'll need to get O2 Travel Inclusive. From just £4.99 per day, you can get 120 minutes, 120 text plus unlimited data.
Vodafone

With Vodafone, you can use unlimited data abroad if you're signed up to its Unlimited Max Data Plan from £30 per month, you can also get free roaming in 29 more destinations.
You can get extra data for up to 60 countries using Vodafone's 'Roam-further' which includes USA, China, Australia, Japan and India.
EE

Although EE doesn't offer unlimited data to use abroad, it does offer a generous 500Mb data per day allowance. Moreover, you can also get a Travel Data Pass. For between £4.80 and £6 per month, you'll get 150MB and 500MB of data.
EE Roaming plans and their roaming data allowances include 4GEE Essential Plan, which lets you roam in the EU at no extra-cost. 4GEE Plans – this lets roam in the EU at no extra cost. 4GEE Max Plans – with this plan, you can use minutes and texts in the EU as well as roam in 53 countries. Moreover, if you're on a 25GB or 40GB plan, you'll need to pay a 15GB fair usage cap.