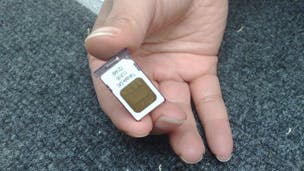 I recently changed my mobile plan and a friend recommended I get a SIM deal. Problem is, I don't know how to activate a SIM card. Can you help?
Valerie, Liverpool
Fear not, Valerie. Activating your SIM card is easier than you think. Here's how to do it:
How do I activate my SIM card online?
To activate your SIM card online, simply go to your carrier's website. Chances are, the support page you'll need to visit will be listed on the card. Once you've done that, simply follow the steps listed.
Usually, you'll have to enter the phone number or SIM card number. After that, you may get a message with further instructions. And some SIM's take up to 24 hours to activate, though this is rare.
Typically, to activate your SIM card you just need to insert the correct sized SIM into your phone. But occasionally the process varies.
To give you an idea of how to activate your SIM card on each network, we've listed the details below.
Alternatively, if you're looking for a SIM deal, we showcase the best deals here on CompareMyMobile.
How to activate SIM by network
BT Mobile
Once you've received your BT Mobile SIM card, put it in your phone and select a network. It couldn't be simpler.
EE Mobile

To activate your EE SIM card, insert the SIM into your device. Then once the card is secure, turn on your phone and wait for the EE symbol to appear at the top of your screen.
EE advise that it could take up to 24 hours for the SIM to connect. Realistically, though, it'll usually start working after 1-2 hours.
If you own an iPhone, EE recommends that you select Settings> Messages, shut down iMessage for ten seconds then switch the phone on again. After that, go to Settings > Phone and check that the correct mobile appears under 'My number.'
Vodafone

Like EE, Vodafone says it could take around 24 hours for your SIM to start working. But it will probably be much quicker.
To activate the SIM, put your card in the phone. After that, wait for the Vodafone display signal to appear at the top of the phone.
If you have any trouble working out which SIM card fits your device, Vodafone offers device guides and instructions on its website.
O2 Mobile

To activate your SIM card with O2, put the right size SIM for your device into your phone. Next, go to O2's Pay as you go page.
Once there, tap in your mobile number number – you'll find it in the packaging that the SIM came in. Lastly, follow the instructions on screen to get the SIM working.
iD Mobile

Like other networks, iD Mobile offers standard, micro and nano sim cards. You'll find the 19-didgit SIM card number printed under the barcode at the front.
If you're a new customer, purchasing an iD Mobile sim for the first time, just insert the SIM card.
But if you're an existing customer, switching to a new SIM, you'll need to activate your new SIM card. You will have to register an account if you haven't already, then follow the instructions on screen.
giffgaff

On giffgaff's website, you'll find easy to follow, step-by-step guide instructions on how to activate your SIM card. In an nutshell, you'll need to enter the 6-digit (or 13-digit, if you have a voucher) activation code on the SIM card.
Virgin Mobile

Activating your Virgin Mobile SIM is pretty straightforward. Start by slotting your new SIM card into your phone.
If you're asked for a PIN, tap in 7890. After that, Virgin will send a text confirming that you're up and running.
Tesco Mobile

Tesco Mobile customer? Just insert your SIM card into your phone, check for the symbol on screen, and you'll be good to go.
If you've upgraded your handset, you might need to get a new SIM card.
VOXI

With VOXI, you'll need to go to its SIM activation page. After that, enter the 10-digits from the second and third line of your VOXI SIM.
Three

To activate a Three SIM card, go to Three's SIM support page. Once there, enter your existing mobile number as well as your 19-digit SIM number – you'll find it under the barcode.
How to get the best SIM deals
If you're still looking for the best SIM deals, we list some of the UK's most popular providers here on CompareMyMobile.
To start comparing deals, hit the button below: