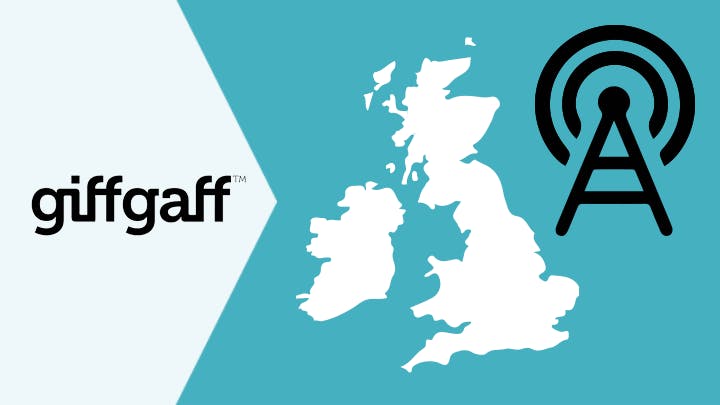 Giffgaff's a unique mobile provider - it likes to put more power in the hands of its customers. What that means for you is plans you can set up however you like, allowances and monthly costs that you switch at any time, and helpful assistance from its enthusiastic community.
Here's everything you need to know about what you can get from giffgaff, and how to compare plans and choose a deal.
Top Giffgaff mobile contracts this week
The network offers SIM-only deals, as well as phone contracts on a peer-to-peer lending system - which you also get a SIM with, of course. Both types of deal give you an amazing amount of flexibility and choice that you'll be hard-pressed to find anywhere else.
Giffgaff mobile contracts and pay monthly deals
Giffgaff's system for pay-monthly phone contracts works a little differently from other networks. The contracts are actually peer-to-peer loans, and give you an enormous amount of flexibility over how you pay them off.
For every handset, there's a variety of contract lengths, upfront costs, and monthly payments to choose from. You can fiddle around and find the perfect pricing plan that suits you. Whether you want to spend nothing upfront and spread the cost out over two years, or spend £200 today and have your phone paid off within a year, or any other cost setup, you're covered.
The sheer number of ways you can set your plan up means that comparing all the options is vital. Use our mobile comparison tool to see all the available choices in a single grid, and find the one that works best for you. Deals can be sorted by total cost, if you want to see the cheapest ones at the top.
You can either check all the possible contracts on a particular phone, or compare plans on a bunch of them. Giffgaff has a decent spread of phones to choose from, including iPhones, and Samsung Galaxy, Huawei, HTC, Sony, and Nokia handsets. So while you'll find some major, cream-of-the-crop phones like the latest iPhone, there's also a really good variety of lower-priced ones too. Even if you're on a budget you'll have plenty of choice.
Giffgaff SIM-only plans
| Provider | Data Amount | Contract Length | Monthly Costs |
| --- | --- | --- | --- |
| GiffGaff sim only | 6GB data | 18 months | £8.00 |
| GiffGaff sim only | 40GB data | 18 months | £10.00 |
| GiffGaff sim only | 120GB data | 18 months | £20.00 |
6GB of 5G data
Unlimited minutes
Unlimited texts
download speed limit

18 month contract

From giffgaff

Exclusive
40GB of 5G data
Unlimited minutes
Unlimited texts
download speed limit
Extra data for 6 months

18 month contract

From giffgaff

120GB of 5G data
Unlimited minutes
Unlimited texts
download speed limit

18 month contract

From giffgaff
Like its phone contracts, giffgaff SIM-only plans work slightly differently from other networks. It's a great scheme that means you can switch your plan around at will.
Technically it's all pay-as-you-go, but you use your credit to purchase 'goodybags' - 30-day bundles of calling minutes, texts, and 4G data allowance. You can set them to auto-renew so it's just like a standard SIM contract, or buy a new one every 30 days to suit how much you'll be using your phone in the coming month.
The smallest goodybag has just 100MB of data, 150 minutes, and 500 texts - just enough to cover you on a light month. The biggest has unlimited calls and texts with 'Always On' data. Watch out though, as Always On data isn't truly unlimited - once you've used 9GB in the month, your download speeds are throttled to a ridiculously slow 384Kb in the daytime.
When you first order your giffgaff SIM, it comes loaded with an allowance ready to use as soon as you activate it - so it's best to compare all giffgaff's SIM deals with our tool before you order to see which one you want. You can adjust the filters at the side of the page to only show the ones within your budget, or with enough allowance for your mobile habits.
Remember that you can always buy a different goodybag next month if it turns out to be too little or too much.Or take a look at our best SIM-only deals.
Giffgaff mobile coverage
Giffgaff coverage is pretty good, since it piggybacks on O2. That means 99% of the population is covered by the network, 98% can get 3G, and users can connect to 4G around 75% of the time, according to OpenSignal.
We recommend using giffgaff's coverage checker before you sign up, to make sure you can get signal in all the places you need to. Remember that 99% population coverage doesn't mean 99% geographical coverage, and there will be a few not-spots.
Giffgaff benefits and perks
Public Wi-Fi - You can use over 8,000 Virgin Media Wi-Fi hotspots around the UK for free, including those on the London Underground.
Good value international calling rates - For instance, you can phone China, India, and the USA from 2p per minute.
Earn Payback points and extra credit - Build up these special rewards by helping other giffgaff users in the forums, or by referring a friend to the network.
Want to find out if giffgaff is any good? Read our full review here.
Other mobile networks
Find and compare SIM-only plans and contract deals from mobile networks in the UK.