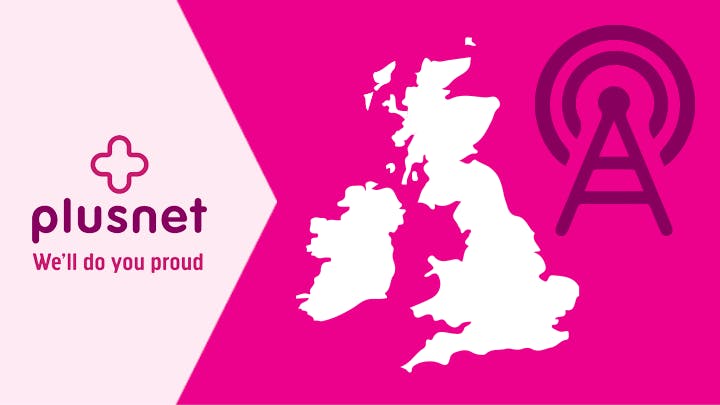 Sheffield's friendliest broadband provider also offers mobile deals - and they're just as good value and straightforward as you'd expect. Compare Plusnet Mobile deals with CompareMyMobile right now, or read on to find out more about what you can get from the network.
Top Plusnet Mobile contracts this week
Plusnet Mobile's main draw is its one-month SIM-only deals. They come with nice low costs, and there are just enough options available to suit most users.
You can also get contracts that include a phone, though only through mobile resellers rather than directly from Plusnet.
And if you have Plusnet broadband at home, you'll also have access to 'Mates Rates' on its plans. That could mean extra data allowance, a lower price, or special offers that aren't available to everyone else.
Plusnet Mobile SIM-only plans
There's a small range of value SIM-only deals from Plusnet Mobile. All are rolling 30-day plans, so you can cancel it or change your allowance at any point if it's not working for you.
The smallest plan you can get has 500MB data, 250 minutes, and 500 texts per month; and the largest has 4GB data with unlimited calls and texts.
It doesn't offer any big data allowances, unfortunately, but for light to medium use you have a good few options. A 'double data' option on the highest plan is sometimes available for Plusnet broadband users too, giving you up to 8GB data a month.
To compare Plusnet Mobile SIM deals and pick a plan, take a look at them all with our comparison tool. Enter your preferences in the sidebar to show only the deals that are relevant to you - including the allowance you need, the budget you can spend, and whether or not you want to see existing customer deals. Or take a look at our best SIM-only deals.
Plusnet Mobile contracts and pay monthly deals
Right now, Plusnet Mobile doesn't offer phone contract plans directly - but many resellers offer them with a Plusnet SIM. These are companies like Carphone Warehouse and Mobiles.co.uk, who get handsets and SIM plans in bulk then sell them onto you at lower prices.
If you like the sound of a Plusnet Mobile SIM but were hoping for a phone contract deal, you'll be pleased to hear it's still an option thanks to these resellers.
We collect deals from a number of resellers for you to compare - including Plusnet Mobile phone contracts - so you can see everything that's available from them. Take a look at them all with our tool, and find a contract that suits you.
Plusnet Mobile coverage
Plusnet Mobile connects its customers using EE's network, which happens to have the best mobile coverage in the country. 99% of the population can call and text on the network, 97% can use 3G, and the company boasts that 95% of us can now connect to 4G as well.
That's population coverage rather than geographic, however, so signal doesn't reach every inch of the country. Remember to use a coverage checker before signing up to check you're covered.
With Plusnet Mobile, you won't get 4G speeds as fast as the ones you get with EE proper, but they're still plenty speedy - up to about 30Mb, in fact.
Plusnet Mobile benefits and perks
Plusnet Mobile is built around being simple and cheap, so you don't get many additional perks with your plan. There are, however, a couple of benefits designed to give you even better value and stop you paying a bomb:
Mates Rates - Broadband customers can sign up to special deals.
Smart Cap - Set a limit on how much you can spend on your plan each month, and avoid bill shock.
EU roaming - As with all mobile networks, you can use your usual monthly allowance abroad in the EU at no extra charge.
Want to find out if Plusnet Mobile is any good? Read our full review here.
Other mobile networks
Find and compare SIM-only plans and contract deals from mobile networks in the UK.