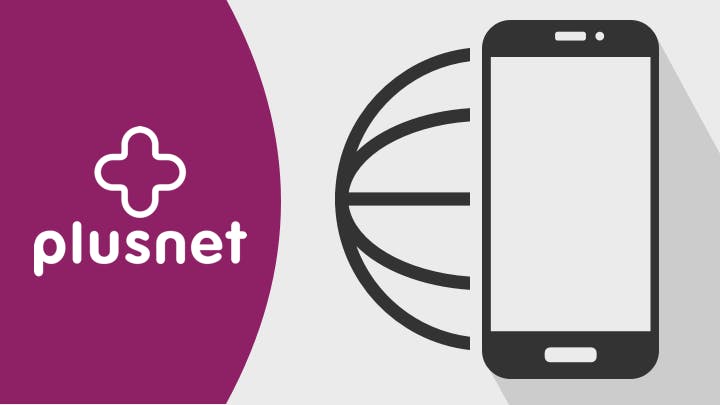 Best known as a cheery Yorkshire broadband provider, Plusnet has branched out into mobile plans with an emphasis on good value SIM-only plans that include special offers for existing broadband customers.
Find out more about what separates Plusnet from other mobile networks. From pros and cons and customer service to network coverage and pricing, we shine a light on Plusnet and help you decide whether it's the network for you.
What's good about Plusnet?
Reasonably-priced SIM-only plans
Discounts for existing Plusnet broadband customers
The Smart Cap enables you to manage your spending
Roam Like At Home - Use your monthly allowance when you're visiting selected destinations
Excellent customer support
What's bad about Plusnet?
No contracts on handsets
Not much choice if you're a big data user
Not much in the way of added extras
Plusnet phone contract plans
Most of Plusnet's plans are one-month contracts, though it does offer some 12-month contracts.
If you're a light data user, there is a good selection of deals - most of which include unlimited minutes and unlimited texts. But if you stream a lot of audio and video, game on your phone or use a lot of social media, there are no big data plans available.
Plusnet offers a range of handy bolt-ons if you reach your allowance limits over the course of a month and need more data, minutes and texts.
In terms of perks and extras, there's not a huge amount to shout about, though there is a useful Smart Cap which allows you to set your own monthly price cap; Roam Like At Home enables you to use your monthly plan in more than 40 EU destinations, and there are usually special offers available for existing Plusnet broadband customers.
Verdict:

If you're a relatively light data user, Plusnet has a decent number of SIM-only plans to pick from - most of which include unlimited calls and texts. But unfortunately, you won't find any handset deals and big data users should look elsewhere.
Plusnet coverage
As Plusnet uses EE's infrastructure, customers get to benefit from the comprehensive EE 4G network - which represents over 99% population coverage.
Before you order it's important to check you can get a signal in your home area using Plusnet's coverage checker - as well as areas you are likely to frequent, such as your place of work and route to work.
Plusnet coverage checker
Verdict:

EE's mobile network pretty much beats all others - so Plusnet customers can rely on excellent mobile coverage.
Plusnet pricing
Whether you opt for a one-month or 12-month contract, Plusnet's SIM-only plans are reasonably priced, but there are cheaper deals available from providers such as giffgaff and Smarty. Data allowances range from 1GB to 5GB - and most plans come with unlimited call minutes and unlimited texts.
But if you don't need a lot of data or a new smartphone, Plusnet is certainly worth considering - particularly if you're an existing Plusnet broadband customer, as you can benefit from mobile special offers.
Verdict:

If you're on a tight budget and already own a phone, Plusnet is a cheap and reliable network with good customer support.
Plusnet customer service
One of Plusnet's big selling points is its UK-based customer support team. The support team is available, via phone, from 7.30am until 10pm each day - and customers also have access to an extensive FAQ section, and can contact the company by online chat.
Plusnet extras and benefits
Smart Cap - Set your own monthly bill price cap so you don't overspend each month
Roam Like At Home - Use your monthly plan allowance in more than 40 EU destinations
Bolt-ons - Top up each month if you reach your plan allowances
Verdict:

Not a lot in the way of extras from Plusnet. Networks which offer long-term mobile contracts tend to offer more in the way of contract perks.
Overall verdict
As its plans are SIM-only, Plusnet doesn't offer handsets as part of its mobile plans - and there aren't many extras to enjoy once you sign up.
So while it does offer a selection of reasonably-priced plans with low data allowances - most of which include unlimited minutes and unlimited texts - you'll probably find better deals with SIM-only networks such as giffgaff and iD Mobile.
That said, Plusnet starts to look more competitive on price if you're an existing Plusnet broadband customer, as you can benefit from mobile special offers. Also, its UK customer support is pretty comprehensive.