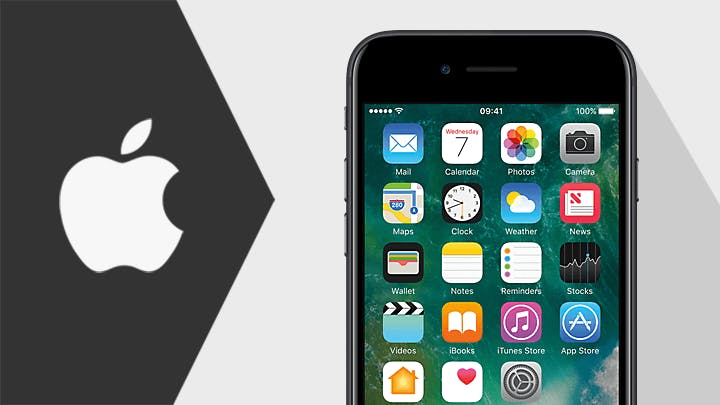 Released in September 2016, the iPhone 7 comes with a modern design, great cameras, and powerful innards, with the option of a sleek glossy case. It's an iPhone that's well worth owning.
The iPhone 7 at a glance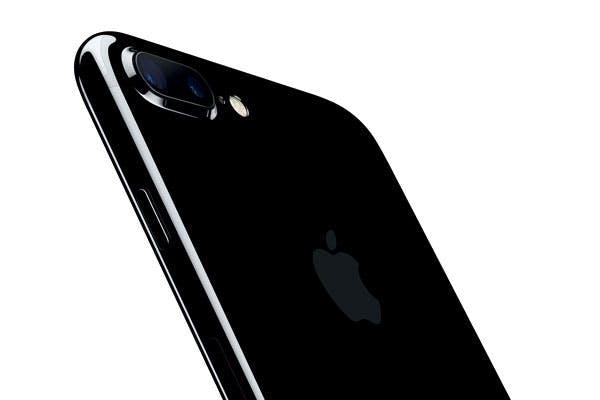 Sporting the standard iPhone design that Apple has used since the iPhone 6, the iPhone 7 is slim and nice to hold. On the front there's a 4.7-inch display with a HD resolution, which also has pressure-sensitive 3D Touch.
Most versions feature cool brushed aluminium - though if you go for the jet black one, you'll get a glossier, smoother back.
Like all iPhones, it has good cameras: a 12MP lens on the back with optical image stabilisation and quad-LED flash, and a 7MP selfie snapper on the front.
Sadly there's no headphone socket on the iPhone 7. It is waterproof, however, and includes a fingerprint scanner in the home button so you can use Touch ID.
The iPhone 7 is available with either 32GB or 128GB of internal storage for your apps, files, and pics. It isn't expanded with an SD card so choose carefully.
See how the iPhone 7 matches up with the iPhone 8 in our VS review.
iPhone 7 screen and design
Back in 2016, the iPhone 7 looked like a state of the art smartphone. No so much, anymore.
Make no mistake, it's still a nicely designed phone. But next to all-screen phones from Apple and Samsung, the large bezels of the iPhone 7 now seem a bit old-fashioned.
At 4.7-inches, the display seems a little small by modern standards too. But still looks bright and crisp and performs fairly ably in bright light.
Elsewhere, it's worth heeding that there's no 3.5mm headphone jack. So if you want to listen to music with wired headphones, you'll have to use the special adaptor supplied in the box.
iPhone 7 battery
The iPhone 7 has a slightly larger battery than its predecessor. But even so, its longevity isn't all it might be.
After a day of emailing, watching a video or two and taking snaps, we found it'd typically get to 6pm each day before we had to seriously think about recharging.
However, lighter smartphone users should be able to get through a day without too much worry.
iPhone 7 camera specifications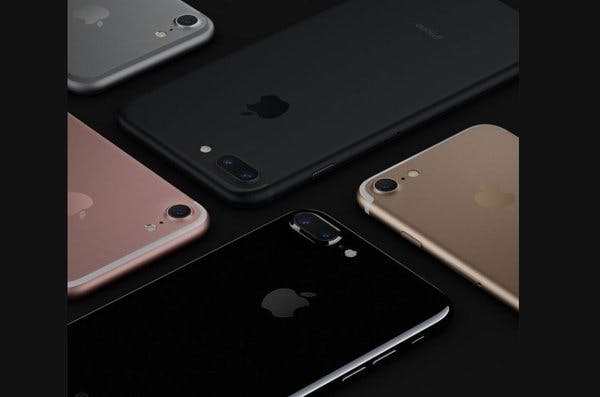 The iPhone 7 features a single-lens 12-megapixel camera and a seven-megapixel selfie camera.
The main camera is fine for everyday shots, which combine natural colours and a decent amount of detail. It's also simple to use.
However, the lack of a second lens means you won't be able to take 'depth-of-field' shots, where you blur out the background to bring your subject into sharper focus.
The front camera? That's pretty good for selfies too. But you don't get any of fun extra modes that later iPhones offer. And once again, there's no depth-of-field mode.
| | | |
| --- | --- | --- |
| iPhone 7 camera | Main camera | Front camera |
| Lens | 12 MP wide lens | 7 MP |
| Key features | Optical image stabilisation, wide aperture to let in more light | Face detection and panorama mode |
Is the iPhone 7 a good buy in 2023?
Much time has passed since the iPhone 7 was Apple's flagship smartphone. But it's fair to say that 2016's iPhone has aged pretty gracefully, all things considered.
Sure, the large bezels around the screen mean it's not the most modern-looking handset.
And in a world where triple-lens cameras are now the standard for top-end handsets, the iPhone 7's single lens hasn't been cutting-edge for a long time.
But for all that, the iPhone 7 still takes good photos in most situations, with true-life colour reproduction.
Perhaps most importantly though, you'll get access to Apple's App Store. And the iPhone 7 is compatible with 2019's iOS 13 too, so your software won't feel outmoded or clunky.
For the asking price of under £400 when bought SIM-free, the iPhone 7 remains a very good buy. Especially if you're on a budget.
iPhone 7 contract options
Compare iPhone 7 deals right here - including deals with no upfront cost, unlimited data deals, cheap deals, and more - with CompareMyMobile. Our tool lets you compare just about everything you can get from UK networks, and we've got plenty of tips to help you along too.
Cheap iPhone 7 deals
The ideal iPhone 7 plan is one that gives you everything you need from a mobile contract at the lowest price. The best thing to do is follow the steps above to find deals that suit you, then sort the results by cost to see the cheapest iPhone 7 deals right at the top.
To get a contract deal at the lowest possible cost, you can…
Choose an MVNO or budget network, such as giffgaff or Sky Mobile. These networks have lower operating costs, and therefore cost you less too.
Go for a lower allowance or lower internal storage size - but make sure you still have enough to cover you for the next two years.
Get a refurbished model which has been previously owned or returned.
Buy through a reseller - like Carphone Warehouse or Buymobiles, which offer pay-monthly contracts at cheaper rates.
iPhone 7 contracts with no upfront cost
Don't want to spend too much today? There are plenty of iPhone 7 deals with no upfront cost.
You essentially get a free device when you sign up, and the handset's cost is spread out over the course of your contract. Just bear in mind that this means you'll pay a little more on your monthly bills than if you spend more upfront right now.
A good number of networks and mobile resellers offer no upfront cost deals, so once again the best thing to do is compare them all.
Top iPhone 7 deals by network
To find the best iPhone 7 contract deal for you, compare everything you can get with our mobile comparison table. Use the toggles at the side to filter out the ones that don't suit you, and we'll show you just those deals that are relevant to you and the kind of plan you want.
Best iPhone 7 deals with O2
O2 offer some brilliant perks like free gig tickets on its O2 priority plan. Moreover, it also boasts 1,000's of Wi-Fi spots across the UK, including in restaurants, cafes and retail shops.
Want to know more? Check out our O2 network review
Best iPhone 7 deals with EE
If decent Wi-Fi coverage is particularly important to you, EE is well worth a look. Its coverage reaches most of the UK. To that end, it's ideal for anyone who relies on a sturdy Wi-Fi connection, particularly freelancers and those who travel around for work.
What else does EE have to offer? Read our EE review
Best iPhone 7 deals with Vodafone
Aside from its basic tariffs, Vodafone customers who like to travel will also get some great incentives to join the network, including big data plans and TV Entertainment passes.
Like the sound of Virgin Media? Find out what else it has to offer with our Vodafone review
More phones like the iPhone 7
Want an iPhone, but aren't sure which model is the one for you? Take a look at what else you can get from Apple. There's the slightly larger iPhone 7 Plus, the next-gen iPhone 8 and X, and previous models like the iPhone 6s and 6.
Or perhaps you'd prefer an Android smartphone this time. Here are some of the best models from other manufacturers that have similar prices and specifications to the iPhone 7:
Frequently asked questions
Can I get a iPhone 7 contracts with bad credit?
The majority of most mobile networks will carry out a credit check. Of course, if you have bad credit, this can be a problem. But it doesn't have to be - there are still plenty of deals you can sign up to.
Does the iPhone 7 support 5G?
No, the iPhone 7 can connect to 4G and 3G networks but does not offer support for superfast 5G.
Is the iPhone 7 waterproof?
The iPhone 7 isn't water-proof, but is IP-rated 67 for water-resistance. That means it can withstand being submerged in a metre of water for up to half an hour.
How many cameras does the iPhone 7 have?
The iPhone has two cameras. At the rear, there's a 12-megapixel main camera with optical image stabilisation and an f/1.8 aperture to let in extra light when you're shooting in the dark. Around the front, you'll find a 7-megapixel camera with face detection and a panorama mode.
If you'd prefer an iPhone with the dual cameras required to take depth-of-field shots, take a look at the iPhone 7 Plus or any number of newer iPhones, such as the 8 Plus or iPhone XS Max.
What size is the iPhone 7?
The iPhone 7 comes in at 4.7 inches, which means it's in line with the iPhone 8 and iPhone SE 2020. But makes it significantly smaller than the iPhone 7 Plus (5.5 inches), as well as most subsequent iPhones.
Does the iPhone 7 have wireless charging?
Unlike more recent iPhones, the iPhone 7 has an aluminium rear plate rather than glass. That means it's not compatible with wireless charging mats. If you'd prefer an iPhone that can be charged wirelessly, take a look at the iPhone 8 or any subsequent iPhone model.
Does the iPhone 7 have portrait mode?
No. Because the iPhone 7 has only a single main camera you're unable to take depth-of-field portrait shots. However, the dual-camera iPhone 7 Plus is equipped with a portrait, as are the likes of the iPhone XS Max and iPhone 11.
iPhone 7 specs
General

| | |
| --- | --- |
| Manufacturer | Apple |
| Operating System | iOS |
| Sim Card Type | Nano |
Sensors

| | |
| --- | --- |
| Accelerometer | Yes |
| Proximity | Yes |
| Compass | Yes |
| Barometer | Yes |
| Gyroscope | Yes |
| GPS | Yes |
Size & Weight

| | |
| --- | --- |
| Form Factor | Candy Bar |
| Thickness | 7.1 mm |
| Size | 138.3mm x 7.1mm x 67.1mm |
| Weight | 138 g |
Battery

| | |
| --- | --- |
| Battery Type | Lithium Ion |
| Capacity | 1960 mah |
| Standby | 240 hours |
| Talktime | 14 hours |
Display

| | |
| --- | --- |
| Display Size | 4.7 inches |
| Screen Type | IPS LCD |
| Resolution | 750 x 1334 inches |
| Pixels Per Inch | 326 ppi |
| Touch Screen Type | Capacitive |
Processing power

| | |
| --- | --- |
| CPU | 2340 mhz |
| Processor Cores | Quad Core Cores |
| Memory | 2 MB |
Storage

| | |
| --- | --- |
| Internal Storage | 32, 128, 256 |
| External Storage | No |
Camera & Video

| | |
| --- | --- |
| Primary Camera | 12 MP |
| Flash | Yes |
| LED Flash | |
| GEO Tagging | Yes |
| Auto Focus | Yes |
| Fixed Focus | Yes |
| Touch Focus | |
| Face Detection | Yes |
| Smile Detection | |
| Image Stabilisation | Yes |
| Video Quality | 4K |
| 2nd Camera | 7 MP |
Data

| | |
| --- | --- |
| Generation | 4G |
| Frequency | Dual-band |
| NFC | Yes |
| Wi-Fi | Yes |
| Wi-Fi Hotspot | Yes |
| Wi-Fi Direct | Yes |
| Bluetooth | Yes |
| USB | Yes |