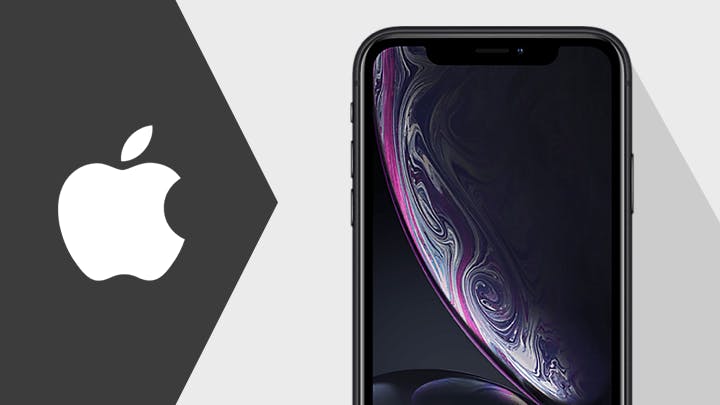 With high-end specs and superb performance, the iPhone XR is an impressive addition to the iPhone range. A few design compromises keep its price down too.
iPhone XR at a glance
<iframe width="600" height="400" src="https://www.youtube.com/embed/9m_K2Yg7wGQ" frameborder="0" allow="accelerometer; autoplay; encrypted-media; gyroscope; picture-in-picture" allowfullscreen></iframe>
The iPhone XR keeps all the bits that make iPhones so great but pares down a few elements to keep the price down a bi. We're fans. And here's why.
For starters, it's an elegant, all-display smartphone and the colour options (red, blue, yellow, white, black, and coral) really stand out in a sea of identikit handsets.
We also love the large 6.1-inch screen, which isn't quite as bright and brilliant as the XS display, but looks great all the same.
The glossy, glass rear means the XR can be charged wirelessly and the battery life is best of any iPhone.
And the camera's no slouch either and handles most shots and scenes with aplomb. Although, the portrait mode isn't quite as good as the higher-end rivals, it's still pretty serviceable.
Is the iPhone XR still a good buy in 2023?
Very much so. Now available for a very appealing price, 2018's iPhone XR offers brilliant battery life and the same striking all-screen design as the more costly XS and iPhone 11 range. While the portrait mode could be better, the front and rear cameras generally perform very well. And it's got wireless charging and comes in a selection of colours too.
iPhone XR contract options
Need an iPhone XR deal with a lot of data? Got an idea of how much you'd like to pay upfront for an iPhone XR contract? Maybe you're in the market for some value-adding freebies? We've tracked down our best iPhone XR deals, whatever your criteria.
Cheap iPhone XR deals?
So you're in the market for an iPhone XR, but don't want to break the bank? Here's some tips to help you get the most for your money.
Compromise on storage. Do you really need 128GB? You can save substantially with lower storage editions of the XR.
Choose a low cost network. The likes of Tesco Mobile and giffgaff offer cheaper contracts than bigger networks. Albeit with fewer extras.
Go refurbished. Nearly-new iPhone XR deals are available and can you save you hundreds of pounds over the course of the contract.
iPhone XR deals with no upfront cost
There are different ways to manage the cost of a new iPhone XR. If you're keen to avoid paying an upfront fee and would rather spread your costs over the course of a contract, there are network suppliers which offer this option.
Suppliers refer to this a 'free device' which isn't technically true - it just means you won't pay anything upfront. However, it does mean you will pay a higher fee each month. The plus is you get a shiny new premium iPhone in your hand without first forking our hundreds of pounds.
You can compare network deals and vary the amount you're comfortable paying upfront against the amount you pay each month.
Top iPhone XR deals by network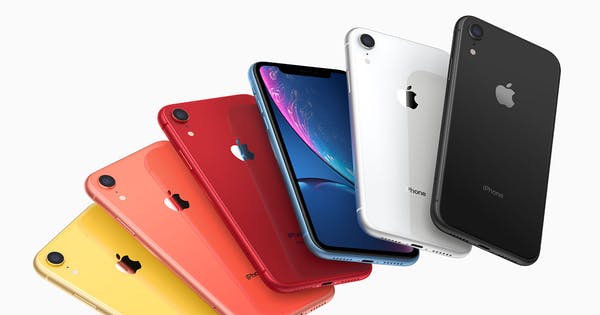 Even though the iPhone XR isn't quite as expensive as the iPhone XS or XS Max and has been playfully referred to as Apple's 'budget' smartphone, it's not cheap. And is, in fact, priced in line with many rivals' flagship phones.
What you get for outlay depends largely on which network you choose. To put you in the picture, here's a snapshot of the key selling points of the UK's largest networks.
iPhone XR deals on O2
O2's Priority scheme is one of the best customer rewards offers around and gets you priority booking in O2 venues, as well as freebies and money-off in high-street stores. O2 customers also get inclusive roaming in O2's Europe Zone.
Keen to know more? Read our O2 network review.
iPhone XR deals on Vodafone
Pick up the iPhone XR on Vodafone's Red Entertainment deals and you get to choose from a 24-month subscription to Sky Sports Mobile, Amazon Prime Video or Spotify Premium. Want a Now TV Entertainment Pass instead? That's up for grabs too.
Find out more with ourVodafone network review.
iPhone XR deals on EE
EE is a premium network and is consistently rated the UK's best by analysts Root Metrics. Key selling points on EE iPhone XR contracts include Swappable Benefits, such as the BT Sport App or Video Data Passes, and inclusive roaming in 48 European locations.
Get the measure of everything EE's got to offer with our EE network review.
iPhone XR deals on Three
Buy the iPhone XR on Three and you can get use of its Go Roam Around the World scheme, which allows you to use your UK roaming allowances in 71 locations around the world for no extra charge. Select iPhone XR Three contracts also include its zero-data streaming add-on, Go Binge.
Get a fuller picture of what's on offer with Three, with ourThree network review.
More phones like the iPhone XR
Frequently asked questions
Can I get an iPhone XR contract with bad credit?
Before they let you sign up for a plan, most mobile networks will carry out a credit check. Of course, if you have bad credit, this can be a problem. But it doesn't have to be - there are still plenty of deals you can sign up to.
Does the iPhone XR support 5G?
Unfortunately not. The iPhone XR is not 5G-compatible, which means you won't be able to get the super-fast mobile internet speeds that some newer phones can muster. However, it does support 4G and 3G, both of which are much more widely available.
Is the iPhone XR waterproof?
It's not waterproof. But it is water-resistant and comes with an IP 67 rating, which indicates that it can endure being in up to one meter of water for up to half an hour. As you'd expect, it can withstand splashes and exposure to rainwater too.
How many cameras does the iPhone XR have?
The iPhone XR has two cameras. These are a single-lens, 12-megapixel main camera and a seven-megapixel front camera.
What size is the iPhone XR?
The iPhone XR comes in at 6.1-inches, which means it's slightly larger than the iPhone XS but smaller than the XS Max and iPhone Pro Max.
However, because the iPhone XR has ditched the bezels (edges) that normally surround smartphone screens, Apple been able to fit a large screen in a compact handset that's just 150.9mm thick.
Does the iPhone XR have wireless charging?
The XR can be charged wirelessly with charging pad (sold separately) or in hotels, cafes and airports that offer free-to-use wireless charging pads. It's not as fast as wired charging, though, so expect to wait about two hours to get a full charge.
Does the iPhone XR have a portrait mode?
Yes, it does. Generally phones require two rear lenses to allow you to take portrait mode photographs. However, some clever software optimisations mean that you still take depth-of-field shots with the iPhone XR, albeit the depth-effect generally isn't as striking or distinct.
The XR's front camera is also equipped with a portrait mode. So you can apply 'bokeh' effects on selfies too.
iPhone XR specs
General

| | |
| --- | --- |
| Manufacturer | Apple |
| Operating System | iOS |
| Sim Card Type | Nano |
Sensors

| | |
| --- | --- |
| Accelerometer | Yes |
| Proximity | Yes |
| Compass | Yes |
| Barometer | Yes |
| Gyroscope | Yes |
| GPS | No |
Size & Weight

| | |
| --- | --- |
| Form Factor | Candy Bar |
| Thickness | 8.3 mm |
| Size | 75.7mm x 8.3mm x 150.9mm |
| Weight | 194 g |
Battery

| | |
| --- | --- |
| Battery Type | Lithium Ion |
| Capacity | 2942 mah |
| Standby | hours |
| Talktime | 25 hours |
Display

| | |
| --- | --- |
| Display Size | 6.1 inches |
| Screen Type | IPS LCD |
| Resolution | 828 x 1792 inches |
| Pixels Per Inch | 326 ppi |
| Touch Screen Type | Capacitive |
Processing power

| | |
| --- | --- |
| CPU | 2490 mhz |
| Processor Cores | 6 Cores Cores |
| Memory | 3000 MB |
Storage

| | |
| --- | --- |
| Internal Storage | 64, 128, 256 |
| External Storage | No |
Camera & Video

| | |
| --- | --- |
| Primary Camera | 12 MP |
| Flash | Yes |
| LED Flash | |
| GEO Tagging | Yes |
| Auto Focus | Yes |
| Fixed Focus | Yes |
| Touch Focus | |
| Face Detection | Yes |
| Smile Detection | |
| Image Stabilisation | Yes |
| Video Quality | 2160p |
| 2nd Camera | 7 MP |
Data

| | |
| --- | --- |
| Generation | 4G |
| Frequency | |
| NFC | No |
| Wi-Fi | No |
| Wi-Fi Hotspot | No |
| Wi-Fi Direct | No |
| Bluetooth | No |
| USB | No |