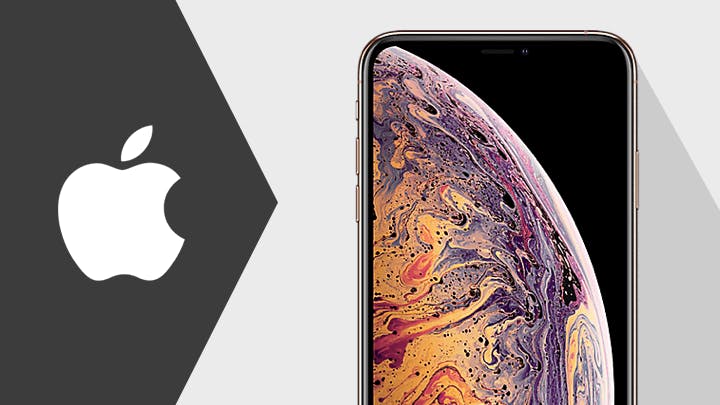 Take all the first-rate attributes of the iPhone XS - its stellar performance, super-sharp display and enhanced cameras - and then make it bigger. What do you get? The iPhone XS Max. We look at whether it's worth taking a super-sized Apple upgrade.
iPhone XS Max at a glance
<iframe width="600" height="400" src="https://www.youtube.com/embed/9m_K2Yg7wGQ" frameborder="0" allow="accelerometer; autoplay; encrypted-media; gyroscope; picture-in-picture" allowfullscreen></iframe>
As we're essentially looking at the bigger sibling of the iPhone XS, the XS Max flaunts its predecessor's riches to grand effect, albeit with a massive 6.5-inch screen.
What else can you expect...
Its high-end OLED display is the XS Max's biggest selling point - perfect if you're a gamer or enjoy Netflix catch-ups on the morning commute.
Fitted with with a powerful A12 Bionic processor, which means increased battery life and enables apps to launch 30% faster. Anyone looking to upgrade from an older iPhone will notice a real difference in performance.
An impressive wide-angle camera boasts a 12 megapixel (MP) dual camera system and smart HDR.
Improved facial recognition software
Huge storage options - 64/256/512GB
Apple's new "Dual SIM Dual Stand By" (which the iPhone XR also has)
Choice of gold, black and silver
Is the iPhone XS Max still a good buy in 2023?
From its expansive, crystal clear screen and striking all-display design, 2018's iPhone XS Max shares much of the iPhone 11 Pro Max's DNA. But it's available for much, much less outlay.
The major differences are that the 11 Pro Max has a marginally brighter screen (you need a trained eye to notice) and a bigger, longer-life battery (that's nothing that can't be remedied by investing in a battery pack for an XS Max).
Where the iPhone 11 Pro Max clearly outperforms its predecessor is the camera department, replacing the XS Max dual main camera with a triple-lens set-up that's excellent for close-ups and ultra-wide angle panoramas. Whether that's worth the extra cost is something only you can decide.
iPhone XS Max contract options
Need an iPhone XS Max deal with a lot of data? Got an idea of how much you'd like to pay upfront for an iPhone XS Max contract? Maybe you're in the market for some value-adding freebies? We've tracked down our best iPhone XS Max deals, whatever your criteria.
iPhone XS Max deals with no upfront cost
If you'd rather avoid paying a large upfront fee when you buy an iPhone XS Max, there are mobile suppliers who offer this kind of deal.
Suppliers refer to this as a 'free device' which isn't technically true - it just means you won't pay anything upfront. However, it does mean you will pay a higher fee each month, as the cost of the phone is spread out over the course of the contract.
Alternatively, you can pay an upfront fee that will reduce your monthly fee. Compare network deals and vary the amount you're comfortable paying upfront against the amount you pay each month.
Cheap iPhone XS Max deals
The iPhone XS Max is Apple's most expensive phone to date, but there are ways to manage its cost when you buy one through a mobile contract:
Compare the contract deals from our networks and you can see the different ways suppliers split their costs. Some require a large sum upfront and then a lower monthly fee, while others flip this and include a higher monthly fee, but you'll pay less upfront.
You can also buy your iPhone XS Max through a mobile reseller rather than a network - often a good way to save some cash.
Top iPhone XS Max deals by network
As you'd expect from a premium Apple phone, the iPhone XS Max isn't just physically big, its price is on the high side too.
That means that if you're in the market for one, you really want to get the most for your money.
To help you do exactly that, below we've outlined the sort of standout features of iPhone XR contracts that you can expect from each of the the major UK networks.
iPhone XS Max deals on O2
O2 iPhone XS Max contracts feature inclusive roaming in O2's Europe Zone, as well as use of a network that picked up the award for Best Network Performance 2019 from Mobile News.
O2 customers also get the benefit of its Priority rewards scheme, which gets them freebies, money-off in high-street stores and priority booking at O2 venues.
Sold on O2? Find out more with our O2 network review.
iPhone XS Max deals on Vodafone
Vodafone Red Entertainment iPhone XS Max contracts include the option of a free 24-month subscription to BT Sport Mobile or Apple Music, or a Now TV Entertainment Pass.
All contracts include the VeryMe rewards scheme, which gets customers money-off deals and free gifts.
So what else has Vodafone got to offer? Read ourVodafone network review.
iPhone XS Max deals on EE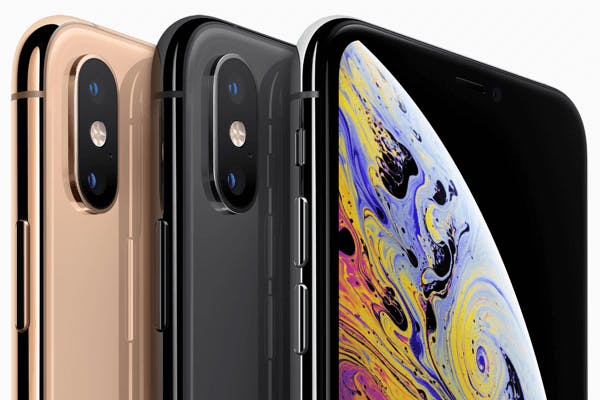 Customer benefits on EE iPhone XS contracts include the BT Sport app, as well as inclusive roaming in 48 locations and Swappable benefits.
EE is consistently named the UK's best network by RootMetrics and offers among the UK's fastest connection speeds.
EE mobile phone customers also get a free data boost of 20GB per month when they sign up for EE home broadband.
Find out more about EE with our EE network review.
iPhone XS Max deals on Three
iPhone XS Max deals include use of its highly rated Go Roam Around the World roaming scheme, which covers 71 locations around the world.
Customers on select contracts also benefit from the Go Binge scheme, which offers zero-data streaming on Netflix, Apple Music and more.
Like the sound of Three? See what else it's got to offer with our Three network review.
More phones like the iPhone XS Max
Frequently asked questions
Does the iPhone XS Max support 5G?
No, the XS Max cannot connect to 5G networks, so does not offer the same super fast mobile internet speeds as some rival phones. However, it does support 4G and 3G, both of which offer much more extensive coverage.
Is the iPhone XS Max waterproof?
The iPhone XS isn't waterproof, but it is water-resistant. Officially granted an IP 68 rating, it can withstand being submerged in up to 1.5 metres of water for up to half an hour. And as you'd expect, can easily survive the odd splash and exposure to rain too.
How many cameras does the iPhone XS Max have?
In total, the XS Max has four cameras. There's the main rear camera, which comprises a standard lens and a telephoto lens with 2x optical zoom, both of which are 12-megapixels. At the front, there's a seven-megapixel camera for selfies.
What size is the iPhone XS Max?
The iPhone XS Max has a screen that measures 5.5 inches. This takes up almost the entire span of the front of the phone, which measures 157.5 x 77.4 x 7.7 mm.
Does the iPhone XS Max have wireless charging?
Yes, the iPhone XS Max is fully equipped for wireless charging, whether you're using a wireless charging pad (sold separately) at home, or free-to-use wireless charging stations in cafes, hotels or airports.
Can I get an iPhone XS Max with bad credit?
You may be able to pick up the iPhone XS Max if you've got a bad credit rating, provided you buy from specialist retailers such as Sunshine Mobile. But you should expect to pay more for your monthly allowances than you would normally.
It's probably better and more cost-effective to opt for a cheaper phone, which you're more likely to pass a credit check for. Or save up to buy a phone SIM free.
Does the iPhone XS Max have a portrait mode?
Yes, the iPhone XS Max is capable of taking depth-of-field, portrait mode photos with the dual-lens rear camera and the front, selfie camera.
iPhone XS Max specs
General

| | |
| --- | --- |
| Manufacturer | Apple |
| Operating System | iOS |
| Sim Card Type | Nano |
Sensors

| | |
| --- | --- |
| Accelerometer | Yes |
| Proximity | Yes |
| Compass | Yes |
| Barometer | Yes |
| Gyroscope | Yes |
| GPS | Yes |
Size & Weight

| | |
| --- | --- |
| Form Factor | |
| Thickness | 7.7 mm |
| Size | 77.4mm x 7.7mm x 157.5mm |
| Weight | 208 g |
Battery

| | |
| --- | --- |
| Battery Type | Lithium Ion |
| Capacity | 3174 mah |
| Standby | hours |
| Talktime | 25 hours |
Display

| | |
| --- | --- |
| Display Size | 6.5 inches |
| Screen Type | Super AMOLED |
| Resolution | 1242 x 2688 inches |
| Pixels Per Inch | 458 ppi |
| Touch Screen Type | Capacitive |
Processing power

| | |
| --- | --- |
| CPU | 2490 mhz |
| Processor Cores | 6 Cores Cores |
| Memory | 4000 MB |
Storage

| | |
| --- | --- |
| Internal Storage | 64, 256, 512 |
| External Storage | No |
Camera & Video

| | |
| --- | --- |
| Primary Camera | 12 MP |
| Flash | Yes |
| LED Flash | |
| GEO Tagging | Yes |
| Auto Focus | Yes |
| Fixed Focus | Yes |
| Touch Focus | |
| Face Detection | Yes |
| Smile Detection | |
| Image Stabilisation | Yes |
| Video Quality | 2160p |
| 2nd Camera | 1080 MP |
Data

| | |
| --- | --- |
| Generation | 4G |
| Frequency | Dual-band |
| NFC | Yes |
| Wi-Fi | Yes |
| Wi-Fi Hotspot | Yes |
| Wi-Fi Direct | Yes |
| Bluetooth | Yes |
| USB | Yes |