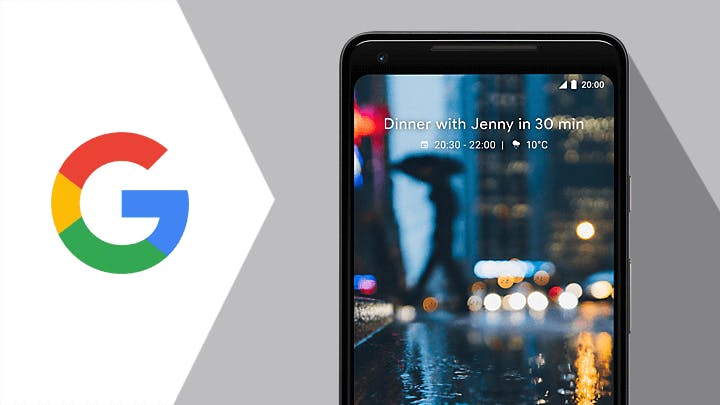 If you want stock Android Oreo with a large screen, there's only one thing for it: the Google Pixel 2 XL. Released in October 2017, this is a phone built for media, with a display made for video and innards powerful enough to handle anything you throw at it.
Here's how you can find the perfect contract deal on the Pixel 2 XL with CompareMyMobile.
What is the Google Pixel 2 XL like?
The first thing you'll notice about the Pixel 2 XL is that it has a nice big display, as befits its name. It's a large six-inch, Quad HD number, and perfect for watching movies on. However, besides the screen size - and having a chunkier battery to power it - the phone's pretty much exactly the same as the regular Google Pixel 2.
That means you get a raw Android interface, with no annoying skin like a lot of manufacturers like to add on, and it runs super smoothly. There's another hidden Google feature too: squeeze the sides, and you'll activate Google Assistant. Neat.
You also get Google Lens on the camera app (as with the Pixel 3 and Pixel 3 XL), which can identify things in pics you take. Snap a photo of a dog, and Google just might be able to tell you its breed. The camera itself is also one of the best you'll find on a 2017 smartphone, capable of 12.2MP pics and 4K video.
Under the hood, meanwhile, there's an octa-core Snapdragon 835 chip with 4GB RAM, making this a fast and powerful handset.
Annoyingly, there's no headphone plug with the Google Pixel 2 XL - just a USB-C port. Thankfully you get an adaptor cable in the box, and wireless headphones are compatible too.
How to find the best Google Pixel 2 XL deal
Find the best Google Pixel 2 XL deal for you by using our mobile comparison tool. We'll let you compare everything you can get, narrow down the deals with the filters in the sidebar, and pick the one that suits you best at the cheapest price. Check it out here:
When choosing a deal, remember to think about things like…
Internal storage size - You can get the Pixel 2 XL with either 64GB or 128GB of internal memory. There's no SD card slot, so that can't be expanded - choose carefully!
Allowance - Small allowances are available for light users, but most tariffs on the Pixel 2 XL tend to be bigger - it's a phone that attracts intense use. Deals with 10GB per month and above are easy to find.
Network - When the phone first came out, it was exclusive to EE only - but these days you can get deals on other networks by purchasing through a mobile reseller, such as Carphone Warehouse.
Budget - You can set a maximum amount that you're willing to pay on a plan, both upfront and per month, or sort the deals table by cost to put the cheapest deals at the top.
What's the cheapest Google Pixel 2 XL deal?
It may be a little more expensive than the standard Google Pixel 2, but that doesn't mean you can't find a good priced Pixel 2 XL deal. You'll find the cheapest deals of all by comparing on our comparison table: select everything you want from your plan, and sort the table by total cost.
To keep costs down, you can try choosing a smaller network; grabbing a refurbished handset rather than a brand new one; or buying through a reseller - which gives you the same phone and the same network service, but with a lower price.
Google Pixel 2 XL deals with unlimited data
Not many networks offer phone plans with unlimited data - only Three and giffgaff right now - so you may not be able to get an unlimited data contract on the Google Pixel 2 XL.
Take a look on our comparison table to find out what you can get. And have a look for deals with heavy data as well - lots of mobile providers offer plans with 20GB data and above, which is more than enough per month for most of us, even big users. Find out more about how much data you need.
Google Pixel 2 XL deals with no upfront cost
There's lots of choice over how the pricing on your contract is split up, and it includes deals with a 'free' Pixel 2 XL. You'll have to spend a little more on monthly bills, but at least it means there's nothing to pay upfront.
Select the option for a free phone from the cost filter at the side of our comparison grid, and you'll see all these deals - or just rank the table by upfront cost to see the ones with little or nothing to pay today.
More phones like the Google Pixel 2 XL
Here are a few other smartphones that may take your fancy - from gorgeous Google phones to some more fabulous phablets. Compare what's around, and take your pick.
Or just compare all the mobile deals we have available with our comparison tool. You can select as many handsets as you want from the menu and compare their deals if you're undecided.
Go SIM-only
If you're happy with your current phone and would like to hang on to it, we have some excellent SIM-only deals to check out.