Top Google Pixel 3 deals by network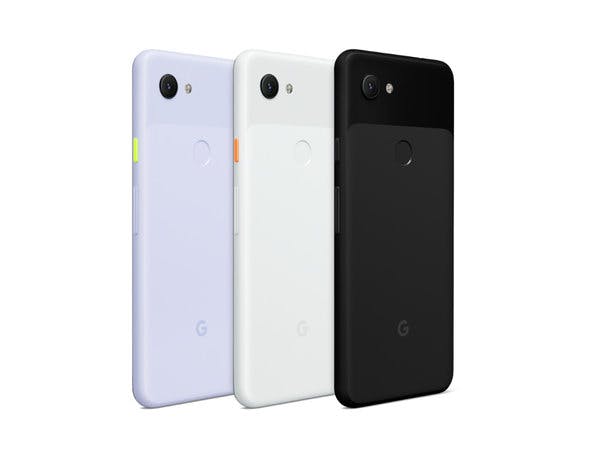 The Pixel 3 teams the best of Android with an appealing design and a fantastic camera. It's nothing short of a standout smartphone.
Does that mean breaking the bank to get one? Not necessarily. If you shop around, you can get great deals on some of the UK's best networks, sweetened no end by extras such as freebies, super-fast speeds and generous data allowances.
Here's a snapshot of what to expect when you buy the Google Pixel 3 on one of the main networks.
Google Pixel 3 deals on O2
O2 Pixel 3 contracts offer freebies and money-promos with the O2 Rewards incentive scheme, as well as inclusive roaming in O2's Europe Zone.
O2 picked up the award for Best Network Performance at the Mobile News Awards 2019, so you'll get good coverage and speeds too.
Keen to know more? Read our O2 network review.
Google Pixel 3 deals on Vodafone
Pair the Pixel 3 with a Vodafone Red Entertainment contract and you can choose from a 24-month subscription to Amazon Prime Video, Sky Sports Mobile TV or Spotify Premium to enjoy on your phone or tablet. Alternatively, there's the option of a Now TV Entertainment Pass.
So what else has Vodafone got to offer? Read our Vodafone network review.
Google Pixel 3 deals on EE
EE is frequently named the UK's fastest network. Its plans include Swappable Benefits, which let you add a different add-on each month, such as a subscription to the BT Sport App or a Video Data Pass that means you won't use any data when you're streaming video.
Sign up for an EE Pixel 3 deal and you'll get inclusive roaming in 48 European locations. And if you add EE home broadband to your bundle, you'll get a free data boost of 20GB per month.
Take a closer look at what's on offer with EE network review.
Google Pixel 3 deals on Three
Three Pixel 3 deals include use of its best-in-class Go Roam Around the World roaming scheme, which covers 71 locations around the world.
Customers on select contracts also benefit from the Go Binge scheme, which offers zero-data streaming on Netflix, Apple Music and more.
Like the sound of Three? See what else it's got to offer with our Three network review
Cheapest Google Pixel 3 deals
As you'd expect for a cutting-edge phone, the Pixel isn't the cheapest smartphone on the market. But there are ways to make sure you're getting the most for your money.
Some options to consider include:
• Opt for an MVNO or budget network. Think: giffgaff or Tesco Mobile. • Pick a model with less internal storage. If you start running out, you can always add a microSD card. • Choose a refurbished phone. You can save a lot if you don't mind a pre-owned phone.• Buy from a reseller or retailer. Such as Carphone Warehouse and buymobilephones. They're usually cheaper than buying direct from a network
Google Pixel 3 at a glance
<iframe width="600" height="400" src="https://www.youtube.com/embed/FH2gmiVtWCY" frameborder="0" allow="accelerometer; autoplay; encrypted-media; gyroscope; picture-in-picture" allowfullscreen></iframe>
Following the release of the Pixel 2, all eyes were on Google - the company behind Android - to produce a handset packed with enough impressive tech to outperform its high-end rivals and prove, once and for all, that it could create a truly revolutionary smartphone.
To some, the Google Pixel 3's large bezels and standard array of colours look a bit dated. We rather like it. But one thing you can't argue with are the phones array of features. It's got lots to recommend it.
The Pixel 3's crystal clear, OLED screen is beautiful to behold. Brilliantly, it will even adjust itself to the appropriate brightness when you're doing things like watching a film in the dark or reading a book in your lunch break.
Google's third-generation phone also sports a single, 12.2-megapixel snapper at the rear and an 8-megapixel front camera. Both are capable of producing truly stunning images. But it's the amazing NightSight mode that really makes the Pixel 3 camera stand out and creates some of the best low-light photos we've ever seen taken with a smartphone.
Other features include a 2,195mAh battery and Google Pay built-in, so you can use your phone to pay for low-ticket items in high street shops and TFL train lines.
Google Pixel 3 deals with no upfront cost
There are lots of Pixel 3 deals that let you pay nothing up front. But you will pay more each month than you would if you were willing to spend a little more straight away.
However, not everyone can afford that, and spreading the cost is a way to get an expensive phone like the Pixel 3. To see deals with no upfront cost, simply click the link below:
Can I get a Google Pixel 3 contract with bad credit?
Before they let you sign up for a plan, most mobile networks will carry out a credit check.
Of course, if you have bad credit, this can be a problem. But it doesn't have to be - there are still plenty of deals you can sign up to.
Refurbished Google Pixel 3 deals
A refurbished phone is one that's been returned by a customer, for whatever reason. It could be because of a fault or just that the customer changed their mind.
Why ever it was returned, a refurbished Pixel 3 will have been thoroughly checked and will be in good working order. Best of all, they're often as much as £10 per month cheaper than buying the same phone as new.
Google Pixel 3 refurbished contracts
Refurbished Pixel 3 phones are available on a range of monthly contracts, so there's a good chance you'll be able to find one that meets your needs.
Google Pixel 3 certified refurbished deals
Used by manufacturers when reselling returned phones, the term 'certified refurbished' simply means that a phone has been examined and found to meet the standard required to be resold.
More phones like the Google Pixel 3
• Samsung Galaxy Note 8• Samsung Galaxy S8 Plus• Samsung Galaxy S9• Samsung Galaxy Note 9• iPhone XR• iPhone XS• iPhone XS Max
Pixel 3 specs
General

| | |
| --- | --- |
| Manufacturer | Google |
| Operating System | |
| Sim Card Type | |
Sensors

| | |
| --- | --- |
| Accelerometer | No |
| Proximity | No |
| Compass | No |
| Barometer | No |
| Gyroscope | No |
| GPS | No |
Size & Weight

| | |
| --- | --- |
| Form Factor | |
| Thickness | 0 mm |
| Size | 0mm x 0mm x 0mm |
| Weight | 0 g |
Battery

| | |
| --- | --- |
| Battery Type | |
| Capacity | mah |
| Standby | hours |
| Talktime | hours |
Display

| | |
| --- | --- |
| Display Size | inches |
| Screen Type | |
| Resolution | x inches |
| Pixels Per Inch | ppi |
| Touch Screen Type | |
Processing power

| | |
| --- | --- |
| CPU | 0 mhz |
| Processor Cores | Cores |
| Memory | 0 MB |
Storage

| | |
| --- | --- |
| Internal Storage | 32, 64, 128 |
| External Storage | No |
Camera & Video

| | |
| --- | --- |
| Primary Camera | MP |
| Flash | No |
| LED Flash | |
| GEO Tagging | No |
| Auto Focus | No |
| Fixed Focus | No |
| Touch Focus | |
| Face Detection | No |
| Smile Detection | |
| Image Stabilisation | No |
| Video Quality | |
| 2nd Camera | MP |
Data

| | |
| --- | --- |
| Generation | |
| Frequency | |
| NFC | No |
| Wi-Fi | No |
| Wi-Fi Hotspot | No |
| Wi-Fi Direct | No |
| Bluetooth | No |
| USB | No |