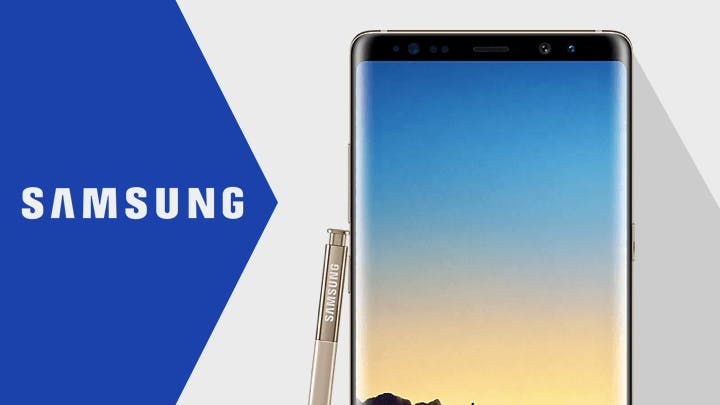 If you're looking for a large handset, jam-packed with top-tier specs and features, the Samsung Galaxy Note 8 might just be the phone for you.
Cheapest Samsung Note 8 deals this week
Larger Samsung phones will be more expensive than smaller ones. That said, here's a few ways to keep costs down when you take out a contract.
Your best bet is always to compare deals to find one that gives you everything you need at the cheapest price. As well as that, there are a few cost-cutting measures you can try…
Budget networks - Small providers and mobile virtual network operators (MVNOs) are more likely to focus on low prices. Try ones like giffgaff, iD Mobile, or Plusnet Mobile.
Refurbished phones - These handsets are previously owned and have been given a revamp so they're good as new - and they cost less.
Existing customer deals - We list a bunch of these right here in the comparison table. It could mean an upgrade deal from your current network; a monthly discount on BT Mobile if you have BT broadband; unlimited calls and texts on Sky Mobile if you have Sky broadband/TV; and more.
Resellers - Companies like Carphone Warehouse and Mobiles.co.uk buy phones and plans in bulk, then sell them to you at nice low costs. You'll see deals from these re-tailers alongside ones direct from networks so you can see at a glance which is best.
What data allowance do I need?
For a hefty phone like this, we recommend 10GB or more. Here are some basic pointers to give you a hand:
Email, social media, browsing - You'll only need around 1GB or so.
Lots of social media, watching a few videos, streaming music - Try a medium-sized data allowance, around 2GB-5GB.
Streaming TV or films every day, listening to podcasts on the go, downloading lots of files - Get a heavier allowance, perhaps 10GB or more. You could even go for unlimited data if you're a big mobile internet user.
Indeed, although unlimited data deals are available on mobile contracts, only a couple of networks provide them. And, although they can be expensive, it's worth it if you know you'll be constantly watching, streaming, and downloading on your Galaxy Note 8. Find out more about how much data you need.
More phones like the Galaxy Note 8
Take a look at some other phones that are similar to the Galaxy Note 8 and compare all your options before you commit to a plan.
Frequently asked questions
Is the Samsung Galaxy Note 8 still a good buy in 2023?
With its 6.3 inch touchscreen and AMOLED display, the Galaxy Note 8 was easily one of the biggest phones of 2017. And it boasted some of the year's most impressive tech, too.
With thin bezels and sloped dual-curved edges, the Note 8 is a stunning handset to look at, and, thanks to a Corning Gorilla Glass 5.0 coating, it's extra tough, too - able to survive a 1.6 metre drop 80% of the time.
At the back of the phone you'll find a dual 12-megapixel camera, and an 8-megapixel selfie-camera at the front - both capable of producing gorgeous, crystal-clear portrait photos and altering the depth of field before you snap your picture.
Finally, thanks to superior Quad-HD resolution, images on the Infinity Display screen are exceptionally well-defined, making it the perfect device for watching movies and playing games.
Does the Galaxy Note 8 support 5G?
No, the Note 8 is not compatible with super-fast 5G. If you'd prefer a Samsung phone with 5G connectivity, we'd suggest you take a look at the likes of the Note 10 5G or S20 Plus 5G. Naturally, both phones are newer than the Note 8 and you should budget accordingly.
Is the Galaxy Note 8 waterproof?
The Note 8 is 'water-resistant', rather than 'water-proof'. Officially awarded an IP68-rating, it'll withstand being submerged in up to 1.5 metres of water for half an hour.
How many cameras does the Note 8 have?
The Note 8 has three cameras in total. At the rear, there's a dual-lens main camera, comprising a standard lens and an ultra-wide-angle lens (both of which are 12 megapixels). Around the front, there's an eight-megapixel camera for selfies.
What size is the Galaxy Note 8?
Samsung's Note 8 packs a 6.3-inch screen into a handset that measures 162.5 x 74.8 x 8.6 millimetres.
Does the Galaxy Note 8 have wireless charging?
Yes, the Note 8 can be charged wirelessly, either when you're at home with a wireless charging pad (sold separately) or with free-to-use wireless charging stations that you'll typically find in cafes, hotels and airports. Expect a full charge to take about two hours or so.
Can I get a Galaxy Note 8 with bad credit?
It's generally easier to be accepted for contracts for older phones, such as the Note 8, than it is for newer, more expensive smartphones. But if you find your bad credit rating still prevents you from getting the phone on a contract, it might be worth saving up to buy a handset SIM-free.
Can I get the Note 8 with no upfront cost?
Yes, you can. There are lots of networks that offer Note 8 monthly contracts with nothing to pay upfront. If you're on a really tight budget, we'd suggest you look at value networks, such as Tesco Mobile, giffgaff or iD Mobile.
Does the Galaxy Note 8 have portrait mode?
It does. What's more, as well as allowing you to take standard 'bokeh/portrait' shots, the Note 8's Live Focus portrait mode allows you manually adjust the level of background blur too.
Galaxy Note 8 specs
General

| | |
| --- | --- |
| Manufacturer | Samsung |
| Operating System | Android |
| Sim Card Type | Nano |
Sensors

| | |
| --- | --- |
| Accelerometer | Yes |
| Proximity | Yes |
| Compass | Yes |
| Barometer | Yes |
| Gyroscope | Yes |
| GPS | Yes |
Size & Weight

| | |
| --- | --- |
| Form Factor | |
| Thickness | 8.6 mm |
| Size | 74.8mm x 8.6mm x 162.05mm |
| Weight | 195 g |
Battery

| | |
| --- | --- |
| Battery Type | Lithium Ion |
| Capacity | 3300 mah |
| Standby | hours |
| Talktime | hours |
Display

| | |
| --- | --- |
| Display Size | 6.3 inches |
| Screen Type | Super AMOLED |
| Resolution | 1440 x 2960 inches |
| Pixels Per Inch | 521 ppi |
| Touch Screen Type | Capacitive |
Processing power

| | |
| --- | --- |
| CPU | 2350 mhz |
| Processor Cores | Octa Core Cores |
| Memory | 6000 MB |
Storage

| | |
| --- | --- |
| Internal Storage | 64, 128, 256 |
| External Storage | Micro SD |
Camera & Video

| | |
| --- | --- |
| Primary Camera | 12 MP |
| Flash | Yes |
| LED Flash | |
| GEO Tagging | Yes |
| Auto Focus | Yes |
| Fixed Focus | Yes |
| Touch Focus | |
| Face Detection | Yes |
| Smile Detection | |
| Image Stabilisation | Yes |
| Video Quality | 2160p |
| 2nd Camera | 8 MP |
Data

| | |
| --- | --- |
| Generation | 4G |
| Frequency | Dual-band |
| NFC | Yes |
| Wi-Fi | Yes |
| Wi-Fi Hotspot | Yes |
| Wi-Fi Direct | Yes |
| Bluetooth | Yes |
| USB | Yes |