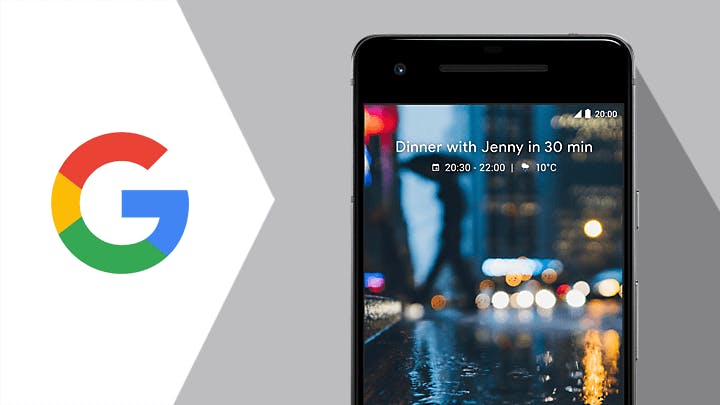 Back in 2016, Google decided to release its own phone. It had partnered with companies like HTC before, of course, but this time it was going to do it on its own. A bold move… and a successful one. The original Pixel was a critical smash, and the Google Pixel 2 builds on this success. It's a genuinely excellent handset - powerful, easy to use and featuring a truly superb camera.
Here on CompareMyMobile.com, you can compare deals on the Google Pixel 2. read on and we'll tell you what to expect from the Pixel 2, and how to find one for the best price.
What is the Google Pixel?
The Google Pixel 2 doesn't revolutionise smartphone design, but it's a top-notch example of it. It has a metal body and the rear-mounted camera and fingerprint scanner are encased in glass. It looks terrific, though in our experience glass does lead to smudgy fingerprints showing up.
As for the truly important parts of the phone, here's what's what:
Screen - The Pixel 2 has a 5-inch full HD screen with a pixel density of 441ppi - in other words, it's super sharp. It's not the highest resolution screen out there - you'll find quad-HD screens on some LG and Samsung Galaxy phones - but it's remarkably vibrant and colours really pop.
Performance - You can really tell that Google was chasing a smooth experience with the Pixel. It's there on paper with the specs - a hefty Snapdragon 835 processor and 4GB RAM is more than enough grunt for most apps. But it's the little things that make a difference - the slick animations implemented into the Android interface, the cleanness of the home screen… it all just feels slick.
Camera - Google made a big song and dance about the quality of the camera in the Pixel 2. It's fair enough because the rear-mounted 12.2 megapixel (MP) camera is truly exceptional. The photography app is easy to use, and the snapper performs admirably in both bright and low light conditions.
Battery - A lot of things about the Pixel are genuinely superb. The battery life is not one of them. It's not awful, merely average - most users will find it's more than fine for a day's moderate use, but if you're someone who works their phone battery hard, you might be better off with a Samsung Galaxy, LG or plus-sized iPhone.
Features
Google is the company behind Android, so you'd expect it to get the most possible out of the platform on its own phone. Indeed, the Pixel 2 is crammed with features that make it one of the best Android devices out there.
Features like these:
Integrated Google Assistant - Always listening, and always ready to help, the Google Assistant listens to your voice and lets you send messages, browse the web, play music and more. To activate it, all you have to do is squeeze the sides of the phone - very convenient!
Fingerprint sensor - Unlock your phone, and make payments with fingerprint recognition. The sensor's located on the back of the device, but surprisingly easy to reach.
Unlimited photo storage - You'll be able to make unrestricted use of the Pixel's fantastic camera with unlimited online storage for your favourite pictures.
Get Android upgrades early - Pixel 2 owners are among the first to get new versions of Android. If you care about getting updates to the operating system - and new features - early, a Google phone is a really good call.
How to find the best Google Pixel 2 deal
Finding a Google Pixel deal couldn't be simpler - just head over to our comparison engine to get started. We list loads of deals from different networks and companies, making it a breeze to find the best price on the kind of plan you want.
To start comparing, simply head over to our comparison page, and:
Refine your search - Use the filters on the page to set preferences, including the amount of data you want, maximum monthly budget, upfront cost and more. We'll only show you Pixel deals that meet those criteria.
Pick a deal - Once you find a deal that you like, click the link to head over to that provider's website where you can grab it.
What's the cheapest Google Pixel 2 deal?
The Google Pixel 2 is a premium phone but it's still possible to get it for a good price. When you compare deals, you can sort by monthly price or total cost - it makes it easy to see which the most affordable deals are.
The cheapest deals will be for the lower storage option Pixel 2. See, there are two models available - 64GB and 128GB. The 64GB version is some ways cheaper than the other, and considering you get online storage for photos anyway, it's a perfectly valid choice for most people.
You could also consider getting the original Pixel. It's still a terrific phone - feature rich and with a great camera - and you may still be able to get one, either refurbished or new.
Can I get a Google Pixel 2 with unlimited data?
The only network to offer truly unlimited data is Three and, sadly, the Pixel 2 isn't available from that network.
Your best option if you're a heavy user is to pick a plan with a lot of data. EE, for example, sells plans with up to 60GB data a month - that should be more than enough, even for people who stream video on their phone every day. Find out more about how much data you need.
Can I get a Google Pixel 2 with no upfront cost?
It is possible to get a Google Pixel 2 with no upfront cost, though you will pay more each month than you would if you were willing to spends a little more straight away.
That said, not everyone can afford that, and spreading the cost is a way to get an expensive phone like the Pixel 2. To see deals with no upfront cost, simply click the link below:
More phones like the Google Pixel 2
Go SIM-only
If you're happy with your current phone and would like to hang on to it, we have some excellent SIM-only deals to check out.