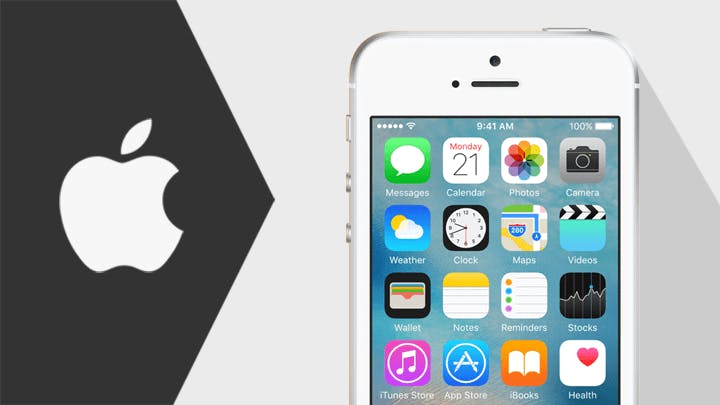 If you're pining for the days when you could hold your mobile in one hand, the iPhone 5s may be the smartphone for you. Launched in September 2013, it brought a bunch of innovations to Apple's mobile line, and it's still a worthy handset today. Here's all you need to know to find a deal on the iPhone 5s.
Best iPhone 5s deals this week
What is the iPhone 5s like?
The iPhone 5s was the last generation of flagship iPhone to have a four-inch screen, featuring that sharp-edged design of iPhones gone by. It's easy to hold and use in your hand, and you can get it in classic space grey, silver, or gold.
The 5s is significantly better than its predecessor, the iPhone 5, with some pioneering features at the time - like Touch ID, and a faster dual-core processor.
The cameras were also a marked improvement. On the back of the iPhone 5s is an 8MP snapper with dual-LED flash, capable of shooting Full HD video; and on the front you get a 1.2MP selfie cam complete with HDR mode.
Memory stayed the same, with 16GB, 32GB, and 64GB options on offer. These days you'll most likely find that the 16GB choice isn't big enough, however.
How to find the best iPhone 5s deal
CompareMyMobile's mobile comparison tool is the best way to find the iPhone 5s deal for you. See tons of available deals on the handset, compare them all in one place, and adjust the filters at the side of the page to only show deals that fit what you want.
Remember to think about things like…
Allowance - Choose a tariff or a range that will fit your usage best. Think about how many texts you send, how long you talk on the phone for each month, and how much mobile data you use.
Light data use - If you only use 4G internet to browse a little or check your emails, you'll be fine with 1GB or less.
Medium data use - The average mobile user needs around 2GB-4GB data per month.
Heavy data use - Mobile fiends will be happier with 10GB or more, especially if you watch iPlayer on your commute, stream a lot of music, or access documents for business.
Network - Some networks offer cheap plans, while others give you lots of benefits like fast 4G or free use of certain apps. You may also want to think about family plans that you can link multiple phones to, and existing customer deals from your current network or even broadband provider. Either way, always check coverage in your area for your chosen network before you decide.
Model - Pick an internal storage option, your preferred colour, and whether or not you want a refurbished phone.
Cost - If you have a budget for the month or on what you can spend today, set a maximum price in the filter. Or, sort the grid by cost to see the cheapest deals at the top and compare what you can get. See below for more tips on finding a cheap deal.
Once you find a deal you want, click through, and we'll take you to the provider or retailer to start your order.
What's the cheapest iPhone 5s deals?
The iPhone 5s is quite a cheap phone - whatever deal you get will be fairly low in price, even if you choose a high allowance. To find the cheapest iPhone 5s deal for you, select everything you want from your plan using the tips above, then sort the grid by cost to see the best value ones first.
You can get an even cheaper deal by:
Getting a refurbished phone
Going for a low-price network, like Tesco Mobile or giffgaff
Buying through a mobile reseller - we list deals from these guys as well as plans direct from networks
Choosing a lower monthly allowance or internal storage size - though make sure you still have enough for your normal usage
iPhone 5s deals with unlimited data
Big mobile internet user? You'll need a plan with lots of data - and unlimited data iPhone 5s deals are available. Look out for these from networks like Three and giffgaff, though bear in mind that giffgaff's 'Always On' plan isn't truly unlimited.
We recommend taking a look at some large data plans from other providers, too. They may well cover your use at a lower price, and give you more choice over network, cost, and tariffs.
iPhone 5s deals with no upfront cost
The iPhone 5s may be a low-cost device, but it's even cheaper when it's 'free' with a plan. Plenty of deals are available on the iPhone 5s with no upfront cost at all, meaning you can get your phone without paying a penny today.
It does mean you'll need to spend a little more per month, but luckily it's a relatively inexpensive handset, so you won't see too much of an increase.
More phones like the iPhone 5s
Check out some other smartphones you can get that are similar to the iPhone 5s. Here's a selection of more iPhones and a few hand-sized Android devices, so you can compare all your options:
Frequently asked questions
Is the iPhone 5s still a good buy in 2023?
From October 2023, the iPhone 5s is showing its age a bit. At four inches, for instance, its screen is much smaller most phones from the last few years and it's less bright and crisp too. The camera doesn't match newer phones either, but it's fine for day to day to snapshots.
However, where the 5s scores is that it's much more pocketable than the super-sized likes of the iPhone 8 and iPhone X. What's more, it runs the key apps you'll need and is a lot cheaper than more recent phones.
Does the iPhone 5s support 5G?
No, the iPhone 5S is 4G only. Apple is expected to release its first 5G phone in 2020.
Is the iPhone 5s waterproof?
The iPhone 5s does not have an IP rating, so is not deemed to be water-resistant. However, newer iPhones such as the iPhone 8 and iPhone SE 2020 are still very affordable and can withstand being submerged in water of up to 1 metre deep for half an hour.
How many cameras does the iPhone 5s have?
The iPhone 5s has a single-lens eight-megapixel main camera and a 1.2-megapixel front camera for selfies.
What size is the iPhone 5s?
One of the most pocketable iPhones, the iPhone 5s comes in at four inches. By way of comparison, the iPhone SE 2020 is 4.7 inches, while the standard version of the iPhone 11 is 6.1 inches.
Does the iPhone 5s support wireless charging?
The iPhone 5s is not compatible with wireless charging pads and only supports traditional wired charging.
Can I get an iPhone 5s with bad credit?
Because the 5s is one of the older and more affordable iPhones, you've got a pretty good change of being accepted for a contract. Alternatively, you can pick one up for up SIM-free for under £100 and get a cheap SIM-only deal.
Can I get an iPhone 5s with no upfront cost?
The iPhone 5s is no longer being made. So you might struggle to find one on a contract, with or without an upfront charge. However, if you shop around you'll be able to pick one up for under £100 SIM-free, which isn't too much to find up front.
Does the iPhone 5s have portrait mode?
The iPhone 5s is not equipped to take portrait, 'bokeh' photos. This is reserved for newer iPhones, such as the iPhone 7 or later.