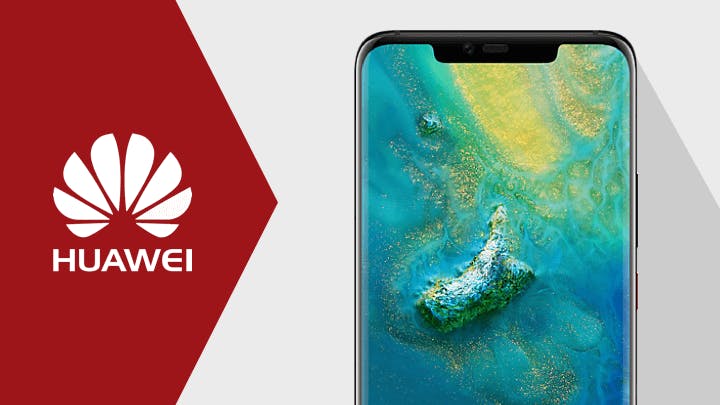 Power, beauty, high-end specs and a host of innovative features fit for a premium smartphone - albeit one with a lofty price tag - see Huawei take on Apple and Samsung at the mobile top table.
What's the Huawei Mate20 Pro like?
Packed with innovative and cool features, the Mate20 Pro is the embodiment of Huawei's bold strides in mobile tech.
If you're looking for one of the best smartphones on the market, but don't fancy a Samsung Galaxy or an iPhone, the Huawei Mate20 Pro could be the handset for you. It's a superb all-rounder which combines a stunning design, with curved sides and glass finish; an ultra-wide-angle colour camera; and a processor that uses the same chip technology as the iPhone XS.
Throw in some compelling innovative features such as reverse wireless charging - where a friend in need can piggyback on your mobile charge - 3D face-scanning unlock (as with the Huawei P20 and P20 Pro), and in-display fingerprint, and you've got a real piece of kit on your hands. That is, if you can handle the price.
How to find a cheap Huawei Mate 20 Pro deal
Whether you buy a phone outright or take out a contract, smartphones in the top-tier bracket are expensive.
In order to secure the best deal on a Huawei Mate20 Pro, take some time to consider how you're going to use your phone and how you want to pay for it. It'll help you make the right decision.
You can filter by:
Storage - The Huawei Mate20 Pro is available with 128GB internal storage for your apps, files and pics.
Colour - You can get this model in black, Twilight, pink, gold, Midnight Blue and Emerald green.
Monthly allowance - There's plenty of choice here over what you can get. Tariffs range from a minimal allowance up to unlimited everything. Pick a small one if you don't use your phone much, or lots of data if you like to browse and stream all day - though most of us are satisfied with 2GB-5GB of data.
Budget - Think about how much you're willing to spend on your mobile bill each month, and how much you can spend upfront today.
Network - Deals are available from lots of networks. Take your pick - whether you want free streaming with Three, low prices from Virgin Mobile, or a flexible contract from giffgaff. Some also have special offers for existing customers.
Once you've selected all the things that are important to you, you can sort the available deals by cost to see the cheapest, by data allowance to see the most generous, or just take a look at our top picks.
What's the cheapest Huawei Mate20 Pro deal?
Matching the latest iPhones and Samsung Galaxy models both in specs and looks, the Huawei Mate20 Pro also carries a daunting price tag. But there are ways to manage the costs of such a pricey phone.
Compare the contract deals from our networks and you can see the different ways suppliers split their costs. Some require a large sum upfront and then a lower monthly fee, while others switch this and include a higher monthly fee, but you'll pay less upfront.
To get a contract deal at the lowest possible cost, you can...
Choose an MVNO or budget network, such as giffgaff or Sky Mobile. These networks have lower operating costs, and therefore cost you less too.
Go for a lower allowance or lower internal storage size - but make sure you still have enough to cover you for the next two years.
Get a refurbished model which has been previously owned or returned.
Buy through a reseller - like Carphone Warehouse or Buymobiles, which offer pay-monthly contracts at cheaper rates.
Best Huawei Mate20 Pro contracts with no upfront cost
If you're keen to avoid paying an upfront fee and would rather spread your costs over the course of a contract, there are network suppliers which offer this option.
Suppliers refer to this as a 'free device' which isn't technically true - it just means you won't pay anything upfront. However, it does mean you will pay a higher fee each month. And the good news is you get a flashy new phone without handing over a couple of hundred quid.
You can compare network deals and vary the amount you're comfortable paying upfront against the amount you pay each month.
What is the best Huawei Mate20 Pro deal with unlimited data?
If you're a particularly heavy user of data - whether it be through gaming, streaming music or watching videos - you may be considering a mobile contract that includes unlimited data.
Some networks offer this, but obviously they'll make you pay for it. Expect a higher monthly fee or a large upfront cost, or possibly both, if you take this option.
But before choosing an unlimited data contract, think carefully about how you use data and try and work out how much you use (on average) each month. You may find it's worth opting for a contract which offers, say, 10GB or 20GB instead. This is still a huge amount of data to work through and will probably work out a little cheaper than an unlimited data contract.
Find out more about how much data you need.
More phones like the Huawei Mate 20 Pro
Frequently asked questions
Is the Huawei Mate 20 Pro a good buy in 2020?
Now a couple of years old, the Huawei Mate 20 Pro is still ideal for anyone looking for the latest tech for a low price-tag.
Standout features include a stunning 6.3-inch OLED display with QHD+ resolution for crystal clear pictures, and a 3D facial recognition scanner for extra security.
Better still, it's powered by Kirin's powerful 980 CPU processor, and comes with 6GB of RAM and 128GB worth of storage.
Does the Huawei Mate 20 Pro support 5G?
No, the Huawei Mat 20 Pro does not support super fast 5G connectivity.
Is the Huawei Mate 20 Pro waterproof?
The Huawei Mate 20 Pro has IP68 rating, which means it can be submerged in up to a metres of water, and is both splash and dust resistant.
How many cameras does the Huawei Mate 20 Pro have?
The Huawei Mate 20 Pro packs three cameras: a 40-megapixel standard wide lens, a 8-megapixel telephoto snapper and a 20-megapixel lens for ultra-wide shots. At the front, there's a 24-megapixel camera for selfies.
What size is the Huawei Mate 20 Pro?
The Mate 20 Pro measures 157.8 x 72.3 x 8.6mm.
Does the Huawei Mate 20 Pro have wireless charging?
Yes, the Huawei Mate 20 Pro does support wireless charging as well as reverse wireless charging.
Can I get a Huawei Mate 20 Pro contract with bad credit?
Newer phones such as the Mate 20 Pro are difficult to get on a contract if you've got a poor credit rating.
To that end, we'd say you're better off saving up and buying it SIM-free and then get a cheap SIM only deal. Or take a look at contracts for cheaper iPhones that you're more likely to be approved for.
Can I get Huawei Mate 20 Pro deals with no upfront cost?
If you'd rather avoid a large upfront fee, there are mobile networks that let you spread the cost of the Huawei P20 over the course of a contract.
As we say, though, if you do opt for a contract with no upfront costs, it does mean you will pay a higher fee each month. However, you get a new phone in your hand without first handing over hundreds of pounds.
Does the Huawei Mate 20 Pro have portrait mode?
The Huawei Mate 20 Pro has a portrait mode on its rear cameras that lets you edit your picture to get a shallow depth of field.
Mate 20 Pro specs
General

| | |
| --- | --- |
| Manufacturer | Huawei |
| Operating System | Android |
| Sim Card Type | |
Sensors

| | |
| --- | --- |
| Accelerometer | No |
| Proximity | No |
| Compass | No |
| Barometer | No |
| Gyroscope | No |
| GPS | No |
Size & Weight

| | |
| --- | --- |
| Form Factor | |
| Thickness | 0 mm |
| Size | 0mm x 0mm x 0mm |
| Weight | 0 g |
Battery

| | |
| --- | --- |
| Battery Type | Lithium Polymer |
| Capacity | 4200 mah |
| Standby | hours |
| Talktime | hours |
Display

| | |
| --- | --- |
| Display Size | 6.39 inches |
| Screen Type | AMOLED |
| Resolution | 1440 x 3120 inches |
| Pixels Per Inch | 538 ppi |
| Touch Screen Type | Capacitive |
Processing power

| | |
| --- | --- |
| CPU | 0 mhz |
| Processor Cores | Octa Core Cores |
| Memory | 6000 MB |
Storage

| | |
| --- | --- |
| Internal Storage | 128 |
| External Storage | |
Camera & Video

| | |
| --- | --- |
| Primary Camera | MP |
| Flash | No |
| LED Flash | |
| GEO Tagging | No |
| Auto Focus | No |
| Fixed Focus | No |
| Touch Focus | |
| Face Detection | No |
| Smile Detection | |
| Image Stabilisation | No |
| Video Quality | |
| 2nd Camera | MP |
Data

| | |
| --- | --- |
| Generation | |
| Frequency | |
| NFC | No |
| Wi-Fi | No |
| Wi-Fi Hotspot | No |
| Wi-Fi Direct | No |
| Bluetooth | No |
| USB | No |