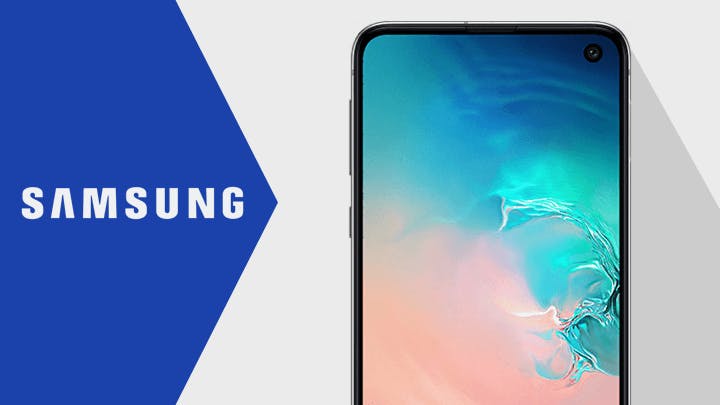 Although it lacks some of the same cutting-edge tech found in the S10 and S10 Plus, the Samsung S10E is a seriously impressive smartphone, jam-packed with brilliant specs and features without the premium price tag.
Galaxy S10e at a glance
Here's some of our favourite specs and features:
Display - the S10E's Infinity-O display is minimalist and gorgeous to look at. This, along with it's edge to edge display and tough Gorilla Glass screen protection means the Phone is manageable to hold and extra tough, too.
Processor - under the hood, the Samsung S10E contains a powerful Snapdragon 855 processor - the same kind as the more expensive S10 and S10 Plus models.
Camera - impressively, the S10 E boasts a 10 megapixel selfie-camera at the front, while a wide-angle 12MP and ultra-wide 16-megapixel camera sist at the rerar of the device.
Finger print scanner - a finger-print sensor sits mounted on the side of the device, as opposed to the S10 and S10 Plus, where it sits under the home screen. For some this will be a downer, although, for the price-tag, we didn't expect the device to have all of the S10's premium specs.
Battery - on the battery front, the S10E has a pretty sturdy 3,100mAh battery that supports wireless charging and power sharing. It's also worth mentioning that the phones glass back works as a wireless charging platform for Samsung's wireless headphones, too.
Cheap Samsung S10e deals
Sort the Galaxy S10E deals in the comparison tool by cost to see the cheapest ones that fit what you're looking for. Ranking by total cost will show you which deals offer the best value across the whole contract; or monthly cost shows you the ones with the lowest monthly bills.
Alternatively, set a maximum budget in the filter on the side to only see the deals you can afford.
Samsung Galaxy S10e deals with no upfront cost
A Samsung Galaxy S10e deal with no upfront cost may mean a more expensive bill each month, but these plans certainly are available - and from quite a few networks, too.
Select 'free' in the phone cost filter on the comparison grid to compare them. You can also sort the deals by upfront cost, which shows you the ones with free devices and cheap upfront costs first of all.
Samsung's budget smartphone, the S10E, clocks-in at 5.8 inches, and comes with a gorgeous edge-to-edge display. Moreover, it operates using Android 9.0 Pie; the same operating system as its predecessor, the Galaxy S9.
Indeed, if the specs and features below are anything to go by, the S10E will be an impressive bit of a kit for a so-called 'budget' handset.
Top Samsung Galaxy S10e deals by network
Use CompareMyMobile's comparison tool to find the best iPhone 8 Plus deal. We pull in deals from a range of UK networks and resellers so you can sort through them and see which one is best for you. The filters at the side of the page will help you narrow them down to ones that fit what you need.
Here are some of the major networks you can choose from:
Samsung Galaxy S10e deals with iD Mobile
Although not a household name, iD Mobile has carved out a strong identity for itself in recent years thanks to its super affordable SIM-only deals and phone contracts.
To find out more about iD mobile, check out ouriD Mobile network review
Samsung Galaxy S10e deals with EE
If decent Wi-Fi coverage is particularly important to you, EE is well worth a look. Its coverage reaches most of the UK. To that end, it's ideal for anyone who relies on a sturdy Wi-Fi connection, particularly freelancers and those who travel around for work.
What else does EE have to offer? Read our EE review
Samsung Galaxy S10e deals with Vodafone
Aside from its basic tariffs, Vodafone customers who like to travel will also get some great incentives to join the network, including big data plans and TV Entertainment passes.
Like the sound of Virgin Media? Find out what else it has to offer with our Vodafone review
More phones like the Galaxy S10e
Take a look at some other phones that are similar to the Galaxy Note 8 and compare all your options before you commit to a plan.
Samsung Galaxy S10Samsung Galaxy S10+iPhone XiPhone 8 PlusSamsung Galaxy Note 9Samsung Galaxy Note 10Samsung Galaxy S9 Plus
Frequently asked questions
Is the Galaxy S10e still a good buy in 2023?
As one of Samsung's newer phones, the S10e still has a lot to offer. Even if it's not quite as up to the minute as the likes of the S20 range.
At 5.8 inches, it's relatively compact by the standards of Galaxy S smartphones. But still packs in an impressive dual lens camera, lots of storage and a powerful processor. And you can pick it up on some very keenly priced contracts too.
Does the S10e support 5G?
The S10e does not work on 5G networks, which means you won't get the fastest mobile internet speeds. If 5G connectivity is a primary consideration for you, we'd recommend the Galaxy S10 5G. But expect to pay substantially more.
Is the S10e waterproof?
The S10e is water-resistant, rather than waterproof. And with an IP68 rating, it can endure being submerged in 1.5 metres of water for up to half an hour.
How many cameras does the S10e have?
The S10e packs in three cameras in total. There are two at the rear, namely a 12-megapixel standard lens and a 16-megapixel ultrawide lens. Then at the front, there's a 10-megapixel selfie camera.
What size is the Galaxy S10e?
The S10e is the smallest of Samsung's Galaxy S10 range and features a 5.8-inch screen, which is tucked into a device with dimensions of 142.2 x 69.9 x 7.9 millimetres.
Does the S10e have wireless charging?
The S10e can be charged wirelessly and has a fast-charging wireless mode for when you're in a hurry. It also offers reverse wireless charging, which allows you to share power with compatible smartphones.
Can I get the Galaxy S10e with bad credit?
You might find it hard to get the S10e if you've got an impaired credit rating. If you're not successful, we'd suggest you either save up to buy it SIM-free or consider a cheaper phone.
Can I get the Galaxy S10e with no upfront charge?
You can. Lots of networks offer the S10e on monthly contracts which don't require you to pay anything up front. The catch is that this type of contract generally features a higher monthly premium. So you'll probably end up paying about the same by the end of your contract.
Does the Galaxy S10e have portrait mode?
It does. The Live Photo mode on the rear camera lets you take bokeh shots and manually adjust the level of background blur, according to your taste. You can also apply the same 'depth-of-field' shots with the selfie camera.
Galaxy S10e specs
General

| | |
| --- | --- |
| Manufacturer | Samsung |
| Operating System | Android |
| Sim Card Type | Nano |
Sensors

| | |
| --- | --- |
| Accelerometer | Yes |
| Proximity | Yes |
| Compass | Yes |
| Barometer | Yes |
| Gyroscope | Yes |
| GPS | Yes |
Size & Weight

| | |
| --- | --- |
| Form Factor | |
| Thickness | 7.9 mm |
| Size | 69.9mm x 7.9mm x 142.2mm |
| Weight | 150 g |
Battery

| | |
| --- | --- |
| Battery Type | Lithium Ion |
| Capacity | 3100 mah |
| Standby | hours |
| Talktime | hours |
Display

| | |
| --- | --- |
| Display Size | 5.8 inches |
| Screen Type | Super AMOLED |
| Resolution | 1080 x 2280 inches |
| Pixels Per Inch | 438 ppi |
| Touch Screen Type | Capacitive |
Processing power

| | |
| --- | --- |
| CPU | 0 mhz |
| Processor Cores | Octa Core Cores |
| Memory | 6000 MB |
Storage

| | |
| --- | --- |
| Internal Storage | 128 |
| External Storage | Micro SD |
Camera & Video

| | |
| --- | --- |
| Primary Camera | 12 MP |
| Flash | Yes |
| LED Flash | |
| GEO Tagging | Yes |
| Auto Focus | Yes |
| Fixed Focus | Yes |
| Touch Focus | |
| Face Detection | Yes |
| Smile Detection | |
| Image Stabilisation | Yes |
| Video Quality | 2160 |
| 2nd Camera | 10 MP |
Data

| | |
| --- | --- |
| Generation | 4G |
| Frequency | |
| NFC | Yes |
| Wi-Fi | Yes |
| Wi-Fi Hotspot | Yes |
| Wi-Fi Direct | Yes |
| Bluetooth | Yes |
| USB | Yes |