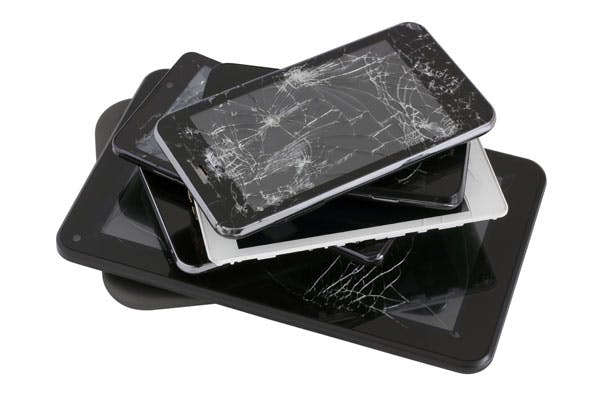 What does mobile phone insurance cost, and who offers the best cover? Find out the answer to these questions, plus much more, on this page.
These days, you could end up spending a small fortune on a new handset – especially the very latest model – so it pays to get cover in case your device is stolen, lost or damaged.
Question is, with so many different plans available, and all at various price points, how do you know you're getting a good deal?
Here's everything you need to know…
Is it worth getting mobile phone insurance?
Although mobile phone insurance is generally a good idea – especially if you've lost or broken a phone in the past – it isn't necessarily the best option for everyone.
After all, if you're particularly careful with your gadgets, or can afford to replace a phone that's broken, then what's the sense in taking out phone insurance?
So before you look at plans, have a think about whether:
You're likely to break your phone. If so, you're probably the right candidate for mobile phone insurance. Without it, you may well pay out more to fix the phone than the device is worth.
You can afford to replace it. If you own a basic handset – one that's not equipped with the latest camera or fastest chipset, for example – you might be better off buying a new one if it breaks or goes missing.
Will you lose it? If you've never lost a handset, the chances of needing mobile insurance are slim. Of course, these things happen no matter how careful we try to be – so, if you're worried something might happen to your expensive handset, read on for the best plans.
Mobile phone insurance comparison
Before comparing mobile phone insurance suppliers, it's important to consider things like whether they offer instant cover and whether there is a limit to how many claims you can make in a year.
It's also worth checking if your home insurance already includes phone cover. If it does, check how long the claims process is likely to take – you see, although this type of cover might save you money, claiming can take a long time, and could leave you without a phone for longer than you'd like.
Best mobile phone insurance companies
To help you get the best cover, we've compared a few popular insurance providers, and looked at things like price and the type of cover they offer.
At the time of writing, each supplier on our list is rated five-stars by independent review site Defaqto.com.
Of course, the right supplier for you will depend on a number of factors – including what you can afford, how many devices you want to protect and the type of cover you want.
Here's what they have to offer.
Insurance2Go
Insurance 2Go offers Essential and Full cover, and covers incidents of accidental damage, theft and loss. Standard cover will cost you just £3.49 per month and full cover just £3.99. Plus, you'll also get the option of a discount if you go for one of its yearly policies, too.
It's slightly more expensive to cover your iPhone and, at the time of writing, Insurnace2Go has approved 94% of claims. Lastly, Insurance2Go will insure any make and model phone that's up to 36 months old, and was bought from a UK registered company.
Carphone Warehouse
Carphone Warehouse offers two types of mobile insurance: Mobile Complete and Mobile Lite. Mobile Complete costs £5 per month, and covers loss, theft, spills and smashes.
Other perks include a seamless claims process – you can go online or in store, a replacement mobile delivered the next working day, and 24/7 tech support.
Mobile Lite, on the other hand, costs £3 per a month. For this outlay, you'll get cover for accident and breakdown insurance, plus the perks above, too. Difference is, you won't get cover for theft or loss.
Barclays
Barclays phone cover can be used as an add-on to your Barclays account. It's similar to Carphone Warehouse in that it offers two types of cover: Tech Pack Lite – which costs £9 per month – and Tech Pack which is £14.50 per month.
As its name suggests, Tech Pack Lite has less extensive cover than Tech Pack – cover for up to two devices over four, for instance. And it only covers accidental damage and breakdown, whereas the premium cover looks after loss and theft, too.
Both cover phones worth up to £1,500 each, and let you cover a person you live with, plus children who are dependent on you.
Gadget Cover
Unlike some of the names above, Gadget Cover is a small, UK based company that offers cover for laptops, phones and other tech.
Gadget Cover's mobile phone insurance protection is pretty extensive; It covers accidental damage, liquid damage, breakdown, unauthorised usage and even any accessories worth up to £150 that were lost at the same time as your device.
How much you pay depends on your device and, if you want to cover for loss, you'll need to pay an extra premium to get your phone replaced.
Best phone insurance for loss of theft
In most cases, phone insurers offer standard cover for breakdown and damage, but might charge a little more for loss or theft.
Best phone insurance for students
If you're a student looking to save money on mobile phone insurance, there's a few different things you can do.
First, check to see if your bank offers mobile phone insurance as an add-on with your bank account. This could save you money in the long-run.
If not, take a look at companies like Endsleigh and Row.co.uk who offer specific packages for students, or cheap suppliers from our list, such as Gadget Cover and Insurance2Go.
Is Applecare worth it?
That depends. As you might know from experience, some Apple phones are far from indestructible and, should your phone suffer a break, it might cost hundreds of pounds to put right.
So, if you're accident prone, Applecare is a good option.
Applecare +, for example, covers accidental damage so, if you drop your iPhone, you'll only be charged a small bill and not a hefty one.
Can you insure your phone after its broken?
Unfortunately not. Because an insurance policy protects your device against damage, it's not possible to take out insurance after any damage is done to the device.
If your phone is damaged beyond repair, perhaps it's time to think about an upgrade. To see our best phone deals right now, hit the button below.