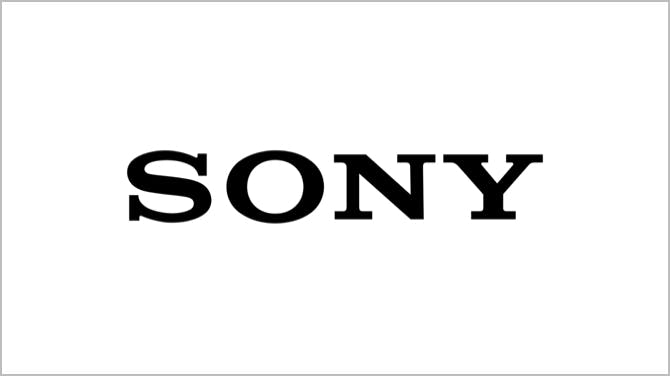 With an ultra-widescreen video experience that's closest we've got to having a cinema in your pocket, the Xperia 1 is billed as the best Sony smartphone in years. But is that good enough to challenge the likes of Huawei's P30 Pro and Samsung Galaxy S10?
Touted as the best Sony smartphone in years, the Xperia 1 teams a vast, 4K screen with film-making tools and plenty of power. But is that enough to return Sony to the top table of smartphone-makers? We put it to the test to find out.
Xperia 1 design and first impressions
Black, purple, grey and white colour options
Taller than the average smartphone
No 3.5mm headphone jack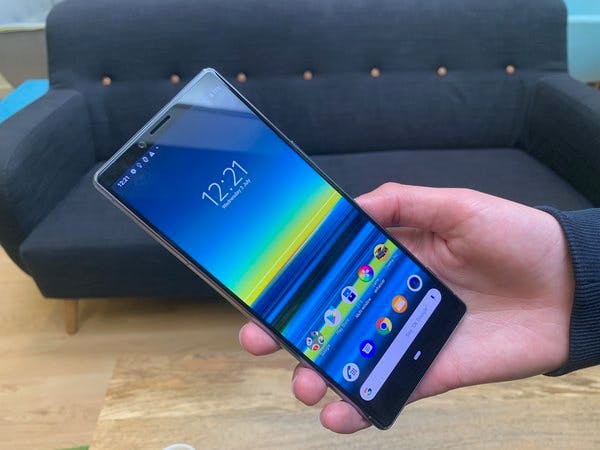 When you first set eyes on the Xperia 1 you're struck by just how much its edge-to-edge 6.5-inch screen dominates the entire front of Sony's new handset.
It's taller than any other maxi-sized smartphones, too. That's because of its unique 21:9 screen aspect ratio, which means it's less wide than we're used to. But extends much further upwards.
On the plus side, the Xperia 1's unusual dimensions and shape mean it looks like no other smartphone and really stands out from the crowd.
But it also means that unless you're wearing combat pants, it doesn't fit as snugly in your trouser pockets and peeps out the top.
Like the display, the Xperia 1's body is constructed from hard-wearing Gorilla Glass, with a metal frame sandwiched between the front and back.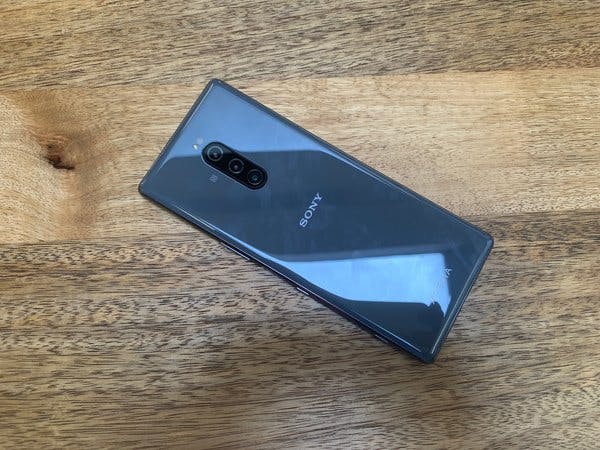 The squared-off, sharp edges that Sony Xperia phones used to be known for have gone, to be replaced by more appealing, more modern curves.
We tested the grey version of the handset. And we're happy to report that the glass back reflects light pleasingly and seems less prone to smudges than other glass-backed, shiny phones – although it's every bit as slippery.
If you're feeling a bit more adventurous, there's a purple edition available, as well as more sober black and white colourways.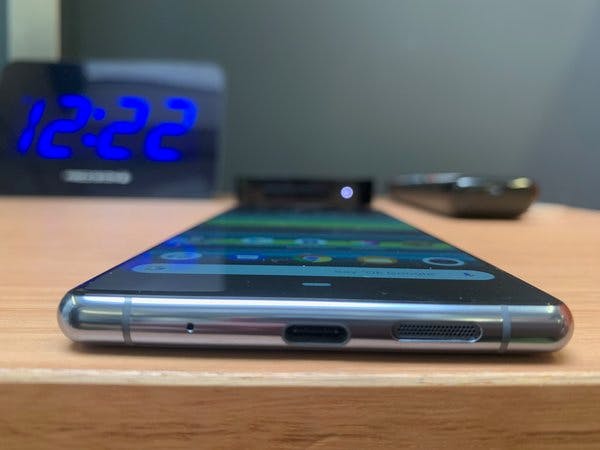 As with previous Sony Xperia phones, the fingerprint scanner is located on the side of the device.
We found it much more reliable than in-display scanners that seem to regularly misread our fingerprints and require multiple attempts to unlock your handset phone.
The Xperia 1 also features a dedicated camera button, as well as a standard-issue volume rocker and power button. All of which are housed on the right-hand side of the phone.
But it's not entirely 'as you were'. There's no 3.5mm headphone port. So if you don't already own wireless headphones, you'll need to invest in a pair.
| | |
| --- | --- |
| Materials | Glass and metal |
| Weight | 178g |
| Dimensions | 167 x 72 x 8.2 mm |
Sony Xperia 1 display
Cinema-style experience in your pocket
Not quite as bright as rival phones
Tap screen bezel to activate shortcuts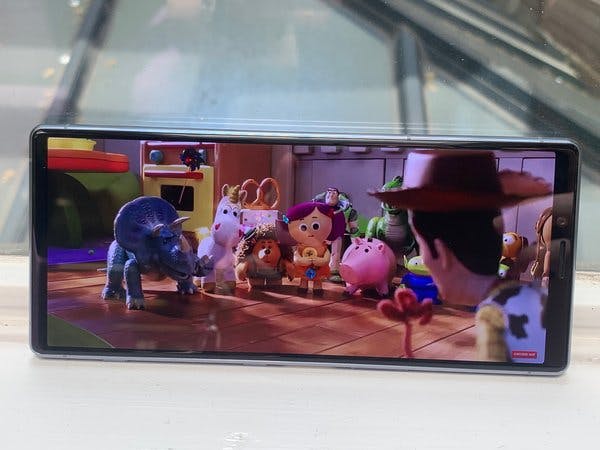 As you'd expect videos, games and photos look excellent on the Xperia 1's display. Its tall dimensions make perfect sense when you hold the phone in landscape mode and you're watching movies in lush, cinema-style widescreen.
What's more, there's plenty of content around in the 21.9 widescreen format on Netflix, YouTube and Amazon Prime Video et al to justify Sony's decision to go with what is on paper at least an unusual aspect ratio.
The display's tall dimensions also work really well for viewing apps in split-screen when you're holding the phone in portrait mode.
So if you want to watch a YouTube video, for example, while you're working on a document, the Xperia 1 handles it with aplomb.
The Xperia 1's screen is bright, crisp and reproduces colours faithfully. However, for us it's not quite as impressive as some of the competition, most notably Huawei's P30.
What's more although the display is 4K, the screen dimensions aren't really big enough for you to notice much difference from other high-grade non-4K displays.
We also found we struggled to see the screen is really bright sunlight. Even with brightness turned up to max.
Like last year's Xperia efforts, the Xperia 1's display is also home to a new feature dubbed Side Sense that's intended to let you access key features and functions quicker.
Much like HTC's similar Edge Sense, this is features a pressure-sensitive area that you touch to bring up shortcuts to your most-used apps and features. Only with Sony's take, you double-tap the bezel to activate it.
It's a nice idea and is implemented much better than HTC's version, which required you to apply a lot of pressure to get it to work.
We found Side Sense pretty handy for launching the camera app when you're trying to capture a fleeting moment. And it's nice to be able to launch the split-screen mode in a trice too.
| | |
| --- | --- |
| Dimensions | 6.5 inches |
| Resolution | 1644 x 3380 pixels |
| Technology | OLED |
Sony Xperia 1 camera
Excels at portraits and video
Night Sight Mode would improve low-light snaps
Cinema Pro app is great for film-makers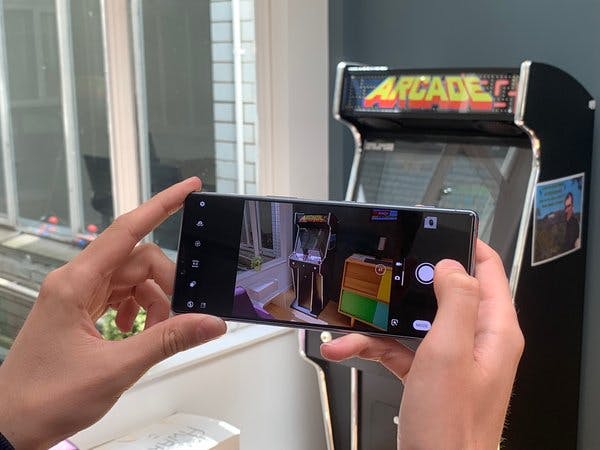 The Xperia 1's main camera comprises three lenses: a 12-megapixel standard lens, a 12-megapixel telephoto lens for zooming in close to your subject and a 12-megapixel ultrawide lens.
We found the Xperia 1 made it easy to get really great shots in a range of conditions, assisted by artificial intelligence that recognises scenes and scenarios and adjusts settings to help you get the best snap possible.
Images were packed with detail, with colours that 'pop' but don't look oversaturated and unrealistic.
The ultra-wide angle lens really comes into its own when you're shooting buildings from a distance, allowing you to squeeze in much more of the scene.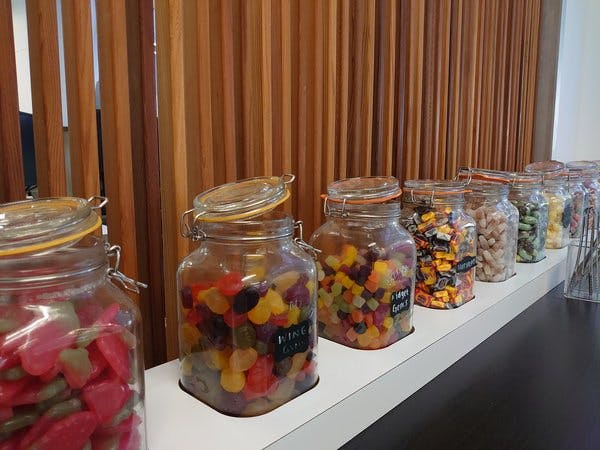 Although we did notice the edge of images taken with this lens felt a bit distorted and appeared a little over-stretched on occasion.
The depth-of-field mode served up some stunning images, though, with an effective and crisply executed blurring effect that brings your subject into super-sharp focus.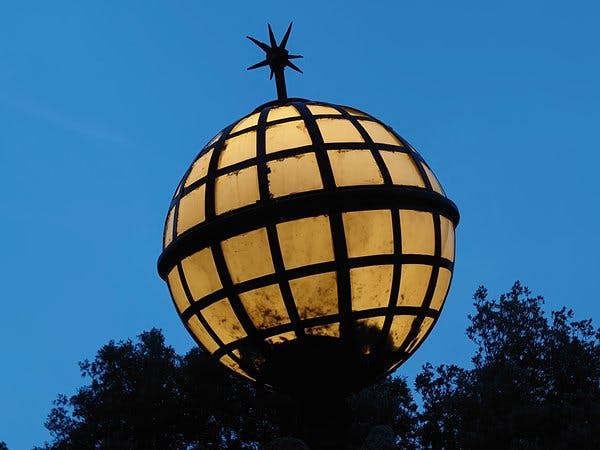 On the downside, the camera software doesn't feature a low-light mode akin to Google's excellent Night Sight.
So don't expect the 'night-into-day' results that you've seen with the Pixel range. But low-light photo taken with the Xperia 1 are still more than serviceable and easily on a par with the S10 and iPhone XS.
The Xperia 1 makes a very good job of video recording too. 4K and 1080p videos shot with the phone look excellent, with clear audio and optical image stabilisation technology that minimises 'judder'.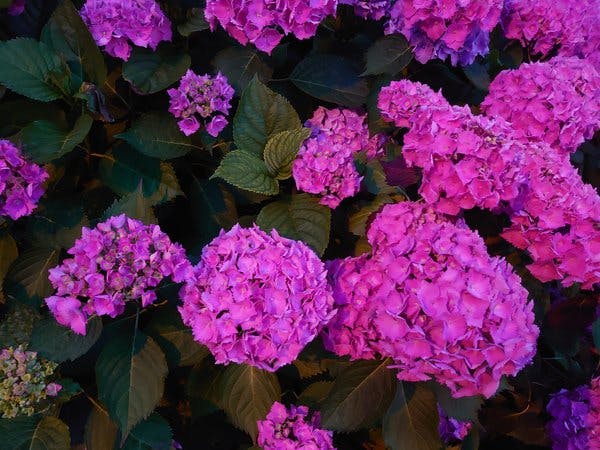 Would-be film-makers will love the built-in Cinema Pro app. This gives you a range of cinema-grade colour filters and optional parameters that you'd normally only get on a ruinously expensive professional film camera.
The sort that would set you back about £10,000.
| | |
| --- | --- |
| Camera | 12MP standard, 12MP telephoto, 12MP ultra-wide |
| Optical image stabilisation | Yes |
| Unique features | Cinema Pro video editing app |
Sony Xperia 1 performance and battery life
Battery holds up fine for standard usage
No wireless charging or two-way charging
Zippy to use and fast charge works well
High-end flagship phones should be zippy. And, naturally, the Xperia 1 is no exception. Apps launch in a flash and it handles the demands of split-screen multi-tasking and online gaming with ease.
That ought to be no surprise, given that it's powered by a state-of-the-art Snapdragon 855 processor.
The 3,300mAh battery holds up well. We regularly got through a full day on a single charge, with standard usage.
However if you're a gamer or are watching video in conditions that necessitate high levels of screen brightness, you're probably going to have to charge the Xperia 1 mid-afternoon to make it through the day.
Just as well then that the Xperia 1's fast-charge mode works as billed. We found we got from zero to 50% in thirty minutes. Which is about in line with rivals, if not quite as speedy as OnePlus' best-in-class Warp Charge.
It's also worth noting that, despite featuring a glass back, the Xperia 1 can't be charged wirelessly.
Nor does it offer the two-way charging feature of the Galaxy S10 and Huawei's high-end phones, so you won't be able to share battery power with friends and family.
| | |
| --- | --- |
| Battery capacity | 3,300mAh |
| Software | Android 9.0 (Pie) |
Sony Xperia 1 value and verdict
Not for everyone. But Xperia 1's got a lot going for it
Excellent for would-be filmmakers
The finest Xperia phone in a long, long time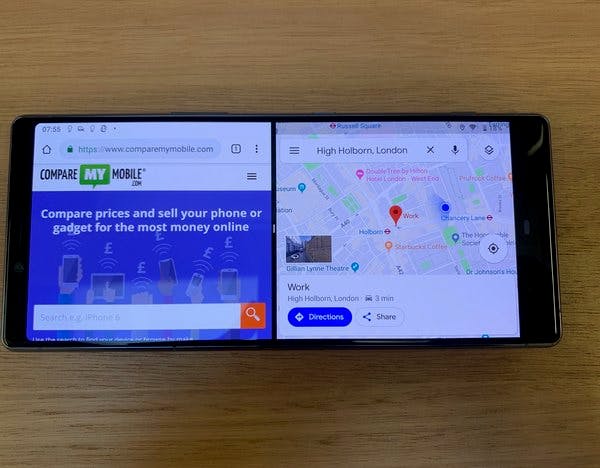 The Xperia 1 has a look and feel that's pretty unique in a smartphone market where most handsets look nigh-on identical.
The screen is the best of any Xperia device and makes for the most immersive smartphone movie-watching experience we've come across.
The camera's mostly excellent too, with high-grade video recording options that put rivals to shame.
There are some notable omissions though, such as wireless charging and two-way charging. And it's fair to say that battery life and screen brightness could be a bit better.
At £849 SIM-free the Xperia 1 is priced in line with some of the best phones on the market. And while it's not quite in that class, it's still a terrific smartphone.
If you're looking for something a little different and that offers a break from the norm, the Xperia 1 could have your name on it.
Compare deals for all Sony phones