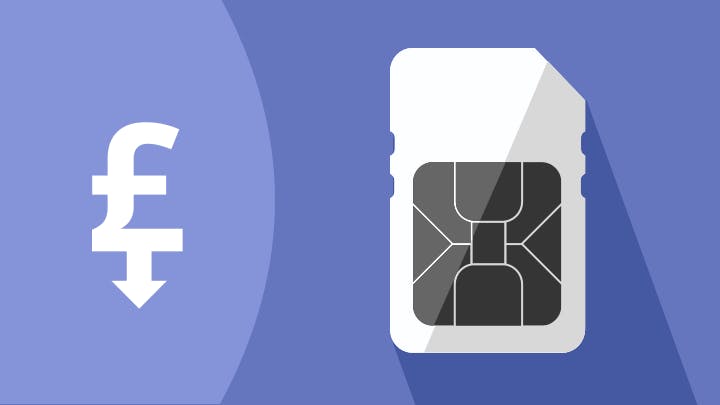 Sometimes, two years is just too long to be tied into a mobile contract. If you prefer a contract-free, commitment-free mobile plan, pay-as-you-go is the way to go.
Here's everything you need to know about pay-as-you-go (PAYG) deals, and how to compare SIMs and find the best plan for you.
How to choose a pay-as-you-go deal
First of all, you'll need a phone. Make sure it isn't locked to a network, so you can put a brand new SIM in it.
Then all you need is a SIM card itself. True pay-as-you-go - where you top up your account, then spend your credit as you use your phone - is only available from a few providers, so you don't have much choice there.
However, many more than that offer 30-day SIM deals, which are far better value and just as flexible. With these plans, you get a bundle of calls, texts, and data allowance, and a month to use it. It works out cheaper than classic PAYG, and there's no commitment - because you're only contracted in for 30 days, you're free to cancel it or change what you get every month.
To pick a 30-day SIM deal, check out our mobile comparison tool. We've got SIM deals from tons of UK providers, and it's easy to compare PAYG deals side by side and filter out the ones that fit what you're looking for. When you find one you like, just click through to sign up. Take a look:
If you really do prefer a true PAYG SIM, look out for deals from these networks:
All their SIMs are pay-as-you-go, but you can use your credit to buy 30-day bundles too. You just need to choose one to start you off. Their bundles can be set to automatically renew when they run out - or you can take a break and simply buy a new one whenever you need it.
What's the cheapest pay-as-you-go deal?
For topping up and paying by the call, text, or megabyte, the cheapest PAYG SIM plans come from O2 and Three. Both networks charge 3p per minute, 2p per text, and 1p per MB.
However… unless you only intend to use your phone a teeny tiny bit, it's almost always better value to get a 30-day SIM, or one that lets you spend your credit on bundles. To find the cheapest SIMs of all, compare deals on our table then sort them by cost.
The cheapest option will vary depending on things like how much allowance you need, but some networks are known for offering low-priced budget SIMs. They include TPO Mobile, iD Mobile, Asda Mobile, giffgaff, and Plusnet Mobile.
Which networks offer pay-as-you-go SIMs?
PAYG SIM cards that you pre-load and spend as you use are only available from a handful of networks. They are: Asda Mobile, EE, giffgaff, Lebara Mobile, O2, TPO Mobile, Three, Virgin Mobile, and Vodafone.
But if you want a 30-day SIM - or a PAYG SIM that lets you buy 30-day bundles - here are your choices:
Take a look at all the one-month SIM deals, and see how each network's plans compare, with our comparison tool:
iPhone pay-as-you-go deals
Finding a pay-as-you-go SIM for your iPhone is easy - just check out 30-day deals, and choose the right size SIM to fit your model of iPhone.
Original iPhone, iPhone 3, iPhone 3GS - Standard SIM. Compare standard SIM deals here.
iPhone 4, iPhone 4s - Micro SIM. Compare micro SIM deals here.
iPhone 5 or newer, iPhone SE - Nano SIM. Compare nano SIM deals here.