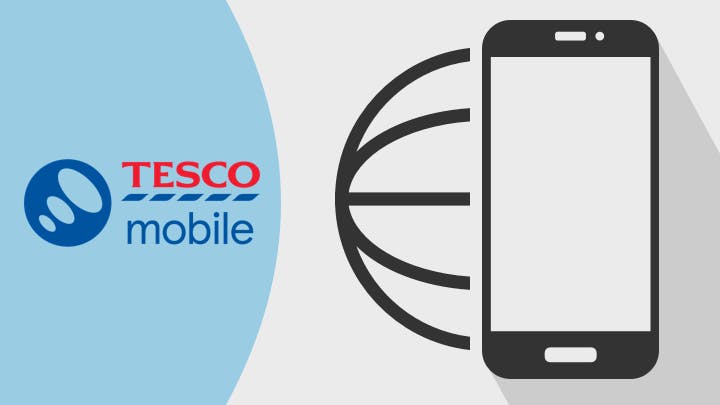 Believe it or not, when Tesco isn't dishing out deals on fruit and veg, it's a dab-hand at creating some properly brilliant - not to mention, cheap - SIM-only and pay-as-you-go phone plans.
That's why if you're after the latest handset, or even an older model, but don't want to pay over-the-odds, it's worth investigating Tesco Mobile.
What's good about Tesco Mobile?
Good value
Clubcard points for every £1 you spend
Anytime upgrades
Capped contracts
What's bad about Tesco Mobile?
4G coverage better elsewhere
No unlimited data plans
Can't cut costs outside of the UK
Tesco Mobile plans
Tesco Mobile offers a wide range of handsets, including the latest iPhone and Samsung Galaxy ranges. Its SIM-only plans are available on both 30-day and 12-month fixed term contracts, though its 12-month plans will be cheaper for you, overall.
It also offers a fair bit of flexibility, too. With 'Anytime Upgrade Flex, for example, you can pick your contract length as well as alter your tariff - up or down - any time you like. Like 'O2 Refresh,' It works by giving you two contracts: one for your phone, and another for your usage. If you want to upgrade before your contract ends, simply pay off the rest of your phone payments.
Verdict:

Generally, these plans have a lot to offer and we love a bit of flexibility.
Tesco Mobile coverage
Because Tesco Mobile uses the same infrastructure as O2, coverage is generally very good. While its 4G coverage has grown to 97% of the population, it's likely there are still some blind spots in rural and coastal areas. That said, we recommend you check coverage in your specific area via Tesco Mobile's area checker before taking out a deal.
Tesco Mobile coverage checker
Verdict:

Coverage is good, overall.
Tesco Mobile pricing
In terms of price, Tesco Mobile's plans are very affordable, and extra perks like Clubcard points for every £1 you spend means you can save even more money in the long run.
Plus, if you have more than one Tesco Mobile contract on your account, you and your family can benefit from its 'Family Perks' scheme, and get free monthly rewards, including money off your bill.
Verdict:

Tesco Mobile's plans are good value for money, with plenty of handsets to choose from.
Tesco Mobile customer service
If you're after a network with great customer service, Tesco has you covered.
Indeed, Tesco Mobile is one of the highest-rated mobile phone networks for customer satisfaction, and it keeps improving. Moreover, according to Ofcom, the majority of its customers are also pleased with their mobile reception, too.
In short, then, customer satisfaction for Tesco Mobile really is excellent.
Verdict:

Put simply, Tesco Mobile offer first-rate customer service.
Tesco Mobile extras and benefits
Just like when you shop in-store, Tesco mobile offers Clubcard points to its loyal customers. If you're a Tesco Mobile customer, simply register your Clubcard to your mobile - either online or by phone - and for every £1 you spend, you earn a Clubcard point. Plus, you can even get 4G at no extra cost.
Also, its capped contracts let you, well, 'cap' your monthly bill so as to control how much you spend. Moreover, you can alter your personal limit whenever you want.
Bear in mind, though, Pay-as-you-go customers can only earn Clubcard points by topping up in a Tesco store.
Verdict:

Generally, Tesco Mobile offer some reasonable perks and benefits, but there's not a lot here to get excited about.
Overall verdict
Generally, Tesco Mobile is a very good mobile network: It's reasonably priced, offers a wide array of handsets - including newer and older models - and there's some useful perks too, including Clubcard points and 'Family Perks.'
We're also big fans of Tesco Mobile's capped contracts, which should help people control how much they spend each month.
Downside is, Tesco Mobile don't offer any type of unlimited data plans. For that you're better off looking elsewhere.