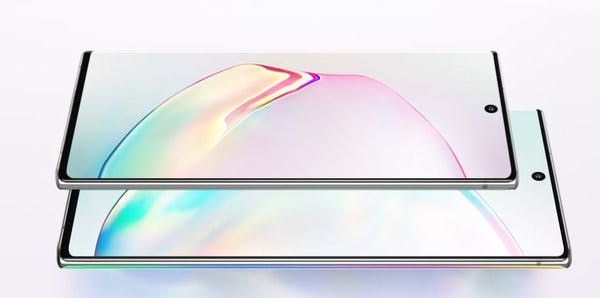 Complete with the nifty S Pen, the Note 10 Plus combines a stunning 6.8-inch screen and upgraded camera system to produce one of Samsung's best ever phablets. Here's our take on the plus-sized flagship:
Samsung Note 10 Plus cost and pricing
Unsurprisingly, the device isn't cheap.
The larger of Samsung's Note family, you can pick up the Note 10 Plus for an outlay of around £849.
Alternatively, if that's a little expensive for you, the phone works out at around £30 per month on contract.
Samsung Note 10 Plus features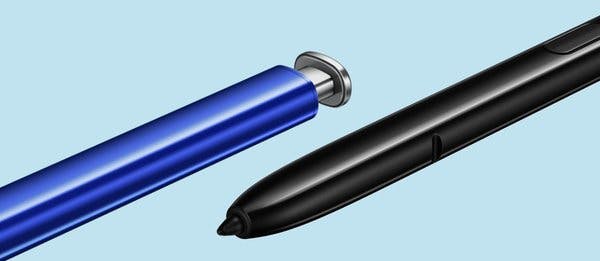 As you'd expect, the Note 10 Plus is packed with top-drawer specs and features.
Notably, its new chipset, the Exynos 9825 (or Snapdragon 855 outside of the UK) is faster and more efficient than its predecessor – albeit only slightly.
In addition, it boasts an upgrade to the Stylus Pen – the handy pen-sized device designed for touch-screens.
This time around, the S Pen features impressive new modes like 'Air Actions'. In nutshell, this let's you wield the pen like a conductor's baton – meaning you can switch seamlessly between shooting modes and even zoom in and when you want to take a picture.
In terms of storage, you can get 256Gb as standard, or add a microSD card to boost capacity to a whopping 1Tb.
Lastly, a 5G version of the device available to buy, though it costs around a hundred pounds more than the standard Note 10 Plus.
Samsung Note 10 Plus size and design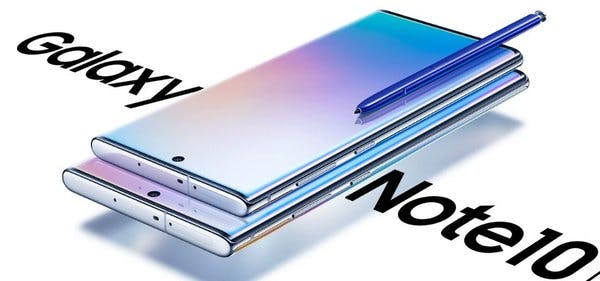 Impressively, the screen clocks in at a whopping 6.8 inches – perfect for watching movies and TV shows and the largest to feature on a Samsung phone to date.
A spherical hole punch that holds a selfie camera sits at the top of the display for extra screen real-estate. And its curved, shiny edges means the Note 10 Plus should sit nicely in the hand despite it's size.
Plus, thanks to a hard-wearing, robust Gorilla Glass back, the Note 10 Plus doesn't just look the part – it's sturdy, too.
There's bad news for owners of wired headphones, though, as there's no S10's 3.5mm headphone jack, though. And although you can now buy Samsung's wireless Galaxy buds, they won't come in the box.
Samsung Note 10 Plus camera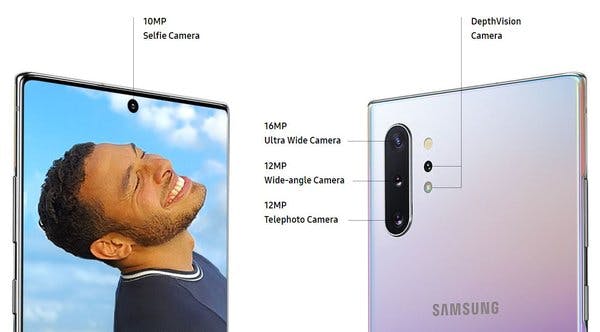 Although not quite as good Apple's 2019 flagship phones, the Note 10 Plus's cameras are impressive, nonetheless.
There's three separate cameras on the back: two 12-megapixel and one 16 megapixel, ultra-wide lens. In addition, also a 10-megapixel selfie-camera at the front.
Other features include a time of flight sensor (ToF) which measures depth of field more accurately, and is a great tool when used with the phone's AR Doodle and Emoji modes.
Samsung Note 10 Plus durability
As we say, the Samsung Note 10 Plus has everything you'd expect from a plus-sized flagship smartphone.
But how sturdy and reliable is it? Drop tests conducted online suggest it's very robust indeed. And despite spending weeks in our pocket rubbing next to keys and change, it came out completely scratch-free.
What's the battery like?
The phone's huge 4,300mAh battery should provide up to 10 hours of battery life.
Is the Samsung Note 10 waterproof?
Yes, the Note 10 Plus has an IP68 rating, which means it can endure dust and dirt, as well as survive in 1.5m of water for up to thirty minutes.
Verdict
As you can probably tell, we're impressed with the Note 10 Plus. It's big, powerful and boasts a stunning, OLED screen to boot.
Sure, not withstanding the improved battery life, it isn't the drastic step-up from the S10 series some Samsung fans might have hoped for. And, let's be honest, it's not the cheapest phone on the market. But it is an excellent device nevertheless.
If it's a phablet you're looking for, the Samsung Note Plus will probably be the smartphone for you.