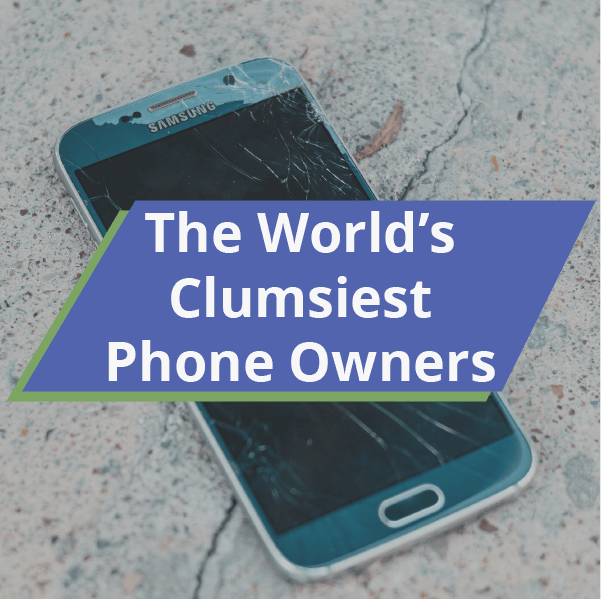 We can all be a bit clumsy from time to time, but with modern phones costing upwards of £1,000, rarely can being all fingers and thumbs be as costly as when you drop your phone - but who are the most clumsy phone owners and what are the most common ways in which people damage their devices?
Whether it's slipped out of your hand or fallen off the arm of the sofa, we've all felt that pang of dread as your phone hits the floor - hoping that the screen is still intact.
And while some modern phones stand up to the rough and tumble of everyday life better than their predecessors did, there's only so much abuse they can take before something eventually gives.
But who are the most clumsy phone owners, where do they live and what are the most common phone-related accidents?
What we did
Comparemymobile.com analysed thousands of geotagged, phone-themed tweets that contained keywords such as "broke", "smashed", "cracked", "dropped" etc. to find the most common ways in which people have broken or damaged their phone over the last 12 months, and totalled the results to find the most clumsy phone owners.
Most Common Accidents by OS
Our study found that iPhone owners were more than twice as likely to break or damage their phones than Android users - with 113% more of the tweets analysed specifically mentioning iPhone or having been sent from the Twitter for iPhone app in the last 12 months.
In fact, iPhone users were more likely to report damaging or dropping their devices in a number of ways, including dropping their phone on their own head or face (2.1% compared to 0.9% of Android owners), and dropping their phone down the toilet (2.4% compared to 1.3%).
On the other hand, Android users were more likely to drop their devices in water (1.8%), and as a result, try drying out their tech by placing it in a bowl of rice (1.3%).
Explore or download the results in the interactive chart below:
The World's Most Clumsy Cities
Using geotagged tweets, we calculated the number of phone-related accidents per capita in major cities around the world over the last 12 months to find the world's clumsiest phone owners.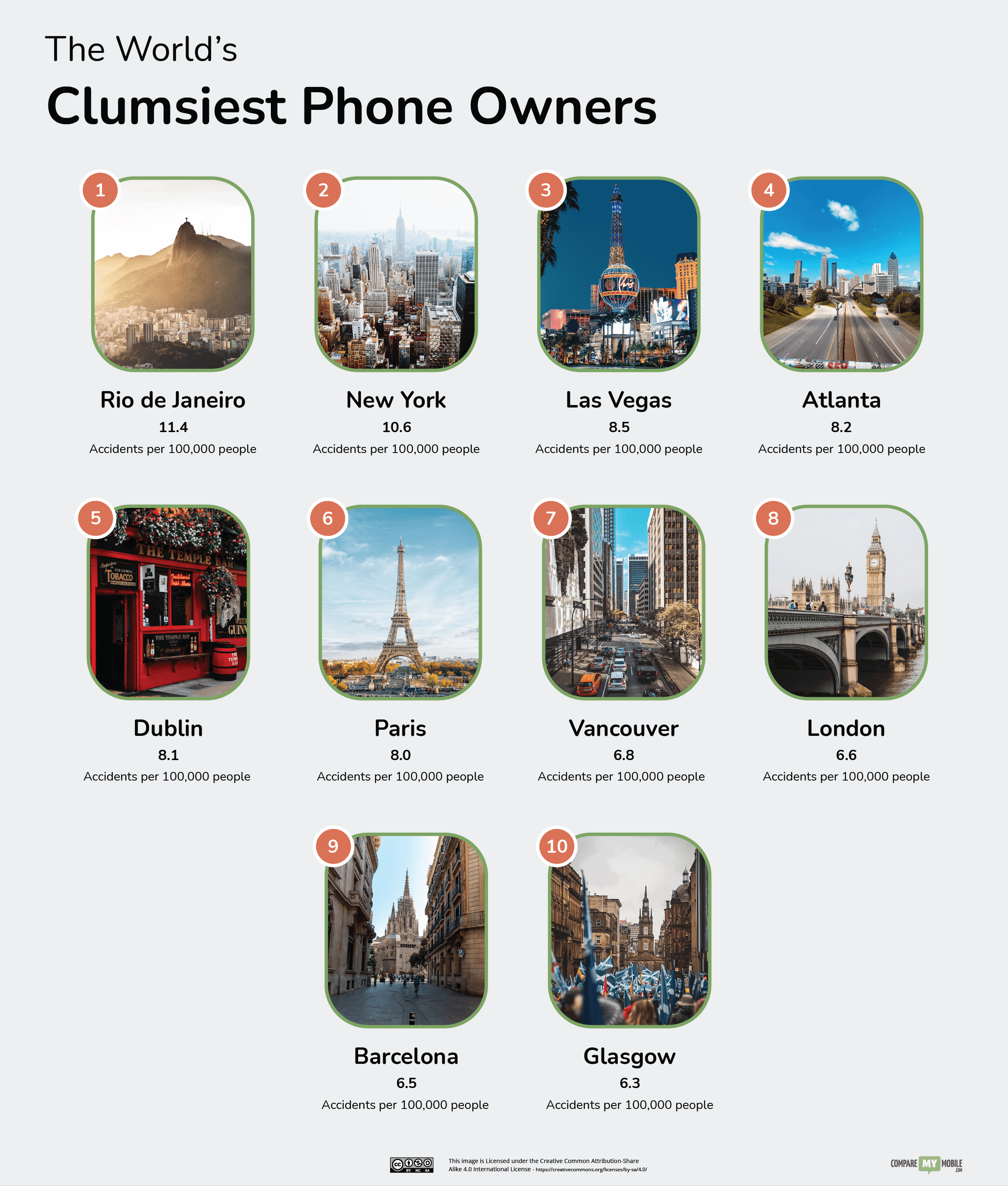 While some people are just naturally more clumsy than others, it's notable that the majority of cities in our top 10 all have high levels of rainfall or humidity - so maybe it's wet or sweaty hands that are contributing to the high density of butterfingers' in these locations.
Atlanta, New York, Dublin, Glasgow, London, Paris, and Vancouver all have 100+ days of rain a year on average, while San Francisco, Atlanta, Los Angeles, and Rio de Janeiro all have an average annual humidity of 70% or higher.
Clumsiest City by Accident Type
As part of our study, we also looked at the most common way that people in each city damaged their devices as a percentage of all phone-related accidents over the last 12 months, allowing us to find the biggest offenders by category.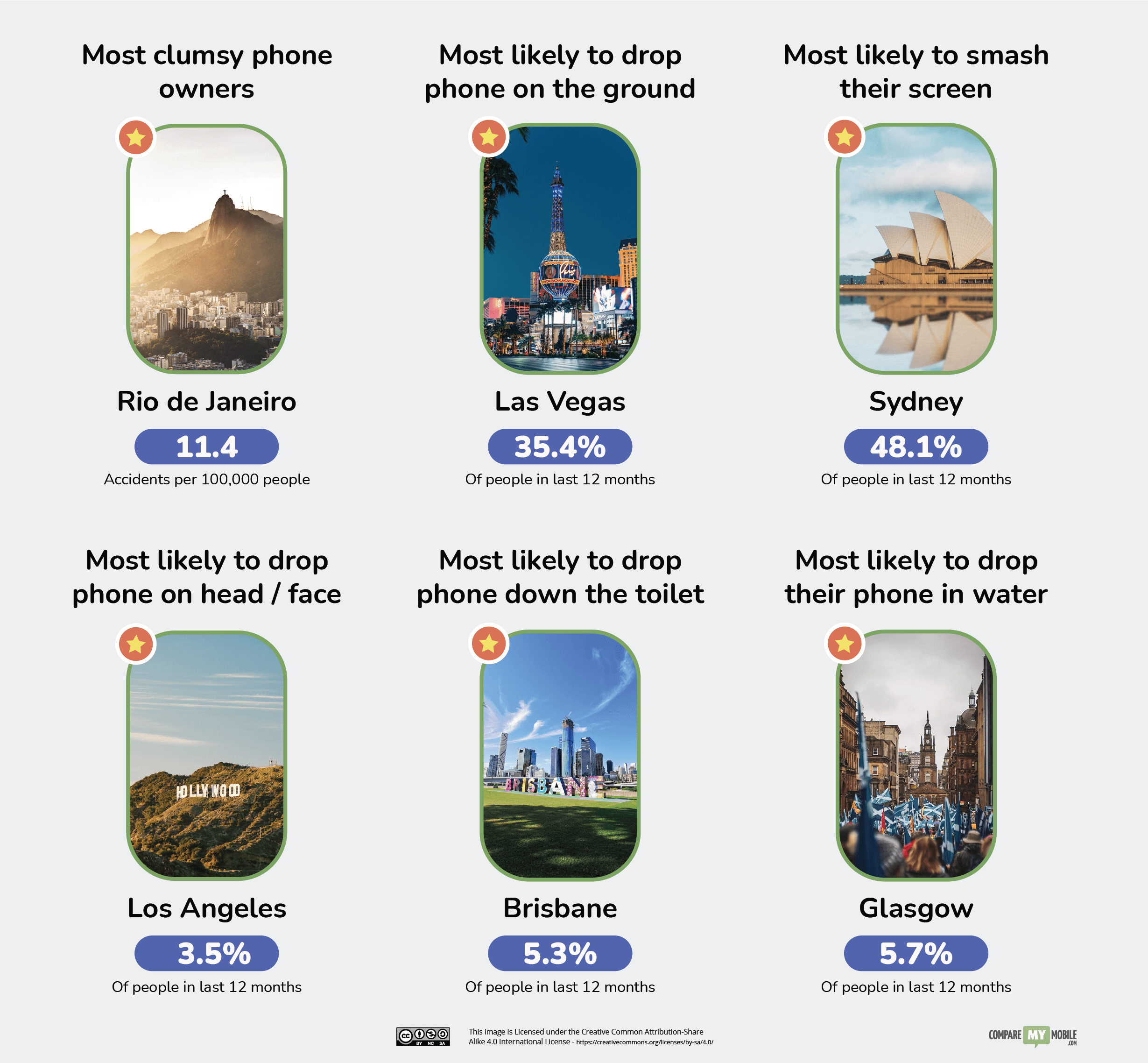 Top 10 Clumsy Cities by Category
Explore the top 10 clumsiest cities overall and by incident type in the interactive table below.
Change tabs using the arrows in the top left and right-hand corners.
Has your phone seen better days? Why not sell your old phone and put the money towards something a bit more snazzy like a brand-new iPhone?
Methodology
We gathered geotagged tweets containing combinations of words such as "phone", "broke", "smashed", "cracked", "dropped" etc. from major cities around the world published between August 2021 and August 2022.
To ensure tweets were as accurate as possible, we removed tweets that contained words like "call" or "signal" i.e making sure tweets referenced the physical act of dropping a phone and not their carrier dropping their calls.
To calculate the most clumsy cities, the total number of tweets geotagged by location was divided by population to find incidents per 100,000 people.
Where the model or phone brand was not mentioned, we looked at whether tweets were sent via Twitter for Android or Twitter for iPhone apps.