A new iPhone can be a major investment, so you want to make sure you don't overpay for features you don't need or use. To help you pick the right one, we've picked out our selection of the best iPhones at a range of price points.
For us there's such thing as the 'best iPhone', per se. Sure, the iPhone 11 Pro Max is the current top-of-the-range model, with the best specs and biggest screen.
But that's no good if you don't really want or need a deluxe, triple-lens camera and large screen. And what you really want is a more wallet-friendly model, or an iPhone that's compact and pocketable.
With that in mind, we've recommended a selection of iPhones that we think would suit different types of users.
iPhone SE 2020 - Best iPhone if you're on a budget

Starting at £420 for the 64GB model, the iPhone SE 2020 is a bona-fide bargain.
For that outlay, you get 12-megapixel and seven-megapixel cameras, both of which yield really good results with pleasingly, true-to-life colours.
They also serve up very presentable portraits, with the depth-of-field, bokeh mode that blurs out background details to bring your subject into razor-sharp focus.
You get the same powerful A13 processor that's at the heart at the latest, much pricier iPhone 11 range too, as well as Apple's newest iOS 14 software.
That means the SE 2020 works with a real sense of zip, even when you're got multiple apps running at the same time.
The SE 2020 offers wireless charging (charger sold separately, alas), plus premium build quality and a range of colours to choose from. And it's much, much more compact and pocketable than the likes of the iPhone 11 and iPhone XS, to boot.
On the downside, the 4.7-inch Retina HD screen is quite small by the standards of 2020, the large bezels around the screen seem a bit old-fashioned and there's no Dark Mode to enhance low-light photography.
But at half the price of the top-of-the-range iPhones, there's every chance that won't bother you.
iPhone 11 Pro Max – Best iPhone if money's no object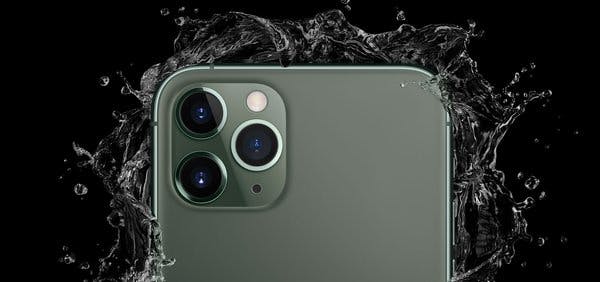 Apple's 2019 flagship phone is its largest, most lavishly equipped iPhone so far. Nowhere is that more evident than its triple-lens camera array.
Although Samsung and Huawei's top-end phones have even more lenses and more attention-grabbing features, for us it's the iPhone 11 Pro Max that delivers the best photos.
And just as importantly makes it really easy to get great results with little or no photographic expertise.
We also love the Night Mode that literally turns night into day. And we're just as taken with the stunning panoramic shots and close-ups you can capture, thanks to the extra lenses, as well as the true-to-life colours that are a hallmark of iPhone cameras.
Battery life is exemplary, made possible by the large battery and no small part to the A13 processor that powers the 11 Pro Max.
When we reviewed this phone, we regularly got well over 11 hours on a single full charge. That's very impressive given the demands of keeping the massive and gloriously bright and crisp 6.5-inch screen OLED illuminated.
The catch? Well, there aren't many. Except that this is a very large phone, so may not suit everyone, especially those with small hands.
And then there's the fact that at well over £1,000, the iPhone 11 Pro Max is no-one's idea of cheap. But if you want the best iPhone on the market right now, the iPhone 11 Pro Max is the one to go for.
iPhone XR – a really good all-rounder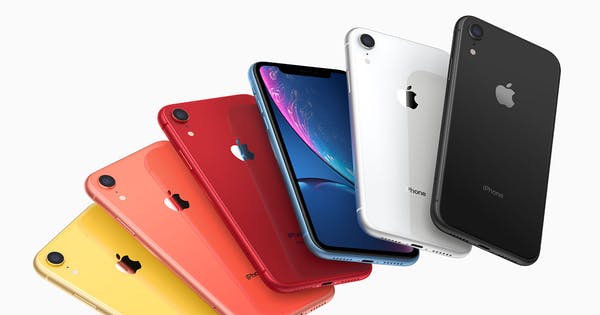 The iPhone XR outsold all other Apple smartphones in 2019. It's not hard to see why.
At £629 SIM-free is a mid-priced iPhone with an awful lot to recommend it. Not least its modern, all-screen design, which means it packs in an expansive, 6.1-inch display into a phone that's still compact and pocket-friendly.
The battery life remains among the best of any iPhone. While the main camera is a single-lens affair, compared to the multi-lens set-ups on newer iPhones, image quality is excellent and clever software tweaks allow you to replicate a bokeh effect, despite the lack of a secondary lens.
The XR is also upgradable to Apple's latest iOS 14 software, so it'll run all the latest apps, and has an A12 processor that's not quite as brawny as the chipset that powers newer phones, but still handles multi-tasking with aplomb.
Of course, there are a few areas where the XR isn't quite state of the art. For one thing, it's IP67-rated, so isn't as water-resistant as some of its stablemates, and the screen isn't as bright or sharp. Although you'd need a trained eye to really notice.
But if price is a consideration or you don't feel you really need the very latest features, those are compromises you probably won't mind.