Nothing reflects better how lifestyles have changed than looking at the devices that have become so essential to our daily routines – mobile phones.
Just over a decade after the first smartphones appeared in the UK, 78% of adults have one compared to only 17% ten years ago.
CompareMyMobile.com decided to put the most popular phones of 2009 alongside the latest flagship device from the same company in a #10YearChallenge. Besides phone specs, we have also analysed how the contracts evolved over the past 10 years.
Before we dig deeper into how phones have changed, analysis of phone contracts from 2009 suggests that both upfront costs and monthly payments have increased and, in some cases, tripled. Mobile devices in 2009 were much more affordable in terms of upfront costs, with monthly payments similar to those of today in some cases. Unsurprisingly, many contracts today include dozens of gigabytes of data, if not unlimited, whereas in 2009 some networks were charging up to £5 per megabyte for internet usage.
Back in 2009, offering 500 texts per month was essential to many good phone deals together with call minutes ranging from 100-900 minutes. Today, both calls and texts are mainly unlimited, however, as people mainly rely on internet data to do both, these allowances barely get used.
iPhone 3Gs VS iPhone XS Max
It comes as no surprise that Apple was at the top of the list back in 2009. Although iPhone 3Gs was much smaller than the current flagship iPhone XS Max, it was considered "the iconic device" with a 3-megapixel camera and up to 32GB of storage. Its 2019 counterpart has a 12-megapixel camera and up to 512GB of memory capacity. In 2009 for £87 upfront cost and £34 monthly payment you could have a new iPhone in your pocket.
Fast forward to 2019, for iPhone XS Max on a £33 monthly contract, you'd need to pay £604 upfront which is over six times more as compared to 2009.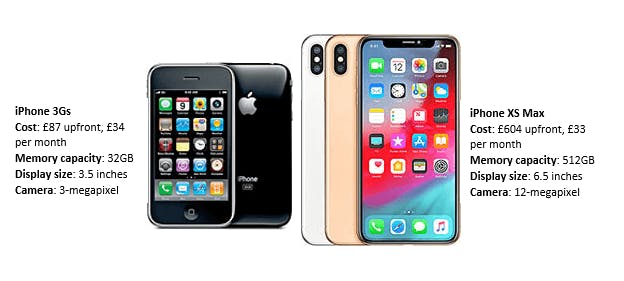 Blackberry Curve VS Blackberry KEY2
Apple wasn't the only king of the hill back in 2009. Blackberry Curve was a must-have and it was frequently seen among the celebrities as well as Barack Obama, the President of the United States.
With its signature QWERTY keyboard, wide screen and 133MB of memory, you could get this flagship device for £15 and no upfront costs. Ten years later, Blackberry is long behind major smartphone manufacturers, however in 2018 it launched a new device called KEY2. The new Blackberry KEY2 still offers QWERTY keyboard as part of the device, much bigger screen, 12-megapixel camera and 64GB memory capacity. You can get this device for £50 upfront cost, followed by £29 monthly contract.

Samsung Genio Touch VS Samsung Galaxy S9 Plus
Back in 2009, Samsung was only preparing for its first Galaxy release that happened in 2010, but Samsung Genio Touch was one of the devices that found a way to everyone's hearts. This popular device was labelled "cheap and cheerful" with what's been considered at that time a big screen and 2-megapixel camera. With no upfront costs, you were able to snap this device for as little as £15.
Today, Samsung is side by side with Apple and other smartphone giants and its newest flagship model with 6.2-inch curved screen and 12-megapixel camera can be found for £35 per month and no upfront costs.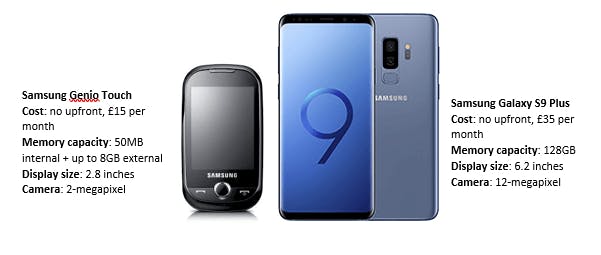 Nokia N97 Mini VS Nokia 8 Sirocco
Nokia is another phone manufacturer that like Blackberry had its momentum a decade ago and then got lost in the noise of much louder smartphone manufacturers. Nokia N97 Mini was one of the devices in 2009 that everyone raved about.
With both touch screen and QWERTY keyboard packed into one phone, up to 16GB memory, 3.2-inch display and 5-megapixel camera, this device was revolutionary. With no upfront cost, monthly contract for Nokia's 2009 flagship device was £25. Today, Nokia's latest device 8 Sirocco could be found for £22 per month and £25 upfront cost. Despite device offering a luxury design, great memory capacity it is not considered a go-to device for smartphone fans.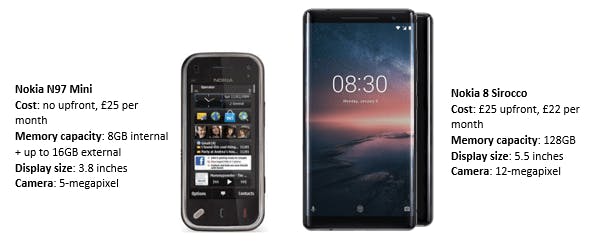 HTC Touch HD2 VS HTC U11
A decade ago HTC Touch HD2 was a device to have. With 4.3-inch screen and 5-megapixel camera, this phone was the closest to the smartphones of today. No upfront costs and £30 monthly payment would get you this device back in 2009. Although HTC's popularity has been fluctuating with the new releases, the company is still after a big comeback which the new device HTC U11 might bring.
This new device offers innovative design, 12-megapixel camera and 5.5-inch display helping HTC stand once again side to side with Samsung, LG and Google mid-range phones. The question is – do customers see it that way?

Expert opinion: Rob Baillie, mobile expert at www.comparemymobile.com
"A decade is a long time and we have seen some huge, sweeping changes in the mobile industry and massive leaps forward. Time has not been kind to some mobile manufacturers – Blackberry were pioneers for phones that operated effectively as tiny offices as well as the iconic non-text based messenger 'bbm', but have since been outstripped and outclassed by the march of Smartphones and agnostic online messaging tools like Whatsapp. In the last two years we have seen phones grow in size, power and value – 2019 is destined to be a flagship year for the mobile industry in terms of innovation, even if the excitement over a new generation of flip phones might have some of us feeing we're stepping back in.
Whilst a handful of big hitters dominated back in '09, the market is wide open now with new challengers fighting to get the best phones out for the most competitive prices."
What was your 2009 favourite? Share your #CMM10yearchallenge with us and tell your story.