Big and beautiful: that's the Galaxy S9 Plus. In terms of features and power, you won't see huge differences from the S9, but the S9 Plus's dual rear cameras and huge 6.2-inch QHD+ display will certainly convert some doubters.
What is the Samsung Galaxy S9 Plus like?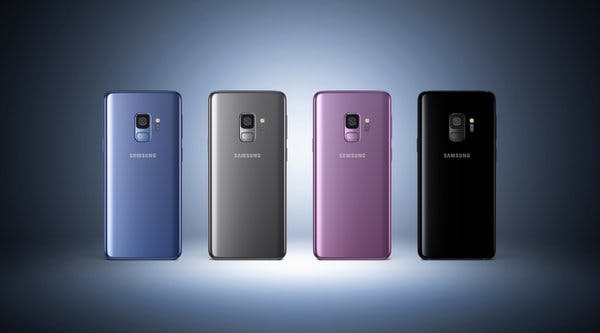 First things first, the immense size of the Galaxy S9 Plus won't be for everyone - we're in serious phablet country here. And there may not be enough here to convince current owners of the S9 and S8 Plus to upgrade. But… this is still a fantastic phone.
Throwing together all the best bits of premium Samsung models with a dazzling 6.2-inch screen is a pretty enticing prospect. Particularly when you consider its extra RAM (6GB) and battery life, 128GB of internal storage, and a camera that boasts dual-aperture technology - which Samsung claims mimics the human eye. Clever stuff.
The Super AMOLED screen is a delight to watch your favourite shows on, and the new Exynos processor (also found in the Samsung Galaxy Note 9 and Samsung Galaxy S9) means it's quipped to handle HDR movies and 4K. Gamers will love it, too.
But this super-sized beauty may simply be too big for small hands - and smaller wallets - so it's worth considering whether the S9 or S8 Plus is a better proposition.
Samsung Galaxy S9 Plus design and screen
With its all-screen front, curved edges and sleek looks, it's pretty hard to tell the S9 Plus apart from the newer smartphones in the Galaxy S10 and S20 ranges.
And that's not the only thing that hasn't really changed over the years. As you'd expect if you've owned a Galaxy S phone before, the S9 Plus's display is bright and crisp.
At 6.2-inches, it remains one of the largest on any Galaxy handset, bar the super expensive likes of the S20 Ultra and S20 Plus.
Around the back of the phone, you'll find a fingerprint scanner, while the 'back, 'home' and 'app overview' buttons are secreted within the screen.
Unlike other modern phones, the S9 Plus retains a 3.5mm headphone jack. Thus you'll be able to use wired headphones and won't have to invest in an adaptor or pay out for brand new wireless headphones.
Samsung Galaxy S9 Plus battery
The S9 Plus is powered by a 3,500mAh-capacity battery. That makes it notably larger than the S9 and Note 8, which had 3,000mAh and 3,300mAh batteries respectively.
In practice because the S9 Plus has a bigger screen to keep powered up, this doesn't mean the phone lasts any longer than previous Galaxy S models. But does mean you'll get the same all-day battery life.
Handily the phone offers wireless charging and an impressive fast charge mode, which we found got us from zero to nearly 60% in 45 minutes. And to a full charge in an hour and 40 minutes.
As is very much not the case with iPhones, the fast-charger is supplied free in the box. So there's no need to pay out for one.
Samsung Galaxy S9 Plus camera specifications
The S9 features a dual rear camera, which pairs a standard lens with a telephoto lens that lets you take zoomed in photos with none of the distortion that often blights close-up photos on smartphones.
The second lens also allows you to take Live Focus snaps, which blur out the background to bring your subject into sharper focus.
Around the front, there's an eight-megapixel selfie camera with autofocus. And you can record video footage in lush 4K, to give your mini movies a multiplex sheen.
| | | |
| --- | --- | --- |
| Galaxy S9 camera | Main camera | Front camera |
| Lens 1) | 12 MP standard lens | 8 MP standard lens |
| Lens 2) | 12 MP telephoto lens | N/A |
| Key features | Super slow motion video, bokeh mode | AR Emoji |
Samsung S9 contract options
Need an Samsung S9 deal with a lot of data? Got an idea of how much you'd like to pay upfront for an Samsung S9 contract? Maybe you're in the market for some value-adding freebies? We've tracked down our best Samsung S9 deals, whatever your criteria.
Cheap Samsung S9 Plus deals
Top-tier premium smartphones like the Galaxy S9 Plus don't come cheap, but there are different ways to pay for a mobile contract - particularly if you don't want to pay an upfront fee.
Consider how you want to split your costs, as some mobile suppliers will vary the upfront fee against the monthly contract cost. Some require a large sum upfront and then a lower monthly fee, while others flip this and include a higher monthly fee, but you'll pay less upfront.
Top Samsung Galaxy S9 Plus deals by network
You won't get a new Samsung Galaxy S9 Plus on the cheap, but there are ways to manage the cost and get yourself the best deal.
Samsung Galaxy S9 Plus deals with O2
On its priority plan, O2 offer things like priority gig tickets. Moreover, it also boasts thousands of Wi-Fi spots across the UK, including restaurants, cafes and retail shops.
What else does O2 have to offer? Check out our O2 network review
Samsung Galaxy S9 Plus deals with EE
EE's coverage reaches most of the UK. To that end, it's ideal for anyone who relies on a sturdy Wi-Fi connection, particularly freelancers and those who travel a lot to work.
Want to know more about EE? Read our EE review
Samsung Galaxy S9 Plus deals with Vodafone
Like to travel? Vodafone is well worth a look. It offers great incentives to join the network, as well as big data plans and TV Entertainment passes.
Want to know more about Vodafone? Check out or Vodafone network review
More phones like the Samsung Galaxy S9 Plus
Frequently asked questions
Can I get a Samsung S9 Plus contract with no upfront cost?
There are mobile contracts available that don't include an upfront charge, but this does mean your monthly fee will be higher. Such contracts will be listed as "free device", which isn't technically true. It just means the overall cost of the handset is spread over the duration of the contract.
On the plus side, you get a new Samsung Galaxy S9 Plus without paying out hundreds of pounds at the start of your contract.
Compare network deals and vary the amount you're comfortable paying upfront against the amount you want to pay each month, until you land on the right balance.
Is the Galaxy S9 Plus still a good buy in 2023?
As technology hurtles forward at breakneck pace, a few years can feel like a long time in smartphones.
But if you don't mind having the very latest features and are happy with a slightly older model, you can still get a really good phone for a really good price.
The Galaxy S9 Plus is a case in point. It may not have the low light prowess and same array of lenses as newer Galaxy S models, but it takes pictures packed with punchy colours and copes well with most lighting conditions.
What's more, you're getting a really big-screen phone for your money. And the display bears up pretty well next to phones released in 2023, when it comes to crispness, brightness and clarity too.
Team all that with decent battery life, a handy fast-charge mode and good looks and you've got a phone that's still well worth your money.
Can I get a Galaxy S9 Plus contract with bad credit?
These days, most mobile networks will carry out a credit check. Of course, if you have bad credit, this can be a problem. But it doesn't have to be - there are still plenty of deals you can sign up to.
Does the Galaxy S9 Plus support 5G?
Unfortunately, the Galaxy S9 Plus does not support 5G.
Is the Galaxy S9 Plus waterproof?
The Galaxy S9 has an IP68 rating. This means it can withstand being submerged in fresh water up to 1.5 meters for 30 minutes. It's also dust and splash resistant.
How many cameras does the Galaxy S9 Plus have?
The Galaxy S9 Plus has three cameras: a 12-megapixel standard lens and a 12-megapixel telophot lens. At the front, there's a 8-megapixel snapper for selfies.
What size is the Galaxy S9 Plus?
The Galaxy S9 Plus measures 6.22 x 2.91 x 0.33-inch.
Does the Galaxy S9 Plus have wireless charging?
Yes, the Galaxy S9 Plus can be charged wirelessly and also boasts a handy fast-charging.
Does the Galaxy S9 Plus have portrait mode?
Yes, unlike the standard S9, the Galaxy S9 Plus does feature portrait mode.
Galaxy S9 Plus specs
General

| | |
| --- | --- |
| Manufacturer | Samsung |
| Operating System | Android |
| Sim Card Type | Nano |
Sensors

| | |
| --- | --- |
| Accelerometer | Yes |
| Proximity | Yes |
| Compass | Yes |
| Barometer | Yes |
| Gyroscope | Yes |
| GPS | Yes |
Size & Weight

| | |
| --- | --- |
| Form Factor | |
| Thickness | 8.5 mm |
| Size | 158.1mm x 8.5mm x 73.8mm |
| Weight | 189 g |
Battery

| | |
| --- | --- |
| Battery Type | Lithium Ion |
| Capacity | 3500 mah |
| Standby | hours |
| Talktime | hours |
Display

| | |
| --- | --- |
| Display Size | 6.2 inches |
| Screen Type | Super AMOLED |
| Resolution | 1440 x 2960 inches |
| Pixels Per Inch | 529 ppi |
| Touch Screen Type | Capacitive |
Processing power

| | |
| --- | --- |
| CPU | 2800 mhz |
| Processor Cores | Octa Core Cores |
| Memory | 6 MB |
Storage

| | |
| --- | --- |
| Internal Storage | 64, 128, 256 |
| External Storage | Micro SD |
Camera & Video

| | |
| --- | --- |
| Primary Camera | 12 MP |
| Flash | Yes |
| LED Flash | |
| GEO Tagging | Yes |
| Auto Focus | Yes |
| Fixed Focus | Yes |
| Touch Focus | |
| Face Detection | Yes |
| Smile Detection | |
| Image Stabilisation | Yes |
| Video Quality | 2160p |
| 2nd Camera | 8 MP |
Data

| | |
| --- | --- |
| Generation | 4G |
| Frequency | Dual-band |
| NFC | Yes |
| Wi-Fi | Yes |
| Wi-Fi Hotspot | Yes |
| Wi-Fi Direct | Yes |
| Bluetooth | Yes |
| USB | Yes |