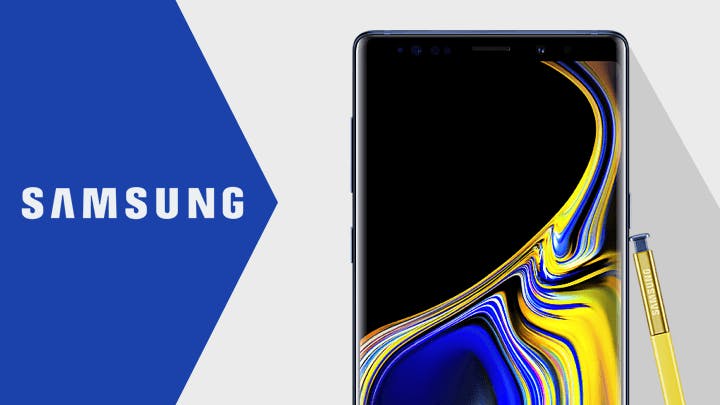 In 2018, Samsung released one of its biggest and most powerful phones ever - the Galaxy Note 9. But is this plus-sized phone worth the premium price-tag?
Samsung Galaxy Note 9 at a glance

Thanks to a powerful, Qualcomm Snapdragon 845 processor, the Note 9 conceals some outstanding specs and features under its glossy exterior.
With 128GB or 512GB storage options available - and a version of the phone with an eye-watering 512GB micro expansion - there's space enough for hours of videos, thousands of pictures, plus a ton of apps to boot.
But perhaps the Note 9's biggest draw is its mammoth, 6.4-inch screen (like the OnePlus 6T and Huawei Mate 20 Pro) and AMOLED display.
This, along with AKG stereo sound and Dolby Atmos support, is sure to make watching films and playing games on the device a joy.
In terms of cameras, both 12-megapixels, front-facing snappers are dual-aperture, which means the lenses will automatically adapt to their environment when you take a picture.
For example, if you take a picture in the dark, the lens will expand to let in more light for the best possible image. It's all clever stuff, and enough to impress even the most seasoned photographers.
Plus, the Note 9's Bluetooth enabled Stylus Pen will let you take a picture from far away with the click of a button. Yep, we're impressed!
Samsung Galaxy Note 9 design and screen
Teaming Super AMOLED technology with 6.4-inch viewing area, the Note 9 stunning screen dominates the entire front of the handset.
It's also one of the best, brightest and crispest displays around. Which probably won't surprise you if you've owned a Samsung Galaxy S or Note smartphone before.
In a break with more recent phones from Samsung and Apple, the Note 9 retains a fingerprint scanner which sits at the central rear section of the phone.
Elsewhere it's largely business as usual for an Android handset, with 'home', 'back' and 'app viewer' buttons embedded within the screen.
And, of course, there are volume buttons on the side too, as well as a headphone jack. So you'll be able to use wired headphones and won't have to invest in wireless ones.
As ever, the stylus that's emblematic of the Note range is stored in a hollow section of the phone.
Samsung Galaxy Note 9 battery
At 4,000mAh, the Note 9's battery is much larger than its predecessors. By way of comparison, the S9 and S9 Plus have 3,000mAh and 3,500mAh batteries respectively.
The good news is that even though it's powering a big and power-hungry screen, the Note 9's supersized battery does actually last longer. We found we actually got more than a day of heavy use on a full charge.
The better news is that it supports fast-charging and fast wireless charging too.
We haven't tested the latter. But the former performed impressively and powered up from zero to just over 50% charge in 45 minutes.
There are phones with quicker fast charge modes, of course. Not least those from OnePlus, whose Fast Charge technology leads the field.
But you can rest assured that the Note 9 won't let you down when you're in a hurry.
Samsung Galaxy Note 9 stylus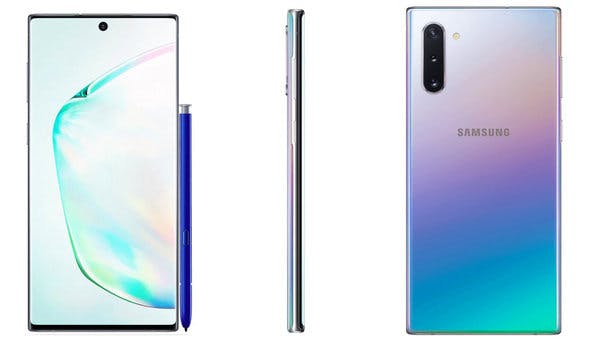 With its unique Stylus Pen and a host of other top-drawer specs and features, when it arrived in 2018 Samsung's Galaxy Note 9 very soon became the plus-sized flagship to beat.
Still very much a top-of-the-range smartphone, it's got a screen with identical 6.4-inch dimensions as the comparably priced Galaxy S10 Plus and it's every bit as bright, crisp and colourful.
Unlike the likes of Huawei's recent high-end phones and the S10 Plus, the Note 9 makes do with a dual lens camera rather than a triple lens.
It takes great snaps, though, but won't allow you to take ultra wide-angle photos.
You can pick it up right now on a range of competitively priced Note 9 contract deals from all the major networks.
Samsung Galaxy Note 9 camera specifications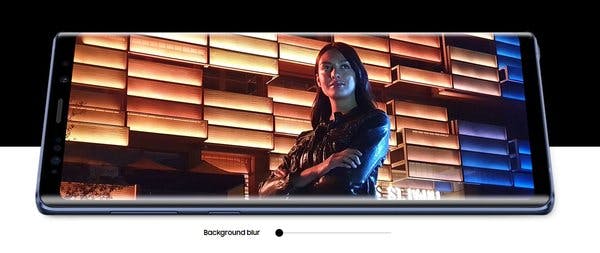 The Note 9's rear camera's array of lenses perform well in a variety of conditions and situations.
We were particularly impressed with how it handles 'depth-of-field' shots, which look especially striking.
And the richly detailed close-up photography it delivers is staggering too, made possible by the Note 9's telephoto zooming lenses.
The front camera features autofocus and allows you to take wide-angle selfies, as well as slow motion video. And if you like you can add AR stickers to your selfies.
| | | |
| --- | --- | --- |
| Note 9 camera | Main camera | Front camera |
| Lens 1) | 12 MP, f/1.5-2.4, 26mm (wide), 1/2.55", 1.4µm, dual pixel PDAF, OIS | 8 MP, f/1.7, 25mm (wide), 1/3.6", 1.22µm, AF |
| Lens 2) | 12 MP, f/2.4, 52mm (telephoto), 1/3.4", 1.0µm, AF, OIS, 2x optical zoom | N/A |
| Key features | Live focus, scene-optimiser, panoramic mode | Slow motion, AR emoji |
Best Samsung Galaxy Note 9 deals by network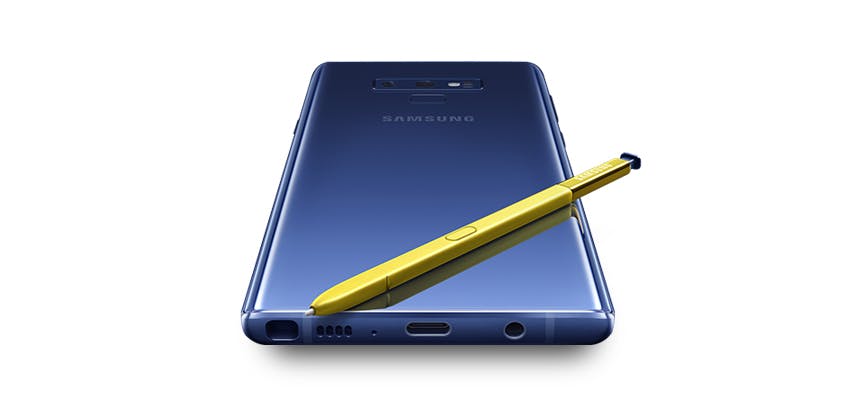 Looking for a Note 9 deal with unlimited data? We've got you covered.
Prefer to a Galaxy Note 9 deal with no upfront charge or a small amount to pay? We've got those as well.
Best Samsung Galaxy Note 9 deals on EE
Select EE Galaxy Note 9 contracts offer a Swappable Benefits system that allows you to choose a different customer benefit every month.
Pick from BT Sport, a Music Data Pass or Video Data Pass that means you won't eat into your data allowance for streaming content, or a Go Further Roaming Pass that extends the number of countries where you can use your UK allowances for no extra charge.
Customers also get inclusive roaming in 48 locations as standard, as well as use of the UK's fastest network and an extended warranty.
Best Samsung Note 9 deals on O2
Pick up a Samsung Galaxy Note 9 on an O2 contract and you'll benefit from O2's Rewards scheme, which includes freebies and money-off at high-street stores and restaurants.
O2 customers also get priority booking for concerts and events at O2 venues, as well inclusive roaming in 48 Europe Zone locations as standard.
Best Samsung Note 9 deals on Vodafone
Included on all Vodafone Note 9 deals, the VeryMe rewards scheme offers rewards from brands, such as Asos, Costa Coffee, and Greggs, as well as pre-sale access to tickets at select events.
Depending on the plan you choose, you can also get inclusive roaming in 48 locations (mostly in Europe) or up to 77 locations (in Europe and further afield).
Best Samsung Note 9 deals on Three
Pick up the Note 9 on a Three Advanced Plan and you'll be able to use your UK allowances in 71 locations worldwide for no extra charge, with Three's Go Roam Around the World scheme.
Get it on an Essential Plan and you can use your UK allowances overseas, but only in Europe.
Samsung Note 9 contract options
Need an Samsung Note 9 deal with a lot of data? Got an idea of how much you'd like to pay upfront for an Samsung Note 9 contract? Maybe you're in the market for some value-adding freebies? We've tracked down our best Samsung Note 9 deals, whatever your criteria.
Cheap Samsung Note 9 deals
The Note 9 isn't the cheapest phone on the market. But if you shop around, you can still save money.
Can't see one you like? Use our comparison tool to choose everything you need from your plan - including monthly allowance, network, upfront cost, and monthly cost. Then, sort deals by whichever category is most important to you.
After that, click on the Samsung deal you like and sign up. As we say, simple!
More than you wanted to spend? Take a look at our pick of the best cheap phone deals.
Samsung Note 9 contracts with no upfront cost
If you'd rather spread your costs over a longer period, you'll want to take a look at Galaxy Note 9 contracts with nothing to pay upfront.
These are a good idea if you don't have a lump sum to-hand. But be aware: you'll end up paying a higher monthly premium.
What's more, you'll usually end up paying more over the course of the contract term, than if you paid something upfront.
More phones like the Galaxy Note 9
Take a look at a few other phones that are similar to the Galaxy Note 9 and compare all your options before you commit to a plan.
Frequently asked questions
Is the Samsung Galaxy Note 9 a good buy in 2023?
2018's Note 9 remains an excellent phone. Although its low light capabilities have been put in the shade by subsequent phones, such as Google's Pixel 3, the camera bears up very well against the best cameraphones to have come to market since.
Interestingly, although the Note 9 has been superseded by further additions to the Note range, it's actually got a higher resolution and slightly larger screen than the standard Note 10.
Although it's worth noting that the Note 10's Dynamic AMOLED technology means its display is significantly brighter.
When it comes to design, phones from Samsung, Huawei and Apple have barely changed over the last few years.
So the Note 9 still looks modern and it won't be apparent to anyone apart from phone experts that you've got an older handset.
Can I get the Note 9 with bad credit?
Because the Note 9 is a high-end smartphone with a price to match, you've got less chance of being accepted for a pay-monthly contract if you've got bad credit.
We'd recommend that you instead take a look at a older Galaxy phone, or another brand.
You may even want to get a budget phone SIM-free and off-contract and then sign up for a SIM-only deal.
Find out more about how to get a phone if you've got bad credit with our one-stop guide.
Does the Galaxy Note 9 support 5G?
The Galaxy Note 9 is not compatible with 5G. If 5G support is a must-have for you, we'd recommend you take a look at deals for the Note 10 5G or the Galaxy S20 Plus 5G.
Is the Galaxy Note 9 waterproof?
The Galaxy Note 9 isn't waterproof. But it is water-resistant, with an IP68 rating. That means it'll survive being dunked in up to 1.5 metres of water for up to half an hour.
How many cameras does the Note 9 have?
The Note 9 has three cameras, all in. These consist of the 12-megapixel standard and telephoto lenses that make up the rear camera set-up. And the front camera, which comes in at eight megapixels.
What size is the Galaxy Note 9?
The Note 9 measures 161.9 x 76.4 x 8.8 millimetres and makes room for a 6.4-inch screen.
Does the Galaxy Note 9 have wireless charging?
The Note 9 supports wireless charging with a wireless charging mat (sold separately). It can also be charged at cafes, hotels and airports with free-to-use wireless charging stations.
Can I get the Galaxy Note 9 with no upfront charge?
Yes, lots of networks offer Note 9 contracts that don't require you to pay anything up front. However, be aware that these contracts generally require to a pay a higher monthly premium than those with an upfront free.
Does the Galaxy Note 9 have a portrait mode?
Yes, the Note 9 has a portrait mode on both its front and rear cameras. So you can take a range of depth-of-field shots. It also allows you to manually adjust the level of background blur in your photos to suit your taste.
Galaxy Note 9 specs
General

| | |
| --- | --- |
| Manufacturer | Samsung |
| Operating System | Android |
| Sim Card Type | Nano |
Sensors

| | |
| --- | --- |
| Accelerometer | Yes |
| Proximity | Yes |
| Compass | Yes |
| Barometer | Yes |
| Gyroscope | Yes |
| GPS | No |
Size & Weight

| | |
| --- | --- |
| Form Factor | Candy Bar |
| Thickness | 8.8 mm |
| Size | 76.4mm x 8.8mm x 161.9mm |
| Weight | 201 g |
Battery

| | |
| --- | --- |
| Battery Type | Lithium Ion |
| Capacity | 4000 mah |
| Standby | hours |
| Talktime | hours |
Display

| | |
| --- | --- |
| Display Size | 6.4 inches |
| Screen Type | Super AMOLED |
| Resolution | 1440 x 2960 inches |
| Pixels Per Inch | 516 ppi |
| Touch Screen Type | Capacitive |
Processing power

| | |
| --- | --- |
| CPU | 2900 mhz |
| Processor Cores | Octa Core Cores |
| Memory | 6000 MB |
Storage

| | |
| --- | --- |
| Internal Storage | 128, 512 |
| External Storage | Micro SDXC |
Camera & Video

| | |
| --- | --- |
| Primary Camera | 12 MP |
| Flash | Yes |
| LED Flash | |
| GEO Tagging | Yes |
| Auto Focus | Yes |
| Fixed Focus | Yes |
| Touch Focus | |
| Face Detection | Yes |
| Smile Detection | |
| Image Stabilisation | Yes |
| Video Quality | 2160 |
| 2nd Camera | 8 MP |
Data

| | |
| --- | --- |
| Generation | 4G |
| Frequency | Dual-band |
| NFC | No |
| Wi-Fi | No |
| Wi-Fi Hotspot | No |
| Wi-Fi Direct | No |
| Bluetooth | No |
| USB | No |