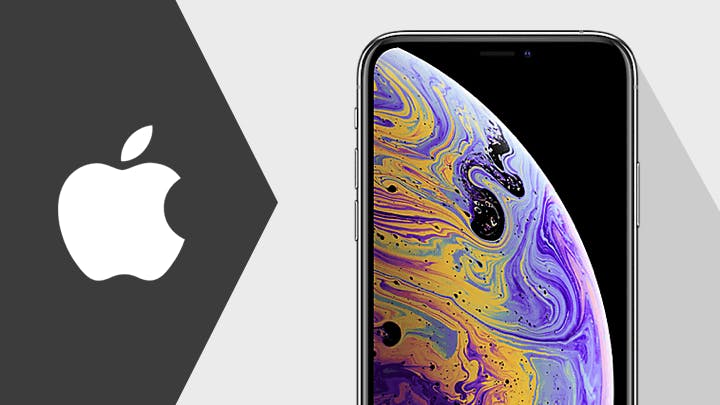 When Apple release a new handset, we all expect it be the best iPhone yet. With its enhanced camera, premier performance and superb display, the iPhone XS certainly ticks that box.
iPhone XS at a glance
<iframe width="600" height="400" src="https://www.youtube.com/embed/9m_K2Yg7wGQ" frameborder="0" allow="accelerometer; autoplay; encrypted-media; gyroscope; picture-in-picture" allowfullscreen></iframe>
Much was made of Apple's iPhone X when it came out - boasting a new look and some unique features. Picking up where the X left off, the iPhone XS flaunts its flagship status to excellent effect.
Making strides in the performance and battery departments, the XS is powered by the A12 Bionic chip (like the iPhone XS Max and iPhone XR), which means it's a lot faster than previous iPhone models. The iPhone XS battery also gives you 30 minutes more power than the iPhone X.
A 5.8in OLED screen means super-sharp displays complete with ultra-high pixel density that supports Dolby Vision and HDR10. In other words: striking colour and a superbly clear picture.
The iPhone XS's real icing on the cake is its camera upgrade, with its rear dual-camera and a new, super-powerful 7MP sensor on the front - giving you photos a pro would be pleased with.
Throw in improvements to storage (there's a weighty 512GB option), improved facial recognition technology, and even better sound quality than previous models and you should be set.
For some, however, the XS's price may simply be too steep. Also, fingerprint recognition has been dropped - the iPhone XS does tend to scratch a little too easily and it doesn't come with a fast charger.
Is the iPhone XS still a good buy in 2023?
Although since superseded by the iPhone 11, the iPhone XS shares much of what made those phones so well regarded and warmly reviewed. Sure, the standard version of the iPhone 11 has a better camera and a slightly longer battery life. But the iPhone XS is slimmer, features a brighter display, the same all-screen design and comes in cheaper. All of which means it's still an excellent buy.
iPhone XS contract options
Need an iPhone XS deal with a lot of data? Got an idea of how much you'd like to pay upfront for an iPhone XS contract? Maybe you're in the market for some value-adding freebies? We've tracked down our best iPhone XS deals, whatever your criteria.
Cheap iPhone XS deals
Unless we're talking about refurbished or older models, iPhones are rarely considered cheap - and the iPhone XS in all its premium glory is no exception. But there are ways you can manage the cost of Apple's latest flagship model.
To get a contract deal at the lowest possible cost, you can...
Choose an MVNO or budget network, such as giffgaff or Sky Mobile. These networks have lower operating costs, and therefore cost you less too.
Go for a lower allowance or lower internal storage size - but make sure you still have enough to cover you for the next two years.
Get a refurbished model which has been previously owned or returned.
Buy through a reseller - like Carphone Warehouse or Buymobiles, which offer pay-monthly contracts at cheaper rates
iPhone XS contracts with no upfront cost
If you want to avoid paying an upfront fee and would rather spread your costs over the course of a contract, there are network suppliers which offer this option.
When searching our contract deals, you'll see 'Free Device' mentioned, which unfortunately does not mean they're giving phones away, only that there is no upfront cost on that deal. However, it does mean you will pay a higher fee each month.
On the plus side, you get hold of a new iPhone XS without paying out hundreds of pounds at the start of your contract.
Compare network deals and vary the amount you're comfortable paying upfront against the amount you want to pay each month, until you get the right price for you.
Top iPhone XS deals by network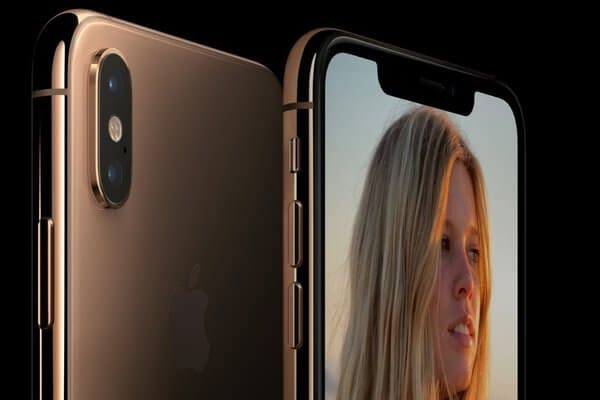 Unsurprisingly the iPhone XS isn't cheap. But with its impressive build, design, power and features, you wouldn't expect it to be.
What that means is that it's imperative that get the phone on the network that gives you the most bang for your buck. To help you do exactly that, here's a snapshot of some of the key selling points of iPhone XS contracts on all the UK's major networks.
iPhone XS deals on O2
Coverage and speeds on O2 are generally excellent, as borne out by the Best Network Performance award it picked up at the Mobile News Awards 2019.
O2 iPhone XR contracts also include membership of O2's Priority customer rewards scheme, which includes money-off deals at high-street shops and priority booking at O2 venues. Customers get inclusive roaming in O2's Europe Zone too.
Get up to speed with O2 with our O2 network review.
iPhone XS deals on Vodafone
Choose the iPhone XS on a Red Entertainment contract from Vodafone and you'll be able to choose from a free 24-month subscription to Spotify Premium, Amazon Prime Video or Sky Sports Mobile TV. All of which you can watch on your smartphone or tablet.
Vodafone also offers inclusive roaming in 50 locations on most contracts, as well as a three-month free trial of Vodafone Secure Net.
Want to know more? Get the inside line with our Vodafone network review.
iPhone XS deals on EE
EE is consistently rated the UK's fastest mobile phone network. But it also stands out for freebies such as free BT Sport on select contracts, as well as six months' free Apple Music.
Swappable Benefits are on offer with some contracts too, allowing you to switch between sweeteners such as a Video Data Pass or BT Sport, from month to month.
EE also offers a boost with an extra 20GB data per month for customers who also take EE home broadband. All customers get inclusive roaming in 48 European locations.
What else has EE got to recommend it? Find out with our EE network review.
iPhone XS deals on Three
All Three customers get inclusive roaming in a range of locations around the world.
Select Three iPhone XS contracts also include Go Binge, which lets you stream as much content as you like on Netflix and Apple Music without eating into your data allowance.
Think Three might be the network for you? Find out more with ourThree network review.
More phones like the iPhone XS
Frequently asked questions
Can I get an iPhone XS contract with bad credit?
These days, most mobile networks will carry out a credit check. Of course, if you have bad credit, this can be a problem. But it doesn't have to be - there are still plenty of deals you can sign up to.
Does the iPhone XS support 5G?
Unfortunately, the iPhone XS is not compatible with super-fast 5G and only supports 4G and 3G networks.
Is the iPhone XS waterproof?
There's no such thing as a fully waterproof smartphone. But the iPhone XS is water-resistant. What's more, with an IP 68 rating, it can withstand being submerged in up to 1.5 metres of water for up to half an hour.
How many cameras does the iPhone XS have?
The XS is home to three cameras in total. These consist of a 12-megapixel standard lens and a 12-megapixel telephoto lens for close-ups, which together make up the rear camera. And around the front, you'll find a seven-megapixel camera for selfies.
What size is the iPhone XS?
The iPhone XS's screen is 5.8 inches, which makes it one of the larger iPhones. But means it's significantly smaller than the XS Max and iPhone 11 Pro Max.
Does the iPhone XS have wireless charging?
Yes, you can charge the iPhone XS wirelessly. Either with a wireless charging pad for home use, or with the free-to-use wireless charging stations you'll typically find at cafes, hotels and airports.
Does the iPhone XS have portrait mode?
The XS has portrait mode on the front and rear cameras. So you can take 'depth-of-field' selfies and apply the 'bokeh' effect to other subjects too.
iPhone XS specs
General

| | |
| --- | --- |
| Manufacturer | Apple |
| Operating System | iOS |
| Sim Card Type | Nano |
Sensors

| | |
| --- | --- |
| Accelerometer | Yes |
| Proximity | Yes |
| Compass | Yes |
| Barometer | Yes |
| Gyroscope | Yes |
| GPS | No |
Size & Weight

| | |
| --- | --- |
| Form Factor | Candy Bar |
| Thickness | 7.7 mm |
| Size | 70.9mm x 7.7mm x 143.6mm |
| Weight | 177 g |
Battery

| | |
| --- | --- |
| Battery Type | Lithium Ion |
| Capacity | 2658 mah |
| Standby | hours |
| Talktime | 20 hours |
Display

| | |
| --- | --- |
| Display Size | 5.8 inches |
| Screen Type | Super AMOLED |
| Resolution | 1125 x 2436 inches |
| Pixels Per Inch | 458 ppi |
| Touch Screen Type | Capacitive |
Processing power

| | |
| --- | --- |
| CPU | 2490 mhz |
| Processor Cores | 6 Cores Cores |
| Memory | 4000 MB |
Storage

| | |
| --- | --- |
| Internal Storage | 64, 256, 512 |
| External Storage | No |
Camera & Video

| | |
| --- | --- |
| Primary Camera | 12 MP |
| Flash | Yes |
| LED Flash | |
| GEO Tagging | Yes |
| Auto Focus | Yes |
| Fixed Focus | Yes |
| Touch Focus | |
| Face Detection | Yes |
| Smile Detection | |
| Image Stabilisation | Yes |
| Video Quality | 2160p |
| 2nd Camera | 7 MP |
Data

| | |
| --- | --- |
| Generation | 4G |
| Frequency | Dual-band |
| NFC | No |
| Wi-Fi | No |
| Wi-Fi Hotspot | No |
| Wi-Fi Direct | No |
| Bluetooth | No |
| USB | No |