The Impact of Our Toxic Mobile Phones
Environmental effects of the mobile phones we own
Sixty percent of people worldwide have a mobile phone contract, while many more have a 'Pay as you go' phone. With many sharing devices, and some owning more than one, no-one can truly know how many there are in the world today - but it is estimated that there are around four billion.
This is significant, because if we cannot track the amount of phones that are around, we cannot be sure of the amount of electronic waste that could potentially destroy our soil - and that's only the start of it. We recently discovered that the population of phones is greater than humans so with the machines are taking over this is more important than ever.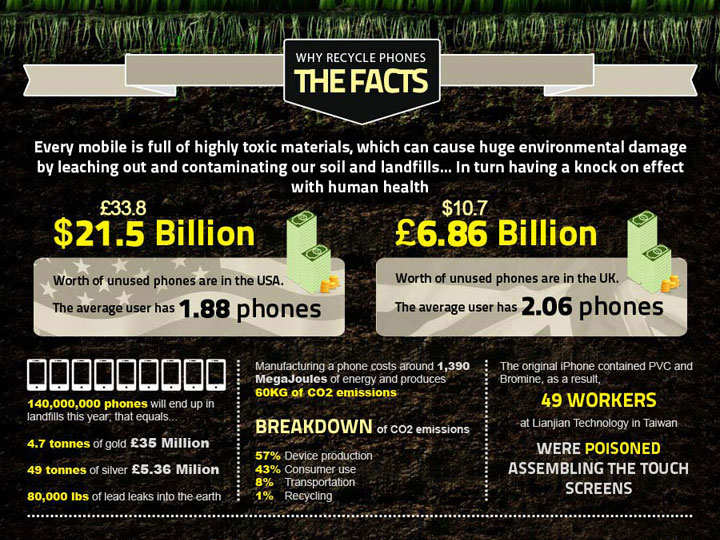 View full sized image of our phone health risks infographic
Unfortunately despite being extremely useful, toxic mobile phones can have a huge impact on our health and the environment due to the hazardous chemicals inside of them. Materials such as Lead and Cadmium, which both sit inside our devices, can cause devastating health conditions.
Thankfully, people and organisations are doing their best to make sure this impact is minimal, while continuing to educate users about the environmental issues and phone health risks associated with discarding a device irresponsibly. Check out the above infographic for more information.
The Positive Side
In poor countries, owning a mobile phone can be a lifesaver. People who were largely cut off from the rest of the world can now communicate with others very easily. This means that those who need to sell goods in order to survive can negotiate prices with traders. Phones help to link people together and ensure that health needs are met when natural disasters strike. People who were previously unheard from, are now being heard from, and that is a very good sign.
In Asia and Africa, their usage of mobile phones has been growing exponentially and it looks to be that way for quite some time. But with the good, also comes the need to educate more people about the environmental impact of their mobile phones and what they can do to help keep our planet and ourselves healthy.
Mobiles and Radiation
For many years, people have been concerned about the amount of radiation that mobile phones give off. Thankfully phones do not give off as much as we originally thought. But, there is one thing that radiation is thought to affect, and it's not humans, it is in fact bees.
Because bees have their own navigation system, they rely on it to find their way around. According to some scientists, the radiation that's given off by mobile phones blocks and interferes with the bees' navigation and they're not able to find their way around, or indeed back to the hive.
Colony Collapse Disorder, which is caused by the lack of bees returning to the hive, is thought to affect many countries around the world. Thankfully this has yet to occur in the UK, but the Department of the Environment, Food and Rural Affairs (DEFRA) are continuing to keep a close eye on things.